Archive: January, 2013
A common theme in the cancer world is that you are not in this alone. Many, many individuals are stakeholders in the battle. Some, like the medical professionals, have both a professional and personal interest in your treatment and recovery. Others, like the hospitals and pharmaceutical companies, have a more "client" relationship with you, but still hope for a positive outcome. Still others, especially volunteers, social workers, family, and friends, have a vested personal involvement. There are lots of interested parties, and all of them are pulling for yours to be a success story.
Former cancer patients and survivors often go above and beyond to offer their support to active cancer patients – well, everyone offers help – but those who walked this road before open up and relive their experiences in order to help prepare others for their battle. Many of those survivors reached out to share their personal cancer experience without prompting, or even introduction. People I don't know – from as far away as Holland – have found me, shared their stories, gave encouragement, and offered "I am here if you need anything."
It's like being inducted into some sort of secret society – 'Welcome Pledge Sharpe to the Kappa Rho Alpha Beta fraternity, here's your pledge pin, start studying medical websites immediately and email us any questions.'
Michael R. Cohen, R.Ph.
The fungal meningitis outbreak that's been gripping the country since last fall has now affected 678 patients and caused 44 deaths. Contaminated steroid injections tied to the outbreak have led to a wake-up call about a dangerous gap in regulatory oversight of compounding pharmacies that mix some injectable medications. In an earlier blog, I noted that such compounded preparations are not approved by the FDA and pharmacies also are generally not FDA-inspected. So there is inherent risk when a compounding pharmacy acts as a manufacturer using non-sterile drug powder. In most states, including Pennsylvania, compounding pharmacy sterile processes do not undergo intensive state inspection.
Should these conditions warrant disclosure to those prescribing and administering the medication and to patients who receive the compounded medications? Do healthcare providers even consider whether they have an ethical and legal obligation to inform end users when they dispense high risk sterile products (injectables made from non-sterile ingredients) prepared by a compounding pharmacy. To do that, doctors who inject these products need to be informed of the source. We decided to probe into pharmacy staff viewpoints about whether or not such transparency should be a part of the picture.
Results of a survey the Institute for Safe Medication Practices (ISMP) conducted in the fall were released this week and provide new insights into how hospitals have been managing the preparation and/or purchase of compounded high risk sterile products. Our survey was fielded in November and December and had 412 pharmacist and pharmacy technician respondents. Results were published in the January 24, 2013 issue of the ISMP Medication Safety Alert!®.
T.J. Sharpe
"One day they are gonna do a study that shows chicken causes cancer and pizza is good for you." -Slim, Spring 1999
"Chicken is poison." -Dr. Matt; ER at Broward General who made my initial cancer diagnosis, Summer 2012
Two quotes, taken 13+ years apart and in completely different contexts, and yet they seem eerily similar, no? The second was given to me by the admitting ER doctor at Broward General; he did a fellowship in age management and anti-aging medicine, and is a big believer in diet being the catalyst for our health. We have mutual friends, bring our kids to the same beach/pool club, and are roughly the same age. He and I have stayed in touch, and he is a big supporter and source of information as our family examined the effects of what we eat on our bodies.
T.J. Sharpe
The most difficult stretch of my treatment is officially in the rearview mirror. I was discharged Monday morning from Moffitt, almost a week to the hour after checking in. The recovery indicators shot up between Saturday morning and Sunday, so I just needed to remain off oxygen all Sunday and I was good to go Monday morning.
That the TIL + IL2 took only a week to go from infusion, through seven doses, and then get fully recovered is something that makes me proud. Originally, my goal had been to break records for the number of IL2 doses received; now, I am glad we halted them at seven before any markers got into the "red zone." Sorry for any misconception at the end of the last post – both the doctors and I were thrilled to get seven doses in and remain fairly healthy. Stopping then was absolutely the right decision; there is no proof seven doses of IL2 is better than six or eight, when used as a TIL supplement. So, getting in a good number of doses, without triggering any cascading side effects and medicines, was very positive for my treatment and for my body in general – which has taken a beating the last few months and, frankly, could use a bit of good fortune.
Still, I'm not out of the woods yet, though. Chemo and IL2 both have delayed side effects that can kick in over the coming weeks. Plus, two doses of Yervoy still remain, and no one is sure what the cumulative toxic effects are of two Yervoy doses, followed by TIL, followed by IL2, followed by two more Yervoy doses. Oh yea – throw two surgeries in there too. This sounds like the lineup of shots from my 21st birthday, not a cancer treatment plan. So, the next couple of months will be rest, recovery, and lots of praying that these t-cells do their thing. A preliminary scan is scheduled for the end of February, but we won't know for sure until early April how well this worked.
Daniel R. Hoffman, Ph.D.
Developing new products through clinical trials represents the lifeblood of branded pharmaceuticals. Unless companies can develop new products to replace the existing ones that lose patent protection, their revenues will erode as payers and patients fill prescriptions with less expensive generics. Yet despite the vital importance of managing clinical development, pharma is content to outsource its central components in the hope that costs and timing can remain within budget.
Contract research organizations (CROs) are the most important of the agencies on which pharmas rely for managing clinical trials. CROs function similarly to general contractors on a building construction project in that they hire and manage the subcontractors. Trial service suppliers represent one type of subcontractor that works on clinical trials. Their tasks include such diverse matters as analyzing blood samples in the lab.
The other category of subs consists of the clinics, medical practices, hospital departments and academics that recruit patients into the various trials. CROs claim that their experience on previous trials makes them aware of which clinical sites are most likely to rapidly and reliably recruit the required number of patients for a sponsoring pharma's particular study.
T.J. Sharpe
"Do or do not. There is no try." - Yoda
Since I received my diagnosis in August, Interluken-2 (IL2) has been something that was tossed around in a serious voice by every oncologist we spoke with. The initial view was that it was a long shot we didn't want to try – something like 10-15% of patients using IL2 as a treatment had a complete response, but up to 5% getting treated die. We have since learned IL2 is targeted towards younger individuals without other medical issues, as their death rate is nearly non-existent. It also ended up being the final component in my Yervoy and TIL + IL2 treatment. It was something I would just have to do.
First-hand accounts of the IL2 treatment from several people who underwent it made it sound fairly awful. "I wouldn't wish it on my worst enemy" said one, who happens to be an Army Major and has battled actual enemies on actual battlefields. Another cancer colleague relayed an IL2 experience where he began behaving oddly and quoting Star Wars ("Strong in the Force are these IL2 doses, mmm") until his wife called in nurses, prompting him to label her a NARC.
T.J. Sharpe
Today is the big day. Navy SEAL-like t-cells are "storming the beach" sometime in the afternoon. We don't have the exact time; apparently, I am on a need to know basis, and, well, I don't need to know yet. Chemotherapy has knocked out my immune system, and I am physically ready to tackle the part of the trial that determines my treatment outcome and, basically, the remainder of my life. As Eddie Vedder said at the start of the Spectrum's last concert, "This is it."
The week of chemo was relatively event-free. Fatigue and a bit of appetite loss were the only real side effects. I completed inpatient chemo with only bloating as the worst effect– bathroom use was frequent, as 10 pounds of saline solution and Meznax IV water weight has to go somewhere.
For the rest of the week, daily trips to the infusion center at Moffitt supplied me with Fludarabine, a leukemia chemotherapy that will finish off the existing white blood cells. From there, it is TIL infusion Monday, and IL2 beginning Tuesday at 6am. By the weekend, I should be recovering while watching the Flyers and Pens drop the puck – thanks NHL for giving me hockey back and putting the Flyers on national TV Saturday and Sunday! Until then, I will be in and out of coherency, but am hoping to have updates during the IL2 and immediately afterwards.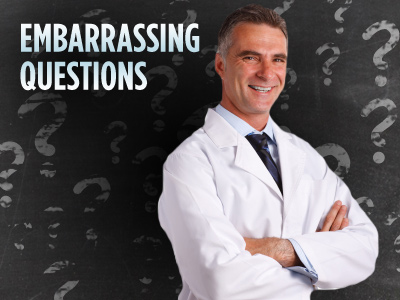 Can I get a STD from a toilet seat or a hot tub?
John Missanelli, DO, is a gynecologist at Lourdes Health System.
Sitting on a toilet seat or being in a hot tub cannot give you a sexually transmitted disease. As the name says, sex is needed to pass on these diseases. There are other ways some diseases can be passed other than sex, but this is rare.