Michael Cohen
Michael R. Cohen, R.Ph.
By Michael R. Cohen, R.Ph.
In response to the national outbreak of fungal meningitis, it makes sense for healthcare providers to seriously consider whether they have an ethical and legal obligation to inform end users when they dispense high risk sterile products prepared by a compounding pharmacy. To do that, doctors who inject these products need to be informed of the source.
While some physicians order compounded preparations directly from external compounding pharmacies, others simply prescribe the compounded medication and leave it up to the pharmacy or office staff to secure it from a reputable source. Thus, they may not know that a drug has been compounded from non-sterile ingredients or by an external pharmacy.
Michael R. Cohen, R.Ph.
By Michael R. Cohen, R.Ph.

Ameridose LLC, a compounding pharmacy that shares ownership with New England Compounding Center (NECC), the pharmacy behind the meningitis outbreak, has begun a national voluntary recall of all products.
In a 3:30 p.m. FDA-arranged conference call this afternoon, the Agency said that they found a "lack of sterility assurance" during recent inspections at the facility. They did not say they found any unsterile products or identified impurities in any Ameridose products and said have been no known infections in patients. FDA has cited Ameridose in the past for quality issues but that is also true for many major pharmaceutical manufacturers and other compounders.
Michael R. Cohen, R.Ph.
by Michael R. Cohen, R.Ph.
Here's advice about seemingly harmless over-the-counter eye drops, such as Visine and similar products containing the active ingredients tetrahydrozoline, oxymetazoline, or naphazoline. These drugs are quite dangerous if ingested. Severe side effects have been documented after swallowing as little as a teaspoonful.
On Thursday, the FDA posted an alert about this. We also alerted the public about the issue on our Facebook account last August. These products are not marketed in childproof containers, putting small children at risk for an accidental exposure. The products are also colorless, odorless and tasteless, which can increase the risk that a child might drink it. People tend to just throw the drops in purses, drawers, counter tops, etc. Adults might not think of it as dangerous, so they may not think twice about storage (looks, smells & tastes fine so it must be harmless). Don't let this colorless, odorless and tasteless liquid fool you! Visine and other similar products should never be placed in diaper bags, purses or areas where children can easily access them.
Michael R. Cohen, R.Ph.
By Michael R. Cohen, R.Ph.
Pennsylvania is one of only 5 states in the US that lacks regulations for compounding pharmacies to follow when preparing and dispensing sterile medications. The state also has no regulations to protect patients when sterile products are prepared by out of state pharmacies and shipped here.
In the wake of 24 deaths and over 300 people who've been harmed from contaminated steroids made by a Massachusetts compounding pharmacy, questions have been raised about the lack of regulatory oversight of such pharmacies by state and federal officials.
Michael R. Cohen, R.Ph.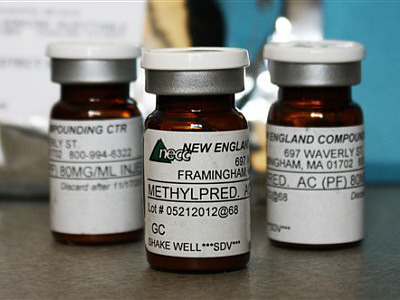 by Michael R. Cohen, R.Ph.
The deadly, multistate meningitis outbreak our country is currently dealing with brings much needed scrutiny to the compounding pharmacy business. The scale of the outbreak makes it the worst among a series of fatal or harmful infections and overdoses linked to compounding pharmacies in the U.S., rivaling other key drug safety issues in the more distant past that have led to substantial drug safety legislation. For example, in 1937, more than 100 patients died after the S. E. Massengill Co. compounded an elixir of sulfanilamide using diethylene glycol (antifreeze), which the company did not recognize as poisonous because safety testing had not been conducted. The tragedy was the driving force behind the 1938 Federal Food, Drug, and Cosmetic (FD&C) Act, which for the first time required drug safety testing.
Exactly 50 years ago this past week (October 10, 1962), in response to severe birth defects associated with thalidomide, Congress passed the Kefauver-Harris Amendment to the FD&C Act, requiring drug manufacturers to provide proof of safety and effectiveness. Up until now, there have been 200 adverse events involving 71 compounded products in the past 2 decades, many with devastating outcomes. Each case has prompted calls for federal oversight of compounding pharmacies, which are not subject to the same controls as drug manufacturers but whose regulation falls between the state board of pharmacy, the state department of health, and the FDA. While the present outbreak cannot be considered an outlier event, it should certainly be the very last event before enacting federal legislation to protect the public from preventable compounding errors and contamination. The magnitude of the current tragedy must serve as a wake-up call for Congressional action, just as it was in the above tragedies.
Michael R. Cohen, RPh
by Michael R. Cohen
Do you know how much water or other fluid should be taken with medicines that are swallowed? Our colleagues at ISMP Canada recently tackled this question in their consumer publication, Safe Medicine Use.
For some medicines, a small sip may not be enough. The amount and type of fluid that is best for you will depend on the properties of your medicine and on the particular diseases or conditions that you have.
Michael R. Cohen, R.Ph.
by Michael R. Cohen, R.Ph.
Most people wouldn't think twice about the potential for harm when applying over-the-counter creams, lotions, ointments, sprays or patches to the skin. But a colleague of mine wrote to me this past week to tell me that one of his patients was hospitalized recently for severe burns, after using an over-the-counter (OTC) cream for muscle pain.
Coincidentally, the Food and Drug Administration (FDA) just alerted health professionals and the public about the very same issue after an analysis of their adverse event reporting program database turned up more than 40 cases where people reported serious skin injuries after applying certain OTC pain relievers. These products generally contain menthol, methyl salicylate, or capsaicin.
Michael R. Cohen, R.Ph.
You'd be surprised how many medication errors involve patients identify their medication based on the overall appearance of the container and where it is usually stored, never actually reading the label. Doing that is a set up for errors.
A man with diabetes mixed up two different insulin products that he takes. He mixed up his long-acting insulin called Lantus and his rapid-acting insulin, Apidra. He stored the insulin vials separately in his refrigerator, normally keeping Lantus in the butter bin and Apidra on one of the main shelves. However, his wife recently cleaned out the refrigerator and accidently switched the two. She put the rapid-acting Apidra in the butter bin and the long-acting Lantus on the main shelf.
The man normally gave himself 40 units of Lantus plus, depending on blood sugar testing, just a few units of Apidra right before meals. But unaware of the switch made by his wife, the next time the man went to use his Lantus he grabbed Apidra instead. He didn't read the label. Using an insulin syringe, he drew up and gave himself Apidra 40 units, and went on with his day. The next thing he remembered was 2 hours later when he woke up and was lying on the ground, next to his truck, surrounded by paramedics. Because he had taken his rapid-acting insulin, his blood sugar dropped too quickly. Had he taken the correct long-acting insulin, the medicine would have been used by his body gradually throughout the day.