Archive: July, 2010
Josh Goldstein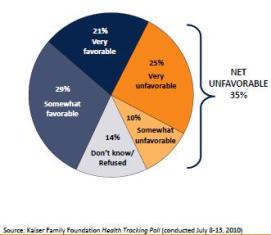 The Kaiser Family Foundation's July health tracking poll found that 50 percent of those surveyed viewed the Patient Protection and Affordable Care Act (Obamacare) very favorably or somewhat favorably while 35 percent held the opposite positions.
Since May's tracking poll the law's favorable ratings have gained 9 percent points (41 percent in May and 48 percent in June), while the unfavorable rating has dropped 9 percentage points (44 percent in May and 41 percent in June).
In July Kaiser focused on seniors views of the new law. And those aged 65 and above were more likely to hold unfavorable views of health reform. The July poll focused on seniors, 65-years-old and above and found that 46 percent of them were unfavorable toward the law and 38 percent favorable.
Daniel Hoffman

By guest blogger Daniel Hoffman:
Many people who live in the Philly area, a huge hub of the pharmacy industry, know that the drug makers have been laying off sales reps. Lots of them. This week IMS Health, a supplier of sales and marketing data, sponsored a conference near the airport where speakers and panelists claimed the downsizing trend would continue for the foreseeable future. And those sales people that remain will soon work at vastly different jobs.
In the decade between 1996 and 2005, the so-called "golden years" for sales reps, their ranks more than doubled as many companies used "mirror" deployments with four to six different reps visiting each physician. The total cost for each rep on the street rose to over $475,000 a year at some companies.
Josh Goldstein

On Friday, Thomas Jefferson University Hospital in Philadelphia notified 21,000 patients that a laptop computer containing their unencrypted personal data including names, birth dates, insurance information and social security numbers was stolen from an office at the hospital on June 14.
The laptop was password-protected; Still, the data could be accessed since it was not encrypted as required by the hospital. Jefferson has written letters to each of the effected patients and hired Kroll Inc. to conduct an internal investigation and provide identify theft protection and ongoing monitoring.
Jefferson's president and chief executive, Thomas J. Lewis, urged all the patients who get the letters from him to use the individual id codes and activate the identity theft protection by Kroll.
Josh Goldstein

So, I was just chatting online with a Facebook friend when I noticed a Google alert about a study that linked social activity, or the lack of it, with your risk of death. Turns out that people with lots of social connections and activity survive longer, and I'm pretty sure the researchers were looking at actual interaction not e-socializing.
People who are actively socially with family and friends are 50 percent more likely to live longer than similarly situated people who lead isolated lives, according to an analysis by researchers at Brigham Young University and the University of North Carolina at Chapel Hill.
The researchers examined 148 studies from across the globe that examined the connection between health and death with various measures of social activity. The analysis involved data on more than 300,000 people followed for an average of seven-and-a-half years.
Josh Goldstein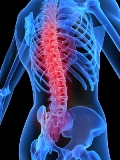 Back problems from muscle strains to herniated discs are a growing problem in the U.S., afflicting 27 million adults in 2007, or 12 percent of Americans 18 and older, according to the federal Agency for Healthcare Research and Quality.
Of those reporting back problems, more than 19 million sought treatment resulting in $30.3 billion in health care spending that year.
More of that spending went for ambulatory care and prescription medications - $18.3 billion and $4.5 billion respectively – with the rest being spend on ER visits, hospital care including surgery, and rehabilitation. That's an average of $1,589 per patient – $1,146 on average for doctors, chiropractors and other providers and $446 for prescription drugs. And that doesn't include the spending on over-the-counter treatments.
Josh Goldstein

Some 20 million Americans have asthma and many rely on inhalers and steroids to control, but not cure, their conditions. Researchers at the University of Texas Southwestern Medical Center think they have found a promising alternative.
Working with human cells, the researchers found that the drug interferon, a protein found in the immune system, prevents the cells from developing the inflammation that characterizes asthma and other such immediate allergic responses.
In the laboratory interferon enabled the researchers to turn "off the key component that regulates the entire [inflammatory] process," said J. David Farrar, the study's senior author and professor of immunology and molecular biology at UT Southwestern. The research was published in the July issue of the Journal of Immunology.
Josh Goldstein

One of the great joys in my life is watching my wife with our two young daughters. It is no great surprise how she showers the girls with love and affection, and that alone is good.
Now researchers from Duke University, the Harvard School of Public Health and Brown University report that such positive parenting that provides high levels of affection in early childhood has long-lasting effects on the children. The researchers studied 482 children born in Rhode Island in 1996. When the children were 8-months-old, the researchers observed and rated mother-infant interactions to measure affective quality of the mothers. The researchers then followed up 34 years later using standard emotional functioning check list.
And the children whose mothers were rated as demonstrating high levels of affection at 8 months of age showed "significantly lower levels of distress" as adults. The researchers concluded that their results "suggest that early nurturing and warmth have long-lasting positive effects on mental health into adulthood."
Michael Cohen

By guest blogger Michael Cohen:
An article in Sunday's Inquirer by business columnist Jeff Gelles explained how health insurers and their contracted pharmacy benefits managers (PBMs) make it financially attractive for you to get your prescriptions filled by mail-order pharmacy (usually owned by the insurer or PBM) rather than your local community pharmacy. For example, you may be able to get a 90-day prescription for one co-payment vs. only a 30 day supply at a local pharmacy.
That's not the whole story though, and if you haven't read the article you should. It's a good examination of a number of controversies you should be aware of from the standpoint of what might be best for you – the health care consumer. I'm not sure if you'd consider it more worthwhile to get your medications mailed to your home or at your local pharmacy, but here are some other things I think you should keep in mind.