Archive: March, 2012
Robert Field
After the arguments before the Supreme Court this week, is health reform on life support?

Unless the court issues a sweeping ruling that dramatically changes existing law, there is a good chance the answer is no.

The odds that the Supreme Court will leave health reform's individual mandate unscathed seemed to sink after the oral arguments on Tuesday. The five conservative justices who represent a majority of the court were united in their skepticism of its constitutionality.

Michael Cohen
Despite the severe prescription drug shortage that's been sweeping the nation over the last year, the results of a national survey released last week by my group, the Institute for Safe Medication Practices (ISMP), show that government regulations are forcing pharmacists to discard some injectable drugs unnecessarily, even those that are expensive or in short supply.

The Centers for Medicare & Medicaid Services (CMS) currently require that hospital pharmacists follow the pharmaceutical manufacturer's directions when determining how long a drug is good once the container is opened or the drug is reconstituted for IV use. This information appears in product labeling that accompanies each drug, but provides much shorter time frames than more up-to-date scientific evidence provided in peer-reviewed literature and national drug compendia.

In communications with the Food and Drug Administration (FDA), we've learned that the agency does not routinely require manufacturers to update stability and compatibility data because they consider it a practice-related issue. So, in many cases, pharmacists are being forced to act on information that is no longer current. Then, if pharmacists don't follow the out-of-date information, they risk a citation from state surveyors or accreditors like the Joint Commission.

Lori Robertson
By Lori Robertson, FactCheck.org
Both the Republican National Committee and the Obama administration are making misleading claims about health insurance premium costs. An RNC ad falsely implies that the federal health care law is responsible for all of the $1,300 average increase in family coverage premiums last year. But at the same time, the Obama administration makes the misleading claim that families "could save up to $2,300″ on health care costs per year in the future by buying insurance through exchanges called for by the law.
Let's start with the RNC ad, which was launched last week. It takes Obama to task for promising to lower the typical family's premiums by $2,500, an optimistic claim we have questioned several times, ever since the soon-to-be president first made the promise on the campaign trail. But, the RNC says, "it didn't happen." That's true, and it's unknown whether it will ever happen.
Daniel Hoffman
Never more than five years behind the conventional wisdom, an expensive consultancy last week issued the results of a humdrum survey in which several pharma executives admitted that the industry's business model is broken (see here). Perhaps these savants will next announce that Elvis is dead and horses no longer dive from high platforms in Atlantic City.

Also during the week, Forbes' pharma columnist Matt Herper demonstrated the industry's enormous reliance on price increases over the past decade for maintaining profitability. Price cuts by national health systems outside the U.S. have already doomed this tactic globally and, eventually, price gouging at rates three times higher than cost-of-living increases will taper off here, too.

At the same time, attracting capital has become far more difficult for biotechs and specialty startups (see here). Two principal factors create the problem. First, the collapse of the IPO market prevents the venture capital funds that traditionally backed biotechs and startups from readily cashing out to secure their gains. Second, the trend by regulatory agencies to more rigorously review drug applications increases development time to the point where biopharma companies no longer fit into VCs' mid-stage funding strategy. While these developments cede the role of major funder to the Big pharmas, the biggies will only provide support at the later development stages, and then only on the basis of performance milestones.

Robert Field
The Affordable Care Act turns two today. That makes this a good time to take stock.
Who should be celebrating?
A lot of people. Like the more than 3-1/2 million seniors who pay less for prescription drugs under Medicare. ACA is gradually shrinking the infamous "doughnut hole" that denies coverage at certain spending levels.
Daniel Hoffman
Karen Tibbals worked for many years as a market researcher for some large pharma companies. She recently left pharma and marketing research to enter divinity school. At the same time, she started her own blog. For her first post, Tibbals discussed the need for innovation in marketing research. The second one described how the preferred vendor system in pharma specifically stifles this sort of necessary originality.

With Finance and its henchmen in Purchasing and HR running pharma's operations, intangibles such as insight, veracity and innovation are low priorities when it comes to selecting suppliers. Finance and its minions claim that such qualities, in fact, don't really exist because they are not easily quantifiable or amenable to spreadsheet analysis. Absent such characteristics, marketing research becomes a commodity service that the pharmas can retain on a lowest cost basis. Some companies even go so far as to make supplier candidates compete for retainers by means of negative auctions -- lowest bidder wins. Since it works for hog bellies and soybeans, why not use it for marketing research?

The process isn't confined to staff support services such as marketing research. The preferred vendor system also led to production problems and recalls in every division of Johnson & Johnson: pharmaceuticals, consumer products, devices and diagnostics. Quality assurance and other production people started complaining about requirements to use low bid vendors, yet Finance and Purchasing just shrugged as the recalls started coming every other week. Meanwhile the CEO who looked the other way received $143 million as a goodbye kiss from the board of directors while he moved his chair down the hall from chief executive to chairman.

Michael Cohen
Over the past two years, our country has been dealing with the worst drug shortage situation I have seen in over 40 years of practicing pharmacy. I first wrote about the situation in July 2010, after hearing from colleagues around the country who were having trouble obtaining needed medications. Nearly two years later, it continues to be a major public health issue.
At times, patients have been unable to obtain otherwise commonly used medications, including critically important drugs for cancer, emergency medications like epinephrine, pain medications including morphine, and even certain mainstay antibiotics or anesthetics used during operations. The recent methotrexate shortage is evidence that this issue can no longer be ignored, as children with otherwise treatable cancer faced being without treatment options. Reasons for the current crisis are many and have been recounted elsewhere so I won't go into them here. What is amazing to me is that the government has yet to step in.
It's clearly not just patient inconvenience that's at stake; it's truly been a life threatening situation. Besides forcing the use of less desirable, often expensive, unfamiliar alternative drugs — if available, the potential for errors and poor patient outcomes is great. They're related not just to absent or delayed treatment but also to preventable problems associated with use of alternative drugs or dosage forms. When a familiar drug like morphine becomes unavailable, substituting a different opioid with a different potency creates opportunities for dangerous dosing errors. Nurses and doctors may not be aware of the differences.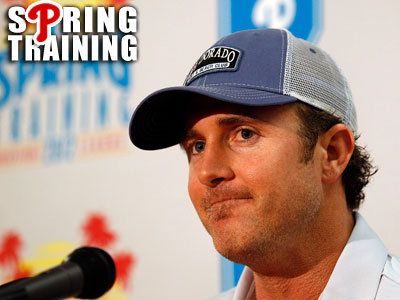 When Chase Utley left Phillies camp Monday to see a specialist for his chronically injured knees, it raised questions about his short- and long-term prognosis. At various times in the past, the Phillies have said Utley is dealing with two conditions - patella tendonitis and Chrondromalacia patella. We asked Christopher C. Dodson, M.D., a sports medicine surgeon at the Rothman Institute at Jefferson, to provide some insight into those conditions. Dodson, an assistant professor of orthopaedic surgery at Thomas Jefferson University, specializes in sports related injuries of the shoulder, elbow and knee. He serves as an assistant team physician for the Philadelphia Flyers and as an orthopaedic consultant for the Los Angeles Dodgers. Here is what he had to say:
Could you explain what patella tendonitis is:
Patella tendonitis, also sometimes called jumper's knee, is a condition of the knee where the patella tendon [the tendon that connects the kneecap to the shin bone] gets inflamed generally from overuse or a lot of activity. It causes inflammation in the patella tendon itself. It can lead to pain, particularly when you fire the quad muscle. Activities like running or jumping tend to bother it, and rest makes it better.