Archive: February, 2011
Michael Cohen
Parents are often given open visiting hours to be with their hospitalized child. Many parents take advantage of this option and remain with their child as much as possible. For an ill child, this can be comforting and provide an important emotional benefit, which at times might help them get better faster. In fact, a study by Swiss researcher Bernhard Frey and colleagues, suggests that parents who stay with their hospitalized child can help detect potential adverse events, such as medication errors.
In one case, a mother realized her child had been prescribed the wrong dose of a heart failure medicine. The error would have given her child five times more medicine than needed. In another case, a mother noticed that the wrong weight was listed on her child's medical records. Since the weight was used to calculate doses of medicine, it could have led to an overdose had she not caught it. All of these events were detected by parents only after visiting hours were no longer restricted to just a few hours a day. This suggests that it is easier for parents to detect safety problems if they spend more hours at their child's bedside, observing and participating in their care.
However, the same study also showed that parents can sometimes cause the harmful event. The most common problems to which parents contributed involved the misconnection of tubes and drains, errors with medicines, and physical trauma. One mother who was breast feeding her baby accidentally disconnected intravenous tubing. Another mother accidentally disconnected a chest tube while holding the child. In another case, a father fells while his child was on his lap. Most of the disconnected tubes and drains happened in very young children.
Don Sapatkin
Opponents of President Obama's health-care overhaul have focused on the requirement that most people buy insurance by 2014 or face penalties if they don't. They say Americans deserve freedom of choice, not government mandates.
Fair enough, says State Rep. Mark Longietti, a Democrat from Western Pennsylvania. But be consistent: Lift the mandate on hospital emergency rooms to screen and treat everyone who comes through the door in dire straits.
If someone who risked not buying insurance arrives on a stretcher, he asks, "should the response be: 'I'm sorry, you decided to take the risk … you are going die'?"
Robert Field
Imagine Donna Dubinsky's surprise when she was turned down for health insurance. The reason? She had a corn on her toe.
Donna had applied for individual coverage for herself and her family, after they lost benefits through her husband's employment. (This is coverage sold directly to the public with no employer involved.) No family member had ever had a serious medical problem, but all were rejected for minor ailments. She chronicled the ordeal in a recent Op-Ed in the New York Times .
Kathy and Henry Hamman suffered a similar fate when they applied for individual policies at the age of 61. Neither had a history of serious conditions, but BlueCross BlueShield of Tennessee took only a few days to turn them down.
Don Sapatkin
Exploring Chinatown after moving to Thomas Jefferson University Hospital last summer, emergency-room doctor Gerald F. O'Malley noticed brightly colored ceramic cookware for sale everywhere. It triggered decade-old memories of treating Mexican children in Denver whose lead poisoning he had suspected - but never got a chance to test - was due to pottery from home.
Could that be happening here?
O'Malley quickly assembled a team of medical students to purchase and screen several dozen glazed plates, cups, spoons, and teapots. The initial results: 25 percent of the items from Chinatown shops contained lead, as did 10 percent of Chinese-made products bought elsewhere.
Daniel Hoffman

Right-wing ideologues and corporate sycophants are attacking plans by the White House to shorten the patent exclusivity of biological drugs from twelve years to seven.
The National Review views this reduction of patent protection as the ultimate criticism of pharma's 2009 deal to support President Obama's health care legislation. The Wall Street Journal frames the patent adjustment from the perspective of branded drug companies, referring to the change as something that will stifle the development of breakthrough drugs. This wailing prompts four, top-of-mind responses.
(1) The Republicans have made budget cutting their number one goal. President Obama is obliging them and legitimating their crackpot reasoning, but the Republicans just don't like it when their ox is gored. Pharma has long been a major financial backer of Republicans and the 2009 deal on healthcare legislation notwithstanding, such loyalties run deep. In the mid-term elections last year, that classic alignment was reconfirmed when Republicans again received the overwhelming share of pharma contributions.
Michael Cohen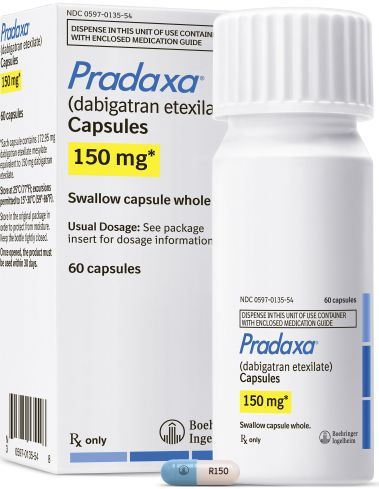 Patients taking the new anticlotting drug Pradaxa may be in for a surprise. The capsules deteriorate quickly when exposed to humidity, and come with just a 30-day expiration date. Even some pharmacists appear not to be aware of this, and we are already hearing of patients having to throw away this expensive new medication.
Pradaxa (dabigatran) is designed to help prevent stroke in people with atrial fibrillation, causing the heart's upper pumping chambers to beat in helter-skelter fashion. According to FDA, more than 2 million patients have atrial fibrillation. This puts these patients at risk of developing blood clots that could travel to the brain and cut off oxygen.
Until now, most patients have been treated with the anticlotting drug ("blood thinner") warfarin (Coumadin). With warfarin, it's important to monitor patients with a blood test to assure not only effectiveness but also that the blood isn't too "thin," which could lead to bleeding.
Robert Field
No one wants the government to ration health care. Least of all, many of health reform's staunchest opponents. They warned that Obamacare is a veiled attempt to let bureaucrats decide what treatments our doctors can give us.
As it turns out, we didn't have to wait for Obamacare to take effect to see government rationing in action. States across the country have started using it to control spending, and there is more to come.
The rationing is taking place in state Medicaid and similar programs that provide benefits to the poor. The most dramatic initiative took effect last fall, when Arizona's Medicaid program stopped paying for many kinds of organ transplants. The state claimed they are not worth the cost.
Michael Cohen

By Michael R. Cohen: president of the Institute for Safe Medication Practices
A young mother went to her local pharmacy the other day to find medications for her small children, who were suffering from bad colds. In the cough and cold section, she saw a bottle of Triaminic liquid and decided to buy it, remembering Triaminic as a cold medicine. She also picked up a bottle of store brand acetaminophen, the main ingredient in Tylenol, for their fever and sore throats.
Without knowing it, she actually had two bottles of acetaminophen in her hands. Fortunately, a pharmacist was watching her and wondered why she would buy both products. Had he not intervened, she probably would have given both to her children, possibly harming them if she gave them too much acetaminophen over a long period, which has been shown to cause liver damage.