Michael Cohen
Michael R. Cohen, R.Ph.
In December 2010 and again in May 2012, Check-Up warned consumers who wear contact lenses about Clear Care, a lens cleaning product from Ciba Vision (a Novartis company) that contains hydrogen peroxide. The product must only be used to soak contact lenses within a special lens case that deactivates the hydrogen peroxide prior to placing the lenses back in the eyes. Unfortunately, the product has repeatedly been used by mistake without the special lens case, causing severe pain and, all too often, an eye injury. Many patients wind up in the hospital emergency room. There are also less expensive generic versions available.
One of the most recent cases was reported to us by a woman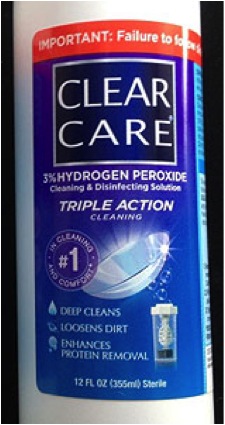 whose college-age daughter was spending the night at a friend's home. The student realized she'd forgotten her contact lens solution so her friend located a roommate's solution and the contact lenses were soaked in it for the night. It was Clear Care. The next morning, her daughter put her right contact lens in her eye and immediately started to scream out in pain. She removed the contact and, after no relief with flushing the eye with water, she went to a hospital ER. Her eye was flushed with no abatement of symptoms. Staining the eye with a special dye showed corneal damage had occurred. The hospital gave her some antibiotic eye drops and referred her to an eye doctor whom she visited the next day. The eye doctor prescribed an even stronger medication and advised her to return for a follow-up.
This young woman joins hundreds of others who've sent us reports after they experienced severe pain and/or eye injuries when using Clear Care. There are many more who've complained about the product on the Internet. Unknown is how many actual cases there are that have not been reported. Based on my research on this topic I believe that there are likely hundreds of thousands of people who have experienced burning by getting this product or the generic directly in their eyes. Ask any group of 100 or so people and 3 or 4 will be contact lens wearers who will tell you they've done this. I have conducted this experiment multiple times in pharmacy school classrooms or during talks to health professionals. Several people in my office have done this (including pharmacists and nurses), as has my own daughter. Given the number of lens wearers, it could even be millions who've had this happen over the years. It's beyond being careless.

Michael R. Cohen, R.Ph.
What do you do when your baby who is teething starts kvetching and crying? Let me tell you what not to do.
Many parents like to rub numbing medications on their baby's gums to treat the discomfort. Products for this purpose, called topical anesthetics, are available for purchase over the counter. There are also prescription products that doctors sometimes recommend. However, because of safety concerns, I'd strongly recommend not using any of these since non-drug alternatives can also be effective.
Many of the anesthetic products like Anbesol and Orajel contain benzocaine. Unfortunately, the use of benzocaine products can cause a serious and sometimes fatal condition called methemoglobinemia. This is a disorder in which the amount of oxygen carried through the blood stream is greatly reduced. This can occur within minutes after exposure, even after the first time it is used. It isn't very common overall, but children under 2 years old appear to be at particular risk. In an article about this condition, FDA listed the signs and symptoms and recommended not using benzocaine products in this age group, except under the advice and supervision of a health care professional. This is particularly true when teething is the problem.
Michael R. Cohen, R.Ph. and Jeanette Trella, PharmD
Michael Cohen, RPh, Institute for Safe Medication Practices, Horsham, PA; Jeanette Trella, PharmD, Managing Director, The Poison Control Center, The Children's Hospital of Philadelphia.

For many of us, the holidays will include traditional family gatherings that are heartwarming and joyous occasions. However, your holiday cheer will quickly fade if a child at your family gathering gets into any unsecured medicines and requires a trip to the emergency department (ED).
Childhood poisonings today are often due to medicines that look and taste like candy, medicine patches that fall off or are taken off of sleeping adults by children and ingested or applied to their skin, medicines in chewing gum or Tic-Tac-like pellet form, and other medicine forms that attract a child's attention.
Michael R. Cohen, R.Ph.
When your health condition changes, or when new treatments become available, your healthcare providers may recommend changes to your medicines. If this happens, it's important to know whether the changes affect the use of other medicines you are already taking. It's also important to make other healthcare providers aware of the changes. Often, you will be the best person to communicate these changes.
Our sister organization in Canada recently received a report about a patient mistakenly given two different medicines to treat the same problem. The patient's doctor prescribed a new medicine to replace an existing one, but the new medicine was dispensed and eventually taken in addition to the existing one. One of the drugs was Coumadin (warfarin), a blood thinner for preventing blood clots. The patient's family doctor wanted the consumer to start taking a different blood thinner instead, a medicine called dabigatran (Pradaxa).
Two months later, the consumer was planning a cruise vacation and asked the pharmacy to provide refills for several medicines. The pharmacy gave the consumer refills for both the warfarin and the dabigatran, and the consumer took both medicines for 5 days. During the cruise, the consumer noticed that one leg had become dark and swollen. The ship's doctor diagnosed a severe hematoma (a collection of blood under the skin) that was caused by the use of the two blood thinners together. The ship's doctor advised the patient to stop taking the warfarin and the hematoma eventually improved.
Michael R. Cohen, R.Ph.
You'd be surprised how many people accidentally put ear drops in their eyes instead of their ears. When eardrops are accidentally instilled in a patient's eyes, it's usually obvious. Patients quickly know that something is very wrong. They immediately complain of burning and stinging. Then later they may notice redness, swelling, or blurred vision.
Typically, when they call their doctor, patients will be told to flush the eyes with copious amounts of water or saline or may have warm or cold compresses applied. If not relieved immediately, patients may require care in the emergency department or eye clinic. Generally this painful mistake is not as serious as it sounds. In most cases the symptoms will be temporary and will resolve without any permanent damage to the eye.

The fact that ears and eyes are relatively close together adds a "human anatomy factor" to the equation. Further risk is introduced by misuse of the term "eye-dropper," which is often used to administer eye drops and eardrops (as well as oral liquid medications).
Be prepared. An error can begin in the pharmacy when a prescription is being processed. Sometimes the doctor's handwriting is so poor that the pharmacist misreads the prescription. As with sound- or look-alike drug names, medical terms for the eye ("ophthalmic") and ear ("otic") have sometimes been confused. This type of error is happening a lot less lately since most doctors are using electronic prescribing. But prescription directions from doctors can sometimes have a mistake. For example, one prescription stated to use drops to treat an affected eye, which conflicted with correct verbal instructions given to the patient to use the drops in the ear.
Michael R. Cohen, R.Ph.
For many of us, the holidays will include traditional family gatherings that are heartwarming and joyous occasions. However, your holiday cheer will quickly fade if a child at your family gathering gets into any unsecured medicines and requires a trip to the emergency department (ED). Don't let your guard down and think it can't happen to a child you love. In the US, every 10 minutes a child younger than 6 years is taken to an ED to be treated for a poisoning from medicines. Tragically, about 40 children younger than 5 years die from accidental poisonings each year—three-quarters of the deaths are due to medicine poisonings. These statistics are nothing short of frightening.
Years ago, problems with accessible prescription and over-the-counter (OTC) medicines within reach of children were the predominant issues linked to medicine poisonings. Today, this problem has been worsened by medicines that look and taste like candy, medicine patches that fall off or are taken off of sleeping adults by children and ingested or applied to their skin, medicines like nicotine delivered by chewing gum or Tic-Tac-like pellets, and other medicine forms that attract a child's attention.
Most medicine poisonings happen in a home. According to a national poll conducted in 2012, nearly all parents with young children (97%) and grandparents (98%) have medicines in their homes. Sometimes they're stored in a way that makes access too easy for children. For example, they're stored in easy-to-open containers like a daily or weekly pill dosing box, or aren't kept up and away and out of the reach of children. One of the most common sources of poisonings is Grandma's or Grandpa's medications,
Michael R. Cohen, R.Ph.
A rare but fatal error can occur when the cancer medicine vincristine is given the wrong way. Vincristine is given intravenously (into the vein) to treat various types of cancer, often in children for leukemia. It is often given in combination with another cancer medicine called methotrexate. Methotrexate can be given into the spinal canal (which is called an intrathecal injection.) This helps prevent the cancer from spreading to the brain. But if vincristine is mistakenly given into the spinal canal instead of methotrexate, which it sometimes is, death is almost certain.
We recently learned about such an event that happened in 2010 involving an adult woman being treated for lymphoma (a type of cancer). She was supposed to get intravenous vincristine as well as methotrexate into her spinal canal. The vincristine was accidentally given into her spinal canal. The error was noticed right away. The woman was admitted to the hospital and a procedure was done to try to remove the medicine form her spinal fluid. The woman had no complaints until 3 days later. Then, she complained of a headache, weakness in her legs, and hearing loss. She continued to get worse. Over the next two weeks she became unable to move her arms or legs, had trouble breathing, went into a coma, and died. Sadly, this is a typical scenario when this error happens. A slow, agonizing death usually occurs over one to four weeks as the drug slowly but surely destroys the central nervous system (brain and spinal cord). A New Jersey police chief had this happen several years ago. I also have records of this happening to patients in Pennsylvania and New York.
Since 1968 there have been at least 120 reported cases around the world of vincristine being mistakenly administered into the spinal column. Almost all have resulted in death. In all of these cases, both medicines were put into syringes that looked alike. Most often, the syringes of medicine were prepared in the pharmacy and sent together to the unit where the drugs were to be given – the vincristine to be given intravenously and the methotrexate into the spinal canal. But the syringes of medicine were later mixed up, and the vincristine was accidentally given into the spinal column instead of the methotrexate.
Michael R. Cohen, R.Ph.
A 5-year-old was accidentally given camphorated phenol liquid instead of acetaminophen (Tylenol) liquid. Camphorated phenol is meant to be applied to the skin only. The child developed seizures and was taken to a hospital emergency department (ED) for treatment. In the ED the child's mother produced a bottle of Rexall "Pain Relief" antiseptic liquid from which she had given her child 2 teaspoonfuls.
Well-meaning parents might miss the "external use only" warnings on some camphor product labels and give kids a teaspoonful or so to swallow, not realizing that it can be harmful. The child's mother said she mistook the bottle for acetaminophen liquid and mentioned that she didn't see anything on the label about it not being OK for oral use.
Nationally, camphor ingestions occur in about 9,000 children under age 6 years each year, with the vast majority unintentional. It's predictably toxic in children when swallowed. In fact, ingestion of less than 2 teaspoonfuls or 10 mL (just over 1 gram of camphor) can result in a range of adverse neurological effects and death.