Michael Cohen
Michael R. Cohen, R.Ph.
You'd be surprised how many people accidentally put ear drops in their eyes instead of their ears. When eardrops are accidentally instilled in a patient's eyes, it's usually obvious. Patients quickly know that something is very wrong. They immediately complain of burning and stinging. Then later they may notice redness, swelling, or blurred vision.
Typically, when they call their doctor, patients will be told to flush the eyes with copious amounts of water or saline or may have warm or cold compresses applied. If not relieved immediately, patients may require care in the emergency department or eye clinic. Generally this painful mistake is not as serious as it sounds. In most cases the symptoms will be temporary and will resolve without any permanent damage to the eye.

The fact that ears and eyes are relatively close together adds a "human anatomy factor" to the equation. Further risk is introduced by misuse of the term "eye-dropper," which is often used to administer eye drops and eardrops (as well as oral liquid medications).
Be prepared. An error can begin in the pharmacy when a prescription is being processed. Sometimes the doctor's handwriting is so poor that the pharmacist misreads the prescription. As with sound- or look-alike drug names, medical terms for the eye ("ophthalmic") and ear ("otic") have sometimes been confused. This type of error is happening a lot less lately since most doctors are using electronic prescribing. But prescription directions from doctors can sometimes have a mistake. For example, one prescription stated to use drops to treat an affected eye, which conflicted with correct verbal instructions given to the patient to use the drops in the ear.
Michael R. Cohen, R.Ph.
For many of us, the holidays will include traditional family gatherings that are heartwarming and joyous occasions. However, your holiday cheer will quickly fade if a child at your family gathering gets into any unsecured medicines and requires a trip to the emergency department (ED). Don't let your guard down and think it can't happen to a child you love. In the US, every 10 minutes a child younger than 6 years is taken to an ED to be treated for a poisoning from medicines. Tragically, about 40 children younger than 5 years die from accidental poisonings each year—three-quarters of the deaths are due to medicine poisonings. These statistics are nothing short of frightening.
Years ago, problems with accessible prescription and over-the-counter (OTC) medicines within reach of children were the predominant issues linked to medicine poisonings. Today, this problem has been worsened by medicines that look and taste like candy, medicine patches that fall off or are taken off of sleeping adults by children and ingested or applied to their skin, medicines like nicotine delivered by chewing gum or Tic-Tac-like pellets, and other medicine forms that attract a child's attention.
Most medicine poisonings happen in a home. According to a national poll conducted in 2012, nearly all parents with young children (97%) and grandparents (98%) have medicines in their homes. Sometimes they're stored in a way that makes access too easy for children. For example, they're stored in easy-to-open containers like a daily or weekly pill dosing box, or aren't kept up and away and out of the reach of children. One of the most common sources of poisonings is Grandma's or Grandpa's medications,
Michael R. Cohen, R.Ph.
A rare but fatal error can occur when the cancer medicine vincristine is given the wrong way. Vincristine is given intravenously (into the vein) to treat various types of cancer, often in children for leukemia. It is often given in combination with another cancer medicine called methotrexate. Methotrexate can be given into the spinal canal (which is called an intrathecal injection.) This helps prevent the cancer from spreading to the brain. But if vincristine is mistakenly given into the spinal canal instead of methotrexate, which it sometimes is, death is almost certain.
We recently learned about such an event that happened in 2010 involving an adult woman being treated for lymphoma (a type of cancer). She was supposed to get intravenous vincristine as well as methotrexate into her spinal canal. The vincristine was accidentally given into her spinal canal. The error was noticed right away. The woman was admitted to the hospital and a procedure was done to try to remove the medicine form her spinal fluid. The woman had no complaints until 3 days later. Then, she complained of a headache, weakness in her legs, and hearing loss. She continued to get worse. Over the next two weeks she became unable to move her arms or legs, had trouble breathing, went into a coma, and died. Sadly, this is a typical scenario when this error happens. A slow, agonizing death usually occurs over one to four weeks as the drug slowly but surely destroys the central nervous system (brain and spinal cord). A New Jersey police chief had this happen several years ago. I also have records of this happening to patients in Pennsylvania and New York.
Since 1968 there have been at least 120 reported cases around the world of vincristine being mistakenly administered into the spinal column. Almost all have resulted in death. In all of these cases, both medicines were put into syringes that looked alike. Most often, the syringes of medicine were prepared in the pharmacy and sent together to the unit where the drugs were to be given – the vincristine to be given intravenously and the methotrexate into the spinal canal. But the syringes of medicine were later mixed up, and the vincristine was accidentally given into the spinal column instead of the methotrexate.
Michael R. Cohen, R.Ph.
A 5-year-old was accidentally given camphorated phenol liquid instead of acetaminophen (Tylenol) liquid. Camphorated phenol is meant to be applied to the skin only. The child developed seizures and was taken to a hospital emergency department (ED) for treatment. In the ED the child's mother produced a bottle of Rexall "Pain Relief" antiseptic liquid from which she had given her child 2 teaspoonfuls.
Well-meaning parents might miss the "external use only" warnings on some camphor product labels and give kids a teaspoonful or so to swallow, not realizing that it can be harmful. The child's mother said she mistook the bottle for acetaminophen liquid and mentioned that she didn't see anything on the label about it not being OK for oral use.
Nationally, camphor ingestions occur in about 9,000 children under age 6 years each year, with the vast majority unintentional. It's predictably toxic in children when swallowed. In fact, ingestion of less than 2 teaspoonfuls or 10 mL (just over 1 gram of camphor) can result in a range of adverse neurological effects and death.
Michael R. Cohen, R.Ph.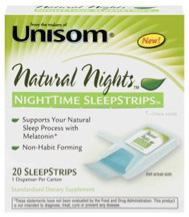 Have you seen or even purchased one of the commercially-available thin film strip products intended for use as mouth fresheners? Products like Meltz Super Thin Mints and Listerine PocketPaks are packaged in a small container that allows removal of one flavored strip at a time. They're about the size of a postage stamp. Once placed in the mouth the strip dissolves immediately. These can be carried easily in a purse or briefcase for convenient use after a meal or coffee.
It's important to know that the same technology is now being used for some medications too. Formerly available only as tablets or capsules, products like simethicone (Gas-X Thin Strips®), and melatonin, a natural sleep aid, come this way. There are also two prescription film strip products on the market, Zuplenz, for nausea and vomiting and Suboxone, for treatment of opioid dependence in adults. I'm hearing too that more prescription products and even a vaccine that uses this technology might be on the way. Benadryl, Theraflu and Children's Triaminic were available over-the-counter in film strips but have since been discontinued, probably because of poor sales. Other film strip products are currently in development.
I mention all this because all of these products are flavored and may be attractive to children. This past week a mother contacted us to let us know that a child at her son's school shared what he thought were breath mint film strips with several children before it was recognized that the film strips actually contained melatonin, a hormone produced by the body that's involved in the management of sleep and wake cycles. The product is more of a dietary supplement than a drug. It's available over-the-counter in strip form and the containers look just like the widely-available breath mint strips.
Michael R. Cohen, R.Ph.
Concern is building among health professionals around the U.S. about the possibility of a severe shortage of one of the most widely used anesthetics in medicine. If Missouri carries out a plan later this month to execute a prisoner using propofol, there's a good chance that exportation of the drug from Europe to the U.S. will be banned.
The threat of a shortage exists because most propofol used in the United States, about 85%, is sold by Fresenius Kabi through its pharmaceuticals division, APP Pharma. The company manufacturers it in Europe and ships it here. The problem is the European Union prohibits European manufacturers from exporting certain drugs used for capital punishment.
The Missouri execution is set for October 23rd with another prisoner scheduled to be executed on November 20th, also with propofol. The Missouri Supreme Court recently gave the state clearance to be the first to use propofol as an execution drug.
Michael R. Cohen, R.Ph.
FDA is requiring a label update to warn of the risk of nerve damage from a very important class of antibiotics called fluoroquinolones. These are 6 commonly used antibiotics that include Cipro, Levaquin, Avelox, Noroxin, Floxin and Factive. The warnings are for oral or injectable quinolones, not eye or ear drop formulations.
The condition, known as peripheral neuropathy, causes pain, tingling or a "pins and needles" feeling, most often in the hands, arms, feet and legs. It can also cause muscle weakness and loss of sensation or numbness. The nerve damage, which may occur shortly after these drugs are administered, could be permanent. Unlike a lot of side effects, just discontinuing the drug doesn't necessarily make the side effect go away. Although this is a rare adverse effect, the warning is important because millions of patients take these drugs every year.
Our group, the Institute for Safe Medication Practices (ISMP), has heard from patients who've suffered this side effect and have called upon FDA to increase awareness. A website devoted to problems with Levaquin, one of the quinolones, can be found here.
Michael R. Cohen, R.Ph.
Despite warnings from the FDA, drug manufacturers, and various patient safety agencies like ours (ISMP), we're still hearing from grieving parents or grandparents or health professionals who've experienced the death of a child or who somehow got ahold of a fentanyl pain patch that someone was wearing or discarded.
Fentanyl is a powerful narcotic that is often prescribed for patients with severe chronic pain. For example, pain from cancer. When worn as a skin patch called transdermal fentanyl or Duragesic, it provides relief over 72 hours before a new application is needed. However, there is so much of the drug embedded in the patch that if a baby finds a used patch and puts it in their mouth or a small child applies it as if it were a sticker or Band-Aid, they may die. According to FDA, they've evaluated a series of 26 cases of pediatric accidental exposures to fentanyl patches reported over the past 15 years. Of these, ten resulted in death and 12 in hospitalization. Sixteen of the 26 cases occurred in children two years old or younger.
FDA notes that young children are at particular risk of accidental exposure to fentanyl patches. Their mobility and curiosity provide opportunities for them to find lost patches, take improperly discarded patches from the trash, or find improperly stored patches, all of which may result in patches being placed in their mouths or sticking to their skin.