Michael Cohen
Michael R. Cohen, R.Ph.
Medication safety in the home is an important public health issue. Almost half of all Americans have taken at least one prescription medication in the last month and more than three-quarters have taken an over-the-counter (OTC) drug. Most of these medications are taken in the consumer's home or other residential or community setting. In these settings, the risk of medication errors is ever present as consumers with variable health literacy and unlicensed healthcare personnel undertake the complex processes associated with safe medication management.
Our sister organization, the Institute for Safe Medication Practices (ISMP) Canada, recently collaborated with several provincial Offices of the Chief Coroner and Chief Medical Examiner in Canada to conduct an analysis of medication events associated with deaths in the community setting. The analysis uncovered clear themes and contributing factors that led to the fatal events. The findings are noteworthy since there is good reason to believe that the same issues are causing fatal medication errors in US homes.
The overarching theme of the analysis was that of knowledge deficits leading to various patient safety risks. One of the key areas involved knowledge deficits related to people's misperceptions or myths about medications, indicating their failure to appreciate general risks associated with prescription and OTC drug therapy. Most of the deaths involved an intentional therapeutic overdose, sharing of prescribed medications, and unsafe storage of medications.
Michael R. Cohen, R.Ph.
Two recently published studies of one of the newer blood thinners, Pradaxa, point the way to reducing the risk of its major drawback—high rates of bleeding of 16% a year.
Pradaxa was approved in October 2010 as an alternative to the standby blood thinner Coumadin (warfarin). Both are effective in reducing the risk of disabling strokes in people with a condition known as atrial fibrillation, a heart disorder affecting about 2.5 million mostly older patients in the U.S.
Pradaxa's marketing advantage was that it was easier to use than Coumadin, which requires careful monitoring of its blood clotting effects and often a dose adjustment. The FDA approved Pradaxa with only a single standard therapeutic dose of 150 mg, taken twice a day. The laboratory test for Coumadin, called INR, was not useful or accurate with Pradaxa for determining whether blood clotting was inhibited too much—leading to bleeding—or not enough, which might increase stroke risk. However, unlike Coumadin, no antidote exists for Pradaxa to halt bleeding quickly should it occur.
Michael R. Cohen, R.Ph.
Rotavirus is a virus that causes a type of gastroenteritis (inflammation of the lining of the stomach and intestines) that can lead to severe watery diarrhea, vomiting, fever, and abdominal pain. According to the CDC, rotavirus gastroenteritis can also lead to dehydration (loss of body fluids) in babies and young children. This is a serious complication that may require hospitalization for administration of IV fluids. The virus is a major cause of death in children around the world.
Fortunately there are two oral live rotavirus vaccines available in the US that can protect children against rotavirus gastroenteritis. But since the use of live oral poliovirus vaccine was discontinued in the United States in 2000, other than rotavirus vaccines, no other oral vaccines are routinely given to children in the U.S. Therefore, providers now have less experience administering oral vaccines and, on occasion, by mistake they've accidentally injected oral rotavirus vaccine, making it completely ineffective.
Recently the Centers for Disease Control and Prevention (CDC) examined reports of accidental injection submitted to the Vaccine Adverse Event Reporting System (VAERS), operated jointly by CDC and FDA. There were 39 reports of injection overall. A Merck product, RotaTeq, is available as a liquid in a squeeze applicator. This was involved in only 6 out of 39 errors reported by CDC. Most cases (33 out of 39) happened with the Glaxo SmithKline (GSK) product, Rotarix, which requires mixing a dried out form of the vaccine into a liquid before giving it.
Michael R. Cohen, R.Ph.
The country is experiencing a serious shortage of certain IV fluids, mainly involving sodium chloride injection 0.9% (IV saline) in 1,000 mL bags. Some hospitals have also been short of Lactated Ringer's solution. Smaller size bags are available right now but we're hearing that those supplies are dwindling.
This latest drug shortage seems to have started back in November but has gotten progressively worse in the past couple of weeks and now hospitals are scrambling. The market in the US is served by Baxter (45%), Hospira (45%) and B. Braun (10%). Apparently the acute situation is related to increased demand (patients with influenza who are hospitalized) combined with a planned shutdown at Baxter for maintenance in December. All of the manufacturers have communicated about supplies with their customers. The shortage is such that they're allocating solutions to customers already under contract. It's unclear how long this shortage situation will last but everything we're hearing is that it's going to be several weeks at least, and for some solutions it will be into March. I've spoken to all three companies and they tell me they are working hard to get supplies back up to normal.
There are other IV solutions available such as 5% dextrose in water, 5% dextrose with smaller concentrations of sodium chloride than 0.9%, and many others, but they may not always be appropriate for a particular patient. How long supplies of the various solutions will last is not known but we could very well see shortages with these too. Although it should be a last resort, it's possible for hospital pharmacists to compound sodium chloride IV solutions using small volumes from very high concentration sodium chloride injection vials to bring solutions of lesser concentration up to 0.9%. But doing so can increase the potential for compounding errors so this should be a last resort. Compounding requires strict quality control checks to prevent accidentally adding too much or too little sodium chloride, either of which can be harmful. Also, if compounding became routine it could lead to shortages of the high concentration sodium chloride vials, which happened last year due to production issues at one of the generic injectable companies.
Michael R. Cohen, R.Ph.
In December 2010 and again in May 2012, Check-Up warned consumers who wear contact lenses about Clear Care, a lens cleaning product from Ciba Vision (a Novartis company) that contains hydrogen peroxide. The product must only be used to soak contact lenses within a special lens case that deactivates the hydrogen peroxide prior to placing the lenses back in the eyes. Unfortunately, the product has repeatedly been used by mistake without the special lens case, causing severe pain and, all too often, an eye injury. Many patients wind up in the hospital emergency room. There are also less expensive generic versions available.
One of the most recent cases was reported to us by a woman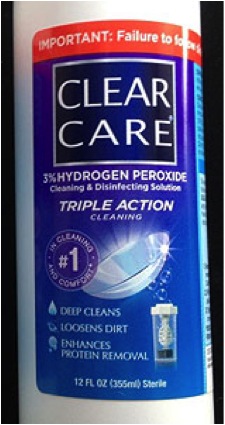 whose college-age daughter was spending the night at a friend's home. The student realized she'd forgotten her contact lens solution so her friend located a roommate's solution and the contact lenses were soaked in it for the night. It was Clear Care. The next morning, her daughter put her right contact lens in her eye and immediately started to scream out in pain. She removed the contact and, after no relief with flushing the eye with water, she went to a hospital ER. Her eye was flushed with no abatement of symptoms. Staining the eye with a special dye showed corneal damage had occurred. The hospital gave her some antibiotic eye drops and referred her to an eye doctor whom she visited the next day. The eye doctor prescribed an even stronger medication and advised her to return for a follow-up.
This young woman joins hundreds of others who've sent us reports after they experienced severe pain and/or eye injuries when using Clear Care. There are many more who've complained about the product on the Internet. Unknown is how many actual cases there are that have not been reported. Based on my research on this topic I believe that there are likely hundreds of thousands of people who have experienced burning by getting this product or the generic directly in their eyes. Ask any group of 100 or so people and 3 or 4 will be contact lens wearers who will tell you they've done this. I have conducted this experiment multiple times in pharmacy school classrooms or during talks to health professionals. Several people in my office have done this (including pharmacists and nurses), as has my own daughter. Given the number of lens wearers, it could even be millions who've had this happen over the years. It's beyond being careless.

Michael R. Cohen, R.Ph.
What do you do when your baby who is teething starts kvetching and crying? Let me tell you what not to do.
Many parents like to rub numbing medications on their baby's gums to treat the discomfort. Products for this purpose, called topical anesthetics, are available for purchase over the counter. There are also prescription products that doctors sometimes recommend. However, because of safety concerns, I'd strongly recommend not using any of these since non-drug alternatives can also be effective.
Many of the anesthetic products like Anbesol and Orajel contain benzocaine. Unfortunately, the use of benzocaine products can cause a serious and sometimes fatal condition called methemoglobinemia. This is a disorder in which the amount of oxygen carried through the blood stream is greatly reduced. This can occur within minutes after exposure, even after the first time it is used. It isn't very common overall, but children under 2 years old appear to be at particular risk. In an article about this condition, FDA listed the signs and symptoms and recommended not using benzocaine products in this age group, except under the advice and supervision of a health care professional. This is particularly true when teething is the problem.
Michael R. Cohen, R.Ph. and Jeanette Trella, PharmD
Michael Cohen, RPh, Institute for Safe Medication Practices, Horsham, PA; Jeanette Trella, PharmD, Managing Director, The Poison Control Center, The Children's Hospital of Philadelphia.

For many of us, the holidays will include traditional family gatherings that are heartwarming and joyous occasions. However, your holiday cheer will quickly fade if a child at your family gathering gets into any unsecured medicines and requires a trip to the emergency department (ED).
Childhood poisonings today are often due to medicines that look and taste like candy, medicine patches that fall off or are taken off of sleeping adults by children and ingested or applied to their skin, medicines in chewing gum or Tic-Tac-like pellet form, and other medicine forms that attract a child's attention.
Michael R. Cohen, R.Ph.
When your health condition changes, or when new treatments become available, your healthcare providers may recommend changes to your medicines. If this happens, it's important to know whether the changes affect the use of other medicines you are already taking. It's also important to make other healthcare providers aware of the changes. Often, you will be the best person to communicate these changes.
Our sister organization in Canada recently received a report about a patient mistakenly given two different medicines to treat the same problem. The patient's doctor prescribed a new medicine to replace an existing one, but the new medicine was dispensed and eventually taken in addition to the existing one. One of the drugs was Coumadin (warfarin), a blood thinner for preventing blood clots. The patient's family doctor wanted the consumer to start taking a different blood thinner instead, a medicine called dabigatran (Pradaxa).
Two months later, the consumer was planning a cruise vacation and asked the pharmacy to provide refills for several medicines. The pharmacy gave the consumer refills for both the warfarin and the dabigatran, and the consumer took both medicines for 5 days. During the cruise, the consumer noticed that one leg had become dark and swollen. The ship's doctor diagnosed a severe hematoma (a collection of blood under the skin) that was caused by the use of the two blood thinners together. The ship's doctor advised the patient to stop taking the warfarin and the hematoma eventually improved.