Michael R. Cohen, R.Ph.
The country is experiencing a serious shortage of certain IV fluids, mainly involving sodium chloride injection 0.9% (IV saline) in 1,000 mL bags. Some hospitals have also been short of Lactated Ringer's solution. Smaller size bags are available right now but we're hearing that those supplies are dwindling.
This latest drug shortage seems to have started back in November but has gotten progressively worse in the past couple of weeks and now hospitals are scrambling. The market in the US is served by Baxter (45%), Hospira (45%) and B. Braun (10%). Apparently the acute situation is related to increased demand (patients with influenza who are hospitalized) combined with a planned shutdown at Baxter for maintenance in December. All of the manufacturers have communicated about supplies with their customers. The shortage is such that they're allocating solutions to customers already under contract. It's unclear how long this shortage situation will last but everything we're hearing is that it's going to be several weeks at least, and for some solutions it will be into March. I've spoken to all three companies and they tell me they are working hard to get supplies back up to normal.
There are other IV solutions available such as 5% dextrose in water, 5% dextrose with smaller concentrations of sodium chloride than 0.9%, and many others, but they may not always be appropriate for a particular patient. How long supplies of the various solutions will last is not known but we could very well see shortages with these too. Although it should be a last resort, it's possible for hospital pharmacists to compound sodium chloride IV solutions using small volumes from very high concentration sodium chloride injection vials to bring solutions of lesser concentration up to 0.9%. But doing so can increase the potential for compounding errors so this should be a last resort. Compounding requires strict quality control checks to prevent accidentally adding too much or too little sodium chloride, either of which can be harmful. Also, if compounding became routine it could lead to shortages of the high concentration sodium chloride vials, which happened last year due to production issues at one of the generic injectable companies.
Daniel R. Hoffman, Ph.D.
Citigroup recently issued its 2014 outlook for European and US pharmaceutical companies. While their outlook is generally bullish, the positive signs they emphasize for the industry are more notable for what they omit than for what they tout.
For example, some of their up-indicators include a more permissive reimbursement environment in the U.S. due to Obamacare, the FDA's increasing laxity and speed of approval, the eagerness of pharmas to prop up stock prices by share buybacks and high dividends, wildly increasing biotech valuations and, that moldy evergreen, the growth of emerging markets.
These reasons behind Citigroup's optimism are at least debatable. For example, equity prices in biopharma are indeed approaching bubble status, but certainly part of that high valuation comes from investors in a no-inflation environment who are desperately seeking any sort of positive return. This desperation plus a perception of pharma's "stability" (a favorable spin on the industry's snailpaced mobility) has led investors to bid up stock prices. The relatively high dividends pharmas pay, together with their ambitious share buyback programs, make their equities the functional equivalent of bonds. Of course, when inflation and interest rates return to historic levels, bond values tend to sink accordingly.
Daniel R. Hoffman, Ph.D.
In the week before Christmas, Merck announced (see here) that it was starting a weight loss business as a self-supporting enterprise. In the past, whenever pharmas launched businesses outside of prescription and non-prescription pharmaceuticals, they were typically "value-added" enterprises designed to promote one or more drug brands. In a few cases, pharmas ventured outside of drugs into fields such as diagnostics/devices where they could leverage their close relationships with leading physicians and various competencies developed through the drug business. But the more typical cases were those similar to the multi-billion dollar acquisitions of Pharmacy Benefit Managers (PBM) in the early '90s by Merck, SmithKline and Eli Lilly. These were essentially defensive efforts to protect the pharma golden goose from potential moves by payers to reduce drug payments.
Merck claims their current move into weight loss services is unlike these earlier ventures because it seeks to genuinely diversify. If so, that's a good sign, but the effort faces many potential challenges.
As a bit of background, Merck has long maintained a venture fund that, up until the last few years, contained $100 million for new acquisitions. Its long time director was a Swede, Per Lofberg, who has since moved on to positions in private equity, pharmacy-PBM and other enterprises. The central problem of Merck's investment fund was that its primary criterion required potential acquirees to demonstrate a capability for supporting the core pharma business.
Michael R. Cohen, R.Ph.
In December 2010 and again in May 2012, Check-Up warned consumers who wear contact lenses about Clear Care, a lens cleaning product from Ciba Vision (a Novartis company) that contains hydrogen peroxide. The product must only be used to soak contact lenses within a special lens case that deactivates the hydrogen peroxide prior to placing the lenses back in the eyes. Unfortunately, the product has repeatedly been used by mistake without the special lens case, causing severe pain and, all too often, an eye injury. Many patients wind up in the hospital emergency room. There are also less expensive generic versions available.
One of the most recent cases was reported to us by a woman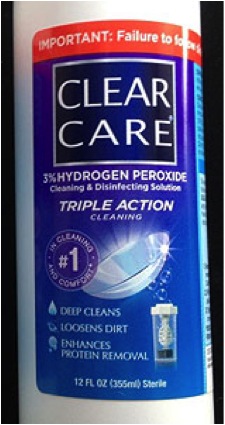 whose college-age daughter was spending the night at a friend's home. The student realized she'd forgotten her contact lens solution so her friend located a roommate's solution and the contact lenses were soaked in it for the night. It was Clear Care. The next morning, her daughter put her right contact lens in her eye and immediately started to scream out in pain. She removed the contact and, after no relief with flushing the eye with water, she went to a hospital ER. Her eye was flushed with no abatement of symptoms. Staining the eye with a special dye showed corneal damage had occurred. The hospital gave her some antibiotic eye drops and referred her to an eye doctor whom she visited the next day. The eye doctor prescribed an even stronger medication and advised her to return for a follow-up.
This young woman joins hundreds of others who've sent us reports after they experienced severe pain and/or eye injuries when using Clear Care. There are many more who've complained about the product on the Internet. Unknown is how many actual cases there are that have not been reported. Based on my research on this topic I believe that there are likely hundreds of thousands of people who have experienced burning by getting this product or the generic directly in their eyes. Ask any group of 100 or so people and 3 or 4 will be contact lens wearers who will tell you they've done this. I have conducted this experiment multiple times in pharmacy school classrooms or during talks to health professionals. Several people in my office have done this (including pharmacists and nurses), as has my own daughter. Given the number of lens wearers, it could even be millions who've had this happen over the years. It's beyond being careless.

Daniel R. Hoffman, Ph.D.
Anyone who's been awake the past five years knows that the U.S. experienced its worst economic recession since the 1930s as a result of fraudulent manipulations by investment banks and other financial institutions. Equally galling has been the lack of criminal action against these Wall Street fraudsters by Barack Obama's Justice Department. Recently U.S. District Court Judge Jed. S. Rakoff denounced the feds for this omission (see here). While Judge Rakoff makes a worthwhile case with respect to the banks, his article also sheds light on public policy concerning pharma.
According to Judge Rakoff, the Department of Justice (DOJ) has periodically invoked three excuses for not criminally prosecuting banking executives. The first two involve organizational matters peculiar to the DOJ such as the Bush administration advancing its plutocratic agenda for the country by literally decimating Justice's financial fraud staff, reducing it from 1,000 employees to 120. That goal of catering to the corporate rich was also augmented by moving responsibility for financial fraud prosecutions out of Washington to regional offices that lacked adequate expertise in those complex matters. Judge Rakoff does little to rebuke the Bush administration for its duplicity in these matters, perhaps because the Obama administration for the longest time did nothing to reverse its predecessor's policies.
Judge Rakoff then exposes the flimsiness of the Justice Department's third excuse for inaction and this one has direct application to pharma.
Michael R. Cohen, R.Ph.
What do you do when your baby who is teething starts kvetching and crying? Let me tell you what not to do.
Many parents like to rub numbing medications on their baby's gums to treat the discomfort. Products for this purpose, called topical anesthetics, are available for purchase over the counter. There are also prescription products that doctors sometimes recommend. However, because of safety concerns, I'd strongly recommend not using any of these since non-drug alternatives can also be effective.
Many of the anesthetic products like Anbesol and Orajel contain benzocaine. Unfortunately, the use of benzocaine products can cause a serious and sometimes fatal condition called methemoglobinemia. This is a disorder in which the amount of oxygen carried through the blood stream is greatly reduced. This can occur within minutes after exposure, even after the first time it is used. It isn't very common overall, but children under 2 years old appear to be at particular risk. In an article about this condition, FDA listed the signs and symptoms and recommended not using benzocaine products in this age group, except under the advice and supervision of a health care professional. This is particularly true when teething is the problem.
Daniel R. Hoffman, Ph.D.
Given pharma's way of doing business during the past decade, it's become extremely difficult to identify emerging patterns that deserve an attaboy. That's all the more reason to commend GlaxoSmithKline's management for two steps they took last week.
The company's CEO, Andrew Witty, announced that henceforth they would no longer include the volume of prescriptions written by physicians in a rep's territory when calculating his/her compensation. That new policy started in GSK's U.S. operation during 2011 and last week's decision applies it worldwide.
At the same time, Mr. Witty announced that "the company will no longer pay health care professionals to speak on its behalf about its products or the diseases they treat [and] will also stop providing financial support directly to doctors to attend medical conferences." (See here.)
Michael R. Cohen, R.Ph. and Jeanette Trella, PharmD
Michael Cohen, RPh, Institute for Safe Medication Practices, Horsham, PA; Jeanette Trella, PharmD, Managing Director, The Poison Control Center, The Children's Hospital of Philadelphia.

For many of us, the holidays will include traditional family gatherings that are heartwarming and joyous occasions. However, your holiday cheer will quickly fade if a child at your family gathering gets into any unsecured medicines and requires a trip to the emergency department (ED).
Childhood poisonings today are often due to medicines that look and taste like candy, medicine patches that fall off or are taken off of sleeping adults by children and ingested or applied to their skin, medicines in chewing gum or Tic-Tac-like pellet form, and other medicine forms that attract a child's attention.