Many types of insulin come in a device that, with their cap in place, looks more like a pen that an insulin syringe. These make it easier for insulin-dependent diabetics to prepare and administer each injection. Although the pens hold numerous insulin doses, each is intended to be used by one person only.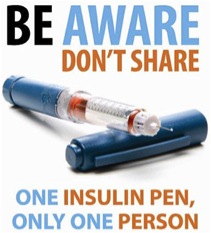 Even if the needle on the pen is changed, during injection the pen's insulin cartridge can become contaminated with blood or other cells from the person. That's because the insulin can channel backwards from the point of injection into insulin solution housed inside the pen's cartridge. If the person has a serious disease such as human immunodeficiency virus (HIV), hepatitis B, or hepatitis C, experts warn that it's theoretically possible for the virus to be passed on to the next person who uses the pen.
The risk is low and so far theoretical because the genetic makeup of the virus that affects one patient hasn't been tied to another who happens to test positive. But experts do believe there's likely enough blood to transmit disease, so when a problem is recognized, any patient involved must be tested.
This past week, a Connecticut hospital issued notification letters to 3, 100 patients who received insulin doses that might have come from an insulin pen that was used with other patients. The letter recommended that patients hospitalized between Sept. 1, 2008, and May 7, 2014 be tested for hepatitis B virus (HBV), hepatitis C virus (HCV), and human immunodeficiency virus (HIV) as a precautionary measure.