by Michael R. Cohen, R.Ph., M.S.
Last week the French pharmaceutical company Sanofi announced FDA approval of their new product, Auvi-Q, a new concept in drug auto-injectors for patients with a history of a severe reaction after a bee sting, or exposure to certain foods like peanuts or shellfish. According to Sanofi, as many as 6 million Americans are at risk for a life- threatening allergic reactions.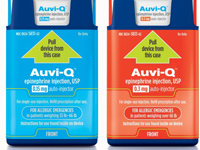 Auvi-Q contains the hormone epinephrine (adrenalin), the standard treatment for patients with severe allergic reactions. It's the same drug that's in an EpiPen, another auto-injector for use during an allergic attack But Auvi-Q may hold advantages over the EpiPen from a safety standpoint because of its unique voice-guidance system and overall design that makes using it more intuitive.