It's not uncommon for us to hear from consumers who've been given the wrong medication at their pharmacy. Sometimes patients can be given incorrect information about a drug they're taking.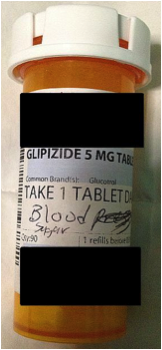 Last week we heard from someone whose father was on multiple medications for blood pressure and diabetes. He had an old prescription in his medicine cabinet for glipizide, which is used to help control high blood sugar. At the time the prescription was filled, the patient's doctor didn't include the reason for the medication with the original prescription directions. So, to avoid confusion with other medications, the patient had asked his pharmacist to write on the prescription container what the medicine was for.
Rather than retyping the label the pharmacist took a pen and wrote right on the label. By accident though, instead of writing "for blood sugar," the pharmacist wrote "for blood pressure."
The patient was already taking different medications to control his diabetes. When he went to the cabinet to get his blood pressure medication he saw the prescription marked "for blood pressure" and took that on top of other drugs for diabetes. As a result, the patient actually took a drug to lower blood sugar, which became too low (a condition called hypoglycemia). He complained of dizziness, light-headedness felt hot and then passed out. The family called 911 and emergency personnel took him to a hospital ER. His daughter told us that he's fine now, but she wanted us to suggest what others can do to avoid a situation like this.