Archive: September, 2010
Josh Goldstein
In March, Laurence T. McKinney, 54, of Philadelphia was convicted in a jury trial of illegally prescribing painkillers and sedatives from his Frankford Avenue offices in Philadelphia's Mayfair section.
On Wednesday, U.S. District Court Judge Michael M. Baylson, saying McKinney had acted out of greed, sentenced the doctor to 87 month in prison. In addition McKinney was given three years of supervised release after he leaves prison and his medical license was suspended for 10 years.
The jury convicted McKinney on 30 counts, including for illegally prescribing the painkiller Percocet and the anti-anxiety drug Xanax. Both drugs have high street value and are often abused. For a $100 fee, "patients" at McKinney's medical clinic could get prescriptions for controlled drugs.
Josh Goldstein
If your boss starts suggesting you quit smoking, lose weight and eat better, she might be concerned about more than just your health. A study in the current issue of the journal Occupational and Environmental Medicine found that obesity and smoking were associated with productivity loss and increased use of sick leave.
A Dutch study that recruited 10,624 workers at 49 companies in the Netherlands from 2005 through 2009 sought to identify lifestyle factors that led to productivity loss and increased use of sick leave.
The researchers analyzed productivity on a 10-point scale, rating how much work was actually performed on the previous day, while sick leave was determined by the number of days off taken during the previous year due to health reasons.
Josh Goldstein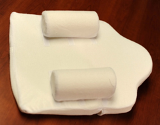 The federal government is warning parents of infants to immediately stop using sleep positioners intended to prevent babies from rolling onto their stomachs while they sleep.
The U.S. Food and Drug Administration and the Consumer Product Safety Commission said 12 infants have died over the last 13 years after they became trapped by positioners and suffocated. The makers of these products often promote them as devices to prevent sudden infant death syndrome or SIDS.
"To date, there is no scientifically sound evidence that infant sleep positioners prevent SIDS," said Joshua Sharfstein, the FDA's principal deputy commissioner and a pediatrician. "We want to make sure parents, health care professionals, and childcare providers understand the potential risk of suffocation and stop using infant sleep positioners."
Josh Goldstein

Pine bark extract, a popular supplement with antioxidant properties, does not help reduce blood pressure and other cardiovascular risk factors, according to a study in the current issue of the Archives of Internal Medicine.
Researchers from Stanford University School of Medicine randomly assigned 130 people with an increased risk of cardiovascular disease to take 200 mg of pine bark extract or a placebo once a day for 12 weeks. Blood pressure and other cardiovascular risk factors such as cholesterol and blood sugar levels were measured at the start of the study and at 6 and 12 weeks.
The blood pressure for the 66 participants taking the placebo pills fell more than for those taking the supplement, although the difference was not statistically significant. Nor was there a significant difference between the two groups in the other measures of cardiovascular risk.
Daniel Hoffman
By guest blogger Daniel Hoffman:
Nearly two out of three (63 percent) Americans are now obese or overweight, according to the U.S. Centers for Disease Control and Prevention. The incidence of conditions that typically result from obesity, such as Type 2 diabetes, has grown to epidemic levels. Obesity now afflicts pre-teens and teenagers at rates previously seen only among the middle aged. The fact that the pharmaceutical industry has not developed products to substantially address the obesity epidemic represents as much a failure of the industry's business model as a shortfall in its drug discovery.
Obesity remains an extraordinarily difficult condition to treat because it involves a behavioral problem as well as a metabolic condition. Despite obesity's long-term, physical consequences, many physicians don't think it can be successfully treated.
Josh Goldstein
Neuroblastoma is a tricky cancer. After chemotherapy, surgery, more chemo, radiation therapy and stem cell transplants, more than half the kids with high-risk neuroblastoma have a recurrence of the cancer. And most of those who relapse do not survive.
A study reports that the addition of immunotherapy to the already intense treatment regimen boosts relapse-free survival by 43 percent, say researchers at Children's Hospital of Philadelphia and a consortium of the nation's top pediatric medical centers. The study appears in the New England Journal of Medicine Thursday and is now available online.
Neuroblastoma causes 15 percent of all pediatric cancer deaths. About 750 children a year are diagnosed with the disease — 300 to 400 with the high-risk form of the cancer.
Josh Goldstein
Among likely voters this November, 46 percent hold favorable views of health reform, while 45 percent view the bill unfavorably, according to the Kaiser Family Foundation's health tracking poll for September.
Overall, this month's poll saw favorable views of the bill rise to 49 percent, up from 43 percent in August, while unfavorable opinions of the new law dropped to 40 percent from 45 percent. This reflects ongoing fluctuation in attitudes toward the Affordable Care Act (or Obamacare) in the Kaiser poll.
The split in opinion largely reflects the partisan divide, with 75 percent of Democrats having a positive view of the law and 73 percent of Republicans having an unfavorable one. Self-described independents were divided, 42 percent favorable verses 45 percent unfavorable. More independents with negative views of the law characterized their position as very unfavorable (28 percent) compared with only 14 percent who said their opinion of the law was very favorable.
Josh Goldstein

Both my daughters seem like they have almost constant colds, and that's not surprising since they're in day care. But for children who were born prematurely, particularly those born earlier and at very low weights, day care can be a real health hazard.
Those early premies are at high risk of a condition known as chronic lung disease of prematurity and sending those children to day care is – perhaps not surprisingly – associated with more respiratory illnesses. Researchers from the Johns Hopkins University School of Medicine tracked 11 children with chronic lung disease of prematurity between January 2008 and October 2009 and who were born on average at 26 weeks gestation.
Those who attended day care were at nearly four times the risk of going to the emergency room. In addition they had increased risk of being prescribed steroids and antibiotics to control illnesses. The day care kids also experienced significantly more days when they had trouble breathing.