Archive: August, 2010
Josh Goldstein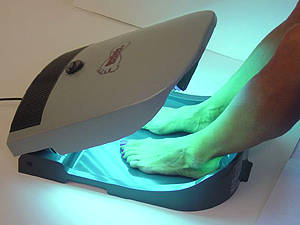 I don't golf and I don't tan; rather I turn a lovely shade of lobster red. So you will understand my confusion when I ran across an Food & Drug Administration consumer warning the other day about the dangers from the Tootsie Tanner, a portable foot tanning device that uses ultraviolet light.
The Tootsie Tanner is found, it seems, in airplane "skymall" magazines and golf specialty magazines to get rid of those unsightly white feet and tanned legs of golfers who spend their summer days on the links in shorts and socks.
But because of a danger of overdosing your feet with ultraviolet radiation, the FDA issued a warning letter to the devices maker but later learned that the company had gone out of business. So if you've purchased the Tootsie Tanner, the FDA cautioned:
Josh Goldstein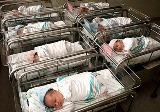 Sometimes it is impossible to avoid delivering a baby by cesarean section, but the high rate of operating room deliveries in America has many doctors worried.An upcoming study in the American Journal of Obstetrics & Gynecology published online found that 30.5 percent of births in America are now by c-section, including nearly one in three deliveries to first-time mothers.
In 2008, 45,822 babies were delivered via c-section births in Pennsylvania; This represents 30.9 percent of the 148,464 births. New Jersey's rate of c-section deliveries was an even higher 39.4 percent (43,019 or 109,257 births). An Inquirer analysis of data from the two states found that the eight county Philadelphia region's rate was 34.3 percent – 23, 077 of the 67,336 births, compared with 21 percent a decade earlier.
Therates varied widely among local hospitals with some high volume hospitals such as the Hospital of the University of Pennsylvania (28 percent of 4,326 births by c-section in '08) to nearly 42 percent (929 or 2,220 deliveries) at Main Line Health's Lankenau hospital in Wynnewood.
Josh Goldstein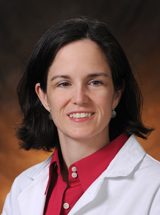 Women at high risk of breast and ovarian cancer due to BRCA1 and BRCA2 gene mutations substantially reduce their chances of developing the disease with preventive surgery, a major study lead by University of Pennsylvania researchers.
The study, which confirms and expands previous findings, followed 2,482 women with the gene mutations. The objective of the study in Wednesday's issue of the Journal of the American Medical Association was to estimate the risk reduction of undergoing preemptive mastectomies or removal of the ovaries and fallopian tubes.
The BRCA gene mutations increase the life-time risk of breast and ovarian cancers. Breast cancer risk for women with the mutations was 56 percent to 84 percent. The risk of ovarian cancer for those with the BRCA1 mutation is estimated to be 36 percent to 63 percent, and between 10 percent and 27 percent for those with the BRCA2 mutation.
Josh Goldstein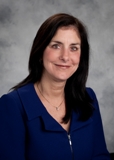 Aria Health, the three-campus health system in Philadelphia and Bucks County, has named Kathleen Kinslow, a long time hospital administrator to succeed Roy Powell as its president and CEO.
In February, Powell announced he would retire after leading the network formerly known as the Frankford Health System since 1996. Powell's retirement came after musician and community activist Joaquin Rivera, 63, died waiting for treatment in the ER at the Frankford campus in Northeast Philadelphia in November 2009.
Kinslow, a Philadelphia native, will take the helm of Aria in November. She is currently the chief executive for Pennsylvania Hospital in the University of Pennsylvania Health System. She is a certified registered nurse anesthetist with master's degrees in education, nursing and business administration as well as a PhD in education.
Michael Cohen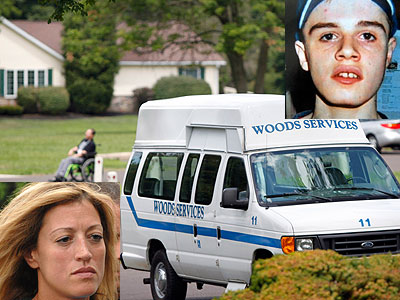 By guest blogger Michael Cohen:
All individuals are wired to make errors. Who among us hasn't forgotten to turn off an iron or tried to pull rather than push a handle to open a door? Most of the time these faux pas are of no serious consequence, but very similar human errors due to forgetfulness occasionally do lead to harm.
The tragic death of a severely autistic young man, Bryan Nevins, is an example. No one doubts that leaving Nevins in the Woods Services van after returning from a Sesame Place outing on an extremely hot summer afternoon was completely unintentional. Yet Stacey Strauss, a residential counselor at the facility and driver of the car in which Nevins was later found dead, has been charged with involuntary manslaughter and, if convicted, faces a prison sentence (http://www.philly.com/dailynews/national/99902089.html). Should human errors, which all of us are prone to, result in a jail term?
Josh Goldstein

Concerned about end of life care? Well, you should have a talk with your doctor about his religious beliefs.
A new study suggests that your doctor's beliefs are likely to have a greater influence on the care you get than any so-called "death panel" or rationing system that many Americans worried about during the health reform debate in Washington.
An English researcher surveyed doctors across the United Kingdom to learn about how their religious faith impacted their care decisions for dying patients. Clive Seale from the Centre for Health Sciences at Queen Mary University of London examined the responses of 2,923 doctors in the UK.
Daniel Hoffman

By guest blogger Daniel Hoffman:
The goals of national healthcare – greater access, better quality and lower cost – represent a three-headed monster. Appease one and the other two become more ferocious. Very few practical changes can simultaneously improve all three goals. One thing that can favorably affect the overall picture involves more of a cultural change than public policy, but in the long run it can do more than anything else that's on the horizon. It involves making professional healthcare delivery into women's work.
For most of its history, the pharmaceutical industry has been a hyper-masculine enclave, both in terms of the people who run it and its orientation to customers. That worked as long as the industry continued to develop breakthrough cures, while private and public payers were willing to automatically pay for new drugs. Both of those conditions began to fade within the past decade, thereby making it necessary for pharma to rethink the way it does business. They can nudge their thinking along by looking at the innovative companies in consumer-packaged goods.
Josh Goldstein

Are tobacco companies using slick internet videos to target young people with cigarette advertisements? Researchers from the University of Otago in New Zealand analyzed YouTube videos for five popular cigarette brands to assess for content aimed at young people.
The researchers found that most of the videos had "pro-tobacco" content - and many appeared to be professionally produced - compared with only a small fraction that had anti-smoking messages. The researchers searched the YouTube web site using the terms Marlboro, L&M, Benson and Hedges, Winston, and Mild Seven. They chose the 40 most-viewed videos for each search (or all the videos in searches that returned fewer that 40) and analyzed the content.
Seventy-one percent (116) of the 163 tobacco brand-related videos contained "pro-tobacco content" compared with 3.4 percent (6 videos) that were anti-tobacco. Three of the most frequent themes in the videos were sports, movies/celebrities, and music, which the researchers said were "of interest to a youth audience."