Archive: July, 2012
Michael R. Cohen, R.Ph.
by Michael R. Cohen, R.Ph.
Patients who keep an EpiPen on hand in case of a severe allergic attack need to know about a potentially dangerous mix-up between the actual pen and a similar looking training pen.
EpiPen is an auto-injector that looks like a pen. It contains the medicine epinephrine (adrenalin) and has a needle at one end. Injected immediately for emergency treatment of a severe allergic reaction, an EpiPen can be life-saving. It slows down the allergic reaction and can prevent a reaction to a bee sting, or peanut or shellfish exposure, from getting worse. There's an EpiPen Jr. for children that has a lower epinephrine dose than the one for adults.
Daniel R. Hoffman, Ph.D.
One might think that in both pharma and the equity markets, reality usually prevails over hyperbole and wishful thinking. In pharma, outcomes data constitute the prime mover. Likewise on Wall Street, the business is premised on the notion that accepted measures of margins, growth and profitability will eventually determine the course of events. Perhaps the key concept here concerns the ambiguity of "eventually," because until that occurs, vast fortunes can rise and fall from hyperbole.
Some of pharma's recent earnings reports provide a ready example. On Tuesday the blogosphere crowed about Pfizer's quarterly profit rising 25 percent even as the company's top-selling brand, Lipitor, lost patent protection. Pfizer's stock rose more than 2 percent on the news. Yet if one looks just slightly beyond the headline, the news is far from sanguine.
Much of Pfizer's gain came from cost cutting and divesting assets. Overhead costs fell 17 percent in the quarter, while research and development expenses declined by 24 percent. Pfizer is preparing to sell its nutrition unit to Nestle for $11.85 billion and divest its animal-health business through an IPO. At the same time, second-quarter revenue fell 15 percent below the comparable period last year, while new brands failed to make up the shortfall.
Daniel R. Hoffman, Ph.D.
by Daniel R. Hoffman, Ph.D.
It isn't often that the toils of daily journalism permit a single story to specifically demonstrate how a major social institution works. Occasionally when it does happen, however, the learning opportunity can be spectacular. That sort of fortuitous circumstance occurred late last week when Washington Post writer Peter Whoriskey published a well-researched article detailing a 20-year history of the dubious promotional efforts by two pharmaceutical companies for their three anemia drugs.
In 1989 the FDA approved two branded versions of the same compound, Epogen from Amgen and Procrit from Johnson & Johnson. Both are synthetic versions of a naturally occurring hormone, erythropoietin, which stimulates the body to make red blood cells. The therapeutic versions go under the description of erythropoiesis-stimulating agents (ESAs).
Michael R. Cohen, R.Ph.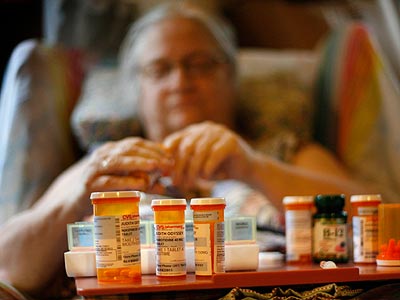 by Michael R. Cohen, R.Ph.
When the weather heats up, many families head out for vacation destinations. Traveling on vacation can be hectic enough without the added problem of worrying about your medications. But when you're on-the-go, it's important to make sure your medicine travels safely with you. So here are some things to keep in mind to reduce the risk that something will go wrong.
First, when packing for a trip, keep your medicines in their original child-resistant containers, not baggies or pill organizers that can be easily accessed by young children. Remember too that medications are sensitive to temperature extremes. So, with summer time upon us, or in winter if you're traveling to a hot and humid climate, take extra care to keep your medicines in a cool, dry place out of direct sunlight. Never store medicines in your car's glove compartment or trunk, even if packed inside luggage.
Daniel R. Hoffman, Ph.D.
by Daniel R. Hoffman, Ph.D.
Some cheerful news related to the pharmaceutical industry emerged on at least a couple of fronts last week. The first item involves the fact that the European Medicines Agency (EMA), the EU's counterpart to America's Food and Drug Administration, said it would begin requiring full disclosure of all data submitted by pharmaceutical companies to gain drug approvals.
Currently the drug companies only disclose their own analyses of the data from clinical trials, not the raw data itself. In the future, however, medical researchers will gain access to this raw data, thereby enabling them to perform the statistical analyses themselves and reach their own interpretations about the comparative benefit of various compounds. While the FDA here is not bound by the EU decision, the action puts pressure on it to follow suit. In any case, as companies submit most of the same studies to gain registration in the U.S. and Europe, the EMA decision will increase transparency in both places.
Our One Great Idea series features a health care suggestion this week. The suggestion comes from Alexander R. Vaccaro, M.D., Ph.D., Professor and Attending Surgeon of Orthopaedics and Neurosurgery at Thomas Jefferson University Hospital. He is board certified in Orthopaedic Surgery and is the Vice Chairman of the Department of Orthopaedics.
Here is a transcript of the video in which Dr. Vaccaro offers his idea:
My name is Alex Vaccaro, I'm a spine surgeon at the Rothman Institute, I'm a professor of orthopedics and neurosurgery, and I have probably the greatest idea to bring health care to the masses. We are a medical city, like Boston: Boston, Cleveland, Philadelphia... The problem is, patients don't have access. Are you sitting around and you have neck pain, back pain, elbow pain, and you just want to talk about it to someone? You don't want to get in the car, drive to the inner city, park your car, and see a doctor. How about having a town hall once a month where every specialty gets out, has a group of ten to fifteen doctors in that specialty - just talk to the people, we'll answer any questions you want... It's not treating a patient with a problem, just discussing problems.
This chat was paid for by Laser Spine Institute.
More than 80 percent of the U.S. population suffers from neck or back pain, and this often results in missed work and activities with family and friends. In the past, patients have had to learn to live with chronic pain, or at a most drastic solution, consider open back or neck surgery. But endoscopic (minimally invasive) spine surgery expands the healthcare options for patients with spine conditions.
Robert I. Field, Ph.D., J.D., M.P.H.
by Robert I. Field, Ph.D., J.D., M.P.H.
Breaking news!! The House of Representative voted to repeal all of Obamacare – for the 33rd time.
In a recurring political ritual, Republicans in the chamber denounced the law as a government takeover and said that all of it has to go. Then they backed up their statements with a vote.