Archive: June, 2010
Josh Goldstein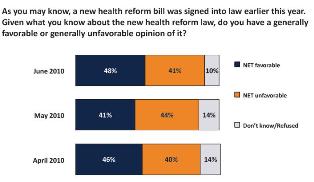 The Kaiser Family Foundation's June tracking poll found that 48 percent of Americans surveyed had a somewhat favorable or very favorable opinion of the health reform bill passed in March. That was an increase from the previous month when 41 percent of those surveyed said they viewed the law favorably.
Forty-one percent said they held a very unfavorable or somewhat unfavorable view of the act passed with no Republican support in congress and signed into law by President Obama. And 27 percent supported a repeal of the law, formally known as "the Patient Protection and Affordable Care Act."
The favorable/unfavorable numbers fell within the poll's 4 percent margin of error, meaning Americans were essentially evenly divided in its opinion of the law. The poll was conducted with phone interviews of 1,207 adults between June 17 and June 22.
The Kaiser poll also found the public evenly divided on how the health law would impact their vote in congressional elections this November. Roughly one third (35 percent) said they would be more likely to support a candidate who voted for passage of the health law, 32 percent said they were more likely to vote against such a candidate, and 31 percent said it would not impact their vote.
Josh Goldstein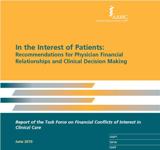 In an effort to limit financial conflicts of interest between academic medicine – hospitals, universities and doctors - and industry – drug makers and medical device companies – the Association of American Medical Colleges issued a report today establishing new guidelines to limit the impact on patient care.
The 46-page report "In the interest of Patients: Recommendations for Physician Financial Relationships and Clinical Decisions Making" was written by a 20-member panel of national medical leaders chaired by P.J. Brennan, chief medical officer of the University of Pennsylvania Health System.
"We believe these recommendations will provide guidance for how to implement policies that will meet the needs of both patients and the institutions them," Brennan said.
Penn has among the nation's most stringent conflict of interest policy that includes posting of the financial ties between its medical faculty and outside companies and other organization on its website. The health system and medical school, known collectively as Penn Medicine, also limit access to medical students and facilities by drug company sales representatives.
Josh Goldstein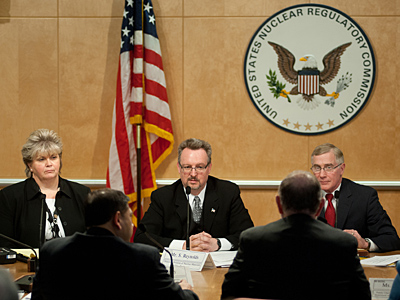 The failures of a prostate cancer program at the Philadelphia VA Medical Center and similar problems at 12 other VA hospitals has raised questions about whether the Veterans Health Administration can adequately oversee the safe use of radioactive materials in its health system.
Wednesday, top radiation safety officials from the Department of Veteran's Affairs will testify before a panel of the U.S. Nuclear Regulatory Commission in advance of the agency's decision on how to address three apparent violations of federal radiation safety regulations.
The NRC could levy a fine against the VA for the problems or, in a more far reaching action, strip the VA of its ability to oversee radiation services at all 153 hospitals nationwide. The commission would then take on those duties or assign them to states, such as Pennsylvania and New Jersey that have that capability.
On May 25, the NRC released a preliminary finding that the VA had violated federal regulations in its 13 prostate brachytherapy programs in hospitals from Brooklyn, N.Y., and Jackson, Miss., to Seattle and Los Angeles. Prostate brachytherapy involves implanting dozens of tiny radioactive seeds into the acorn-sized gland to kill cancerous cells over several months. It is an effective treatment when done correctly.
Josh Goldstein

A major study of the GlaxoSmithKline diabetes drug Avandia "was associated with an increased risk of stroke, heart failure, and all-cause mortality and an increased risk of the composite of AMI (Acute Myocardial Infarction), stroke, heart failure, or all-cause mortality in patients 65 years or older."
The researchers led by David J. Graham of the U.S. Food and Drug Administration examined data on 227,571 Medicare beneficiaries who took Avandia - also known as rosiglitazone - or a rival type 2 diabetes drug pioglitazone sold as Actos.
Those taking Avandia were 25 percent more likely to develop heart failure, 27 percent more likely to suffer a stroke, and 14 percent more likely to die from any cause. A story on the study and upcoming hearing is available here.
The study published in the Journal of the American Medical Association is the latest blow to GSK's drug, which has been under a cloud since 2007 when a review of multiple studies suggested it increased the risk of cardiovascular events such as stroke and death.
Josh Goldstein

So close. Just two months before she would get her chicken pox vaccine, my 10-month-old daughter got the virus. It kind of freaked out my wife and me over the weekend as our baby developed a fever, threw up a couple times and was cranky.
Then on Sunday, chicken pox appeared and again it was scary because we didn't realize what it was and couldn't get answers quickly enough for my satisfaction. So it was a hot and uncomfortable weekend here in Philly. Now her sister needs to get a booster shot a little early so that she doesn't get it too.
All of which would be just a bit of personal drama but for a study released today by Kaiser Permanente – the giant California-based insurer and hospital system that uses its huge database to do powerful studies of various issues. The Kaiser study showed that the combined measles, mumps, rubella (German measles), and varicella (chicken pox) vaccine doubles the risk of seizures associated with high fevers – so called febrile seizures – compared with the MMR vaccine and chicken pox vaccine given separately but on the same day.
The Centers for Disease Control and Prevention funded the study, which analyzed 459,000 children, 12 to 23 months old, from health systems across the country. It found a two-fold increased risk of fever-associated seizures seven to ten days after vaccination. The absolute risk of such seizures remains small, the Kaiser researchers noted. The study was published online in the journal Pediatrics Monday.
Josh Goldstein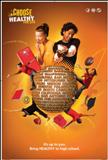 My colleague, public health writer Don Sapatkin, reports the following developments from a major study released this afternoon at a medical conference in Orlando, Fla.:
Tantalizing evidence that America's epidemic of childhood obesity may be starting to subside was presented Sunday by researchers who also found that the trend could be speeded up through programs in the schools.
Several recent studies reported that rates of overweight and obese children have plateaued during this decade after rising rapidly since 1980. But this is the first major study to detect a decline – of 4 percent – and it was in a national sample dominated by low-income blacks and Hispanics, the groups at highest risk.
"These are the kids you expect least to change," said Gary D. Foster, director of Temple University's Center for Obesity Research and Education, who chaired the study of 4,603 students in 42 middle schools around the country, including six in Philadelphia. He and others speculated that the decline might be greater in the general population.
Josh Goldstein

The California Department of Public Health declared a whooping cough epidemic after recording a quadrupling of cases that has reached 910 so far this year. The agency said local public health agencies are investigating another 600 cases of the illness that starts with a cough and runny nose for one to two weeks.
That puts California on pace for the worse whooping cough epidemic _ with potentially more cases and deaths _ in 50 years.
Five babies, all under three months of age, have died of the vaccine-preventable illness and the state agency urged that all Californians get vaccinated against the disease.
Known as pertussis, it's highly contagious, and unimmunized or incompletely immunized young infants are at high risk, the agency noted. It urged families to get vaccinated, noting that women can be vaccinated before and after pregnancy as well as after delivering a baby.
Josh Goldstein

Hospitals in the Philadelphia region fared poorly in so-called hospital-acquired infections in 2009, according to a new report issued by the Pennsylvania Department of Health. Overall, 250 hospitals across the commonwealth reported that 25,914 patients contracted infection during the course of their care.
The report due out Tuesday afternoon detailed the number of infections at each of the hospitals and included a detailed examination of two common types of infections – catheter-associated urinary tract infections and central-line-associated bloodstream infections.

Of the 194 hospitals that reported urinary tract infections, 32 had rates that were significantly higher than expected based on the type patients treated. Nearly half (15) of those were in Philadelphia or its Pennsylvania suburbs. In contrast, 12 of the 44 hospitals with better than expected rates of catheter-associated urinary tract infections were based in the region.
And 13 of the 19 hospitals that had higher than expected rates of central-line associated bloodstream infections were from the Philadelphia region. Philadelphia hospitals accounted for four of the 22 hospitals that achieved better than expected results.
Medical experts say that many of these so-called hospital-acquired infections can be prevented, saving lives, unnecessary illness and millions or even billions of dollars of care. The full report and a consumer oriented version of it are available on the Pennsylvania Department of Health's website.
Josh Goldstein

Italian researchers reported positive results in a small study involving ten patients with Alzheimer's Disease who underwent repetitive transcranial magnetic stimulation - a technique that delivers several magnetic pulses to the brain in rapid sequences at various frequencies.
The goal was to determine if the magnetic pulses could be a treatment for the cognitive deficits of Alzheimer's patients. The ten patients were randomly placed in two groups with the first group undergoing four weeks of treatment with the magnetic stimulation and the second group undergoing two weeks of fakes or placebo treatment followed by two weeks of real treatment.
The patients were tested for cognitive performance before treatment began at two weeks, four weeks and eight weeks after the regimen ended. The researchers reported that those undergoing the magnetic pulse treatments had significant differences in the correct responses they made, demonstrating comprehension of spoken sentences.
"Only real treatment induced an improvement in performance with respect to baseline or placebo," the authors wrote in the study published online in the Journal of Neurology, Neurosurgery and Psychiatry. "Moreover, both groups showed a lasting effect on the improved performance eight weeks after the end of treatment."
Josh Goldstein

I was shocked, shocked to learn that people who regularly swap partners, visit sex clubs for couples, and participate in groups sex are at high risk for sexually transmitted diseases.
Apparently public health researchers in The Netherlands needed to check the clientele at an STD clinic to determine that swingers are an oft forgotten category of people at particularly high risk of contracting such diseases.
Actually, I was a bit surprised to learn that there is a significant contingent of so-called swingers still around. I kind of thought it was a fad that had died out with disco, but the researchers noted that there could be a large group of aging swingers still active across the globe.
"Although exact estimates are unavailable, the swingers' population is probably large. One of the largest dating websites for swingers estimates that there are millions of swingers worldwide," they said. "Potentially they may act as an [STD] transmission bridge to the entire population."