Archive: May, 2012
Daniel R. Hoffman, Ph.D.
by Daniel R. Hoffman, Ph.D.
What does it say about an industry when its leading competitors appear fundamentally at odds about whether they should grow bigger, smaller, more diversified or more focused?
The rosy view is that the abundance of opportunities offers multiple paths to success and the various Big Pharmas are pursuing these divergent paths to profit. That view, however, is delusional, as a glance at the Big Cap pharma sector will show. As of last week, Big Pharma is trading at a 4 percent lower earnings multiple than the S&P 500 and at a 6 percent discount on CIRA estimated earnings. Big Pharmas as a group have performed below the S&P composite by approximately 610 basis points this year, during which time the S&P is up 4.8 percent while the major drug companies are down 1.3 percent.
MIchael R. Cohen, R.Ph.
by Michael R. Cohen, R.Ph.
The U.S. Food and Drug Administration (FDA) and the organization I work for, the nonprofit Institute for Safe Medication Practices (ISMP), have long shared a common goal of helping consumers prevent medication errors. Now, to reach as many consumers as possible, FDA's Center for Drug Evaluation and Research (CDER) has formally strengthened its relationship with ISMP so the two agencies can work together to provide consumers with information on how to use medicines safely.
Reviewing information from reported errors and timely posting of crucial information on both agencies' Web sites are just two of the ways that ISMP and FDA are working together towards this goal. For example, late in 2011, both FDA and ISMP received reports of dosing confusion involving a new, less concentrated form of acetaminophen for infants. A more complete picture of the problem was possible by combining the reports submitted to both agencies. Then, ISMP and FDA both issued advisories with tips to help consumers avoid confusion and dosing errors. Click here to link to ISMP's advisory on this topic, or click here to watch an FDA podcast about infant acetaminophen safety.
Robert I. Field, J.D., Ph.D.
by Robert I. Field, J.D., Ph.D.
What's the point of health insurance if it doesn't cover much?
Many policies today are so skimpy they leave patients with thousands of dollars in medical bills even after the coverage kicks in. They're hardly worth the cost of the premiums.
Earlier this month, an influential federal panel rejected PSA (prostate-specific antigen) screening for prostate cancer, stirring controversy and raising questions.
Given the trade-offs, men should stop having the screening test, which measures the level of prostate-specific antigen in the blood, said the government-sponsored report, published in the Annals of Internal Medicine.
Urologists and advocacy groups immediately decried the advice - as they did when a draft version was released last October - calling it "inappropriate and irresponsible." You can read more about the decision here.
Daniel R. Hoffman, Ph.D.
by Daniel R. Hoffman, Ph.D.
An article published last year addressed a factor generally associated with corporate failure and success. Although it mentioned the drug industry only peripherally, it says a great deal about why pharma remains stuck in its current down cycle.
The article's author was Benjamin Gilad, a former faculty member at Rutgers School of Management who now teaches competitive intelligence to aspiring, mid-level managers at a private company. Therein lies a major irony because Gilad argues that when companies in most industries fail, it generally does not result from competitors surprising and outmaneuvering them. That is the sort of thing competitive intelligence seeks to discern and prevent, but Gilad considers it a minor factor in a company's ultimate success or failure. Instead he draws a distinction between competitive intelligence and what he calls strategic intelligence. A company's capability at the latter function, together with a willingness to take action based on it, represent what Gilad considers the differentiating factors between corporate survival and extinction.
Michael R. Cohen, R.Ph.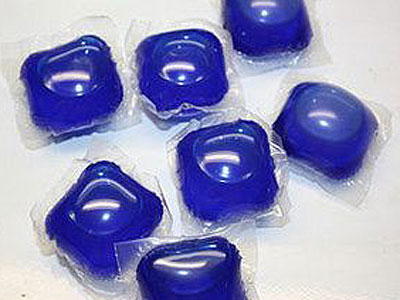 by Michael R. Cohen, R.Ph.
I don't usually stray too far from medication-related topics for my blogs each week. However, something crossed my desk a few days ago from the American Association of Poison Control Centers that caught my attention, and I think it's worthwhile mentioning.
The poison centers want to call attention to a surge in the number of young children and toddlers who swallow those single unit packets of laundry detergent that look like tiny balloons. Dishwasher detergents also come in these packets.
Robert I. Field
by Robert Field, J.D., M.P.H., Ph.D.
Big business could be the biggest loser if the Supreme Court overturns Obamacare. To be more precise, one business in particular faces an enormous risk – the insurance industry.
Health insurance companies could lose about $1 trillion in revenue through 2020 if health reform is struck down. That's according to a new study by Bloomberg Government. The shortfall would equal almost one-tenth of their total expected earnings.
Daniel R. Hoffman, Ph.D.
by Daniel R. Hoffman, Ph.D.
One way of viewing the drug industry's current situation — underperforming the S&P 500 by more than 790 basis points this year — involves asking whether pharma possesses the innovative skill to discover and develop new offerings or, alternatively, prop up its legacy business and lose another trillion dollars of capitalization by 2020, the same amount it lost over the past decade.
Large, multinational corporations seldom have to face that sort of choice. Internal functions at big companies such as strategic planning, business development and others typically scan the horizon to preempt such do or die situations. Then if management gives these groups the attention they deserve, the companies stick separate fingers into emerging opportunities that may emerge.