Archive: May, 2010
Josh Goldstein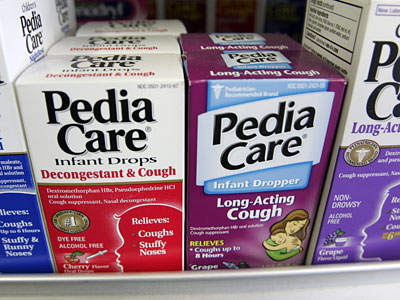 Four cold and cough medicines for children have been recalled that were sold under the PediaCare brand by Blacksmith Brands Inc. of Tarrytown, N.Y., the U.S. Food and Drug Administration announced.
The company said it was voluntarily recalling all lots of the medications because they had been made in the Fort Washington, Pa., manufacturing plant by McNeil Consumer Healthcare that was shut down after a recent FDA inspection found serious problems meeting the federal agency's good manufacturing practice requirements.
The four recalled PediaCare products were:
PediaCare Multi-Symptom Cold 4oz. UPC # 3 0045-0556-05 9
PediaCare Long Acting Cough 4oz. UPC# 3 0045-0465-04 7
PediaCare Decongestant 4oz. UPC# 3 0045-0554-04 8
PediaCare Allergy and Cold 4oz. UPC# 3 0045-0552-04 4
Josh Goldstein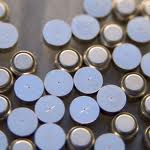 A study in the journal Pediatrics this week had me checking on my various battery operated contraptions to make sure the lithium button batteries were securely installed. It turns out, more and more kids are being seriously injured after they swallow "button" batteries.
So parents, make sure you keep track of all those "button" batteries commonly used to power watches, calculators and hearing aids.
Young children who find the coin-shaped batteries often swallow them, sometimes leading to burns and even death. The most dangerous batteries are at least 20 millimeters in diameter — about the size of a push-pin head, according to the study in Pediatrics.
Daniel Hoffman
By guest blogger Daniel Hoffman:
Even casual observers of the pharmaceutical industry know that it is in a trough of new product development especially over the next three years. What remains unappreciated, even within the industry, is that pharma's entire customer base is undergoing enormous change. If the industry wants to adapt, its entire business model must change just as radically.

Pharma's historic customers -- the individual physicians -- have been consolidating into larger corporate entities. They are doing this to get a stronger hand in negotiating with insurers/payers, and to earn revenue from other sources such as clinical trials. And in an era when electronic medical records (EMRs) are becoming coins of the doctoring realm, larger practices possess the capital to make the change more quickly. This recent report in The New York Times shows that physicians now own less than 50% of private practices.

This trend holds several huge consequences for the pharmaceutical industry.

The sun will set on the gatekeeper system. Practices rather than individual physicians will make or constrain most of these decisions, and profits will represent the principal factor driving their choices.

Sales reps become obsolete. Pharma and others will have to conduct business-to-businss selling, not aim at individual docs. Reps will become as obsolete as buggy whip operators.

Niche products will be king. In the near future, the decision on which drugs to use will result from a dynamic of dueling electronic databases. Instead of a company being able to argue persuasively that its product is the most effective, larger practices will check the historical outcomes of each product among tens of thousands, and even millions of patients.

Until new blockbusters are found, most new, branded products will show better cost-effectiveness in only a small proportion of patients. That means pharma must learn to prosper by making profits on small, niche products. Until they can do that, the giant companies such as Pfizer, Merck and GlaxoSmithKline will operate with diseconomies of scale, the exact opposite condition of what favored the mergers and acquisitions that created those behemoth companies.
Josh Goldstein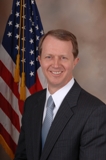 The VA is opposing a bill sponsored by Rep. John Adler (D., N.J.) that seeks to correct the snafus that led to nearly 100 veterans getting incorrect radiation doses at the Philadelphia VA Medical Center over six years.
"We appreciate the intent to H.R. 4062 but for a number of reasons we do not support it," because of its onerous reporting requirements, Robert Jesse, acting principle under secretary for health at the Veterans Health Administration told the VA Subcommittee on Health.
The bill – mirrored by a Senate bill introduced by Pennsylvania Democratic Senators Bob Casey and Arlen Specter – would require the VA to submit an annual report to Congress on all its medical programs that treat 100 or fewer patients a year, ensure that all employees at VA health facilities are trained in regulations for radiation safety, and require independent reviews of the performance of all contractors providing medical care at its medical centers.
Josh Goldstein

The Food and Drug Administration warned consumers, doctors and other health professionals this week that certain antacid drugs called proton pump inhibitors (PPIs) increase the risk of wrist, spine and hip fractures. The medications available over-the-counter (Prilosec, Zegerid, and Prevacid) and by prescription (Nexium, Dexilant, Prilosec, Zegerid, Prevacid, Protonix, Aciphex, and Vimovo) are among the most commonly prescribed drugs in America.
According to IMS Health, a company with offices in Plymouth Meeting, Pa. that tracks drug sales, nearly 120 million prescriptions filled in 2009 at a cost of $13.6 billion for PPIs. Nexium, made by drug giant AstraZeneca with its U.S. headquarters in Wilmington, Del., generated nearly half the sales, producing revenues of $6.3 billion.
The FDA warning comes after a series five studies (1, 2, 3, 4, and 5) and an editorial published in the Archives of Internal Medicine on May 10 found that the medications increased the risk of a variety of problems including certain infections. One of those studies linked the drugs to increased risk of fractures in older women.
Josh Goldstein

The Food and Drug Administration announced that the over-the-counter diet-drug Alli by local pharmaceutical powerhouse GlaxoSmithKline has changed its label to warn consumers that the medication has been linked to reports of severe liver injury.
Alli helps overweight people lose weight by decreasing the amount of fat absorbed by the intestines and thus reducing calorie intake. A prescription version of the drug called orlistat for the active ingredient is also available at double the dosage. The prescription version is made by Roche and goes by the brand name Xenical.
The FDA notice to doctors, other prescribers and patients stated:
Josh Goldstein
I got the lab results from my recent annual physical this morning. I had been eagerly awaiting my cholesterol numbers since last year when my doctor warned that if I didn't bring my levels down, he would be putting me on a cholesterol-lowering medication called a statin.
The problem he told me was that I was putting on weight and my total cholesterol of 159 four years earlier had tracked the upward with the yearly addition of about 10 pounds to at 189 last year. So my New Year's resolution this year was to shed the weight and get back to a normal body-mass-index. My goal was and remains shedding a total of 25 pounds and I am half way there as of this morning.
I've changed my diet and am trying to jog and work out regularly – honestly that effort has ebbed and flowed with the amount of sleep our infant daughter is allowing me to get, but we are currently in a pretty good place. This morning my lab results were in and my total cholesterol was 178 – LDL 121, HDL 50 and triglycerides 35. That means I've dodged the statin, but I still want to get back to 159, by lowering my "bad" LDL level and raise my "good" LDL above 60.
Josh Goldstein

On Wednesday a group of hospital administrators, doctors, nurses, nursing home workers and others will gather at the Union League in Philadelphia to launch an initiative aimed at reducing costly readmissions by 10 percent in over the next 18 months.
The Partnership for Patient Care, collaboration between the general hospitals and health systems in Southeastern Pennsylvania and Independence Blue Cross, the region's largest health insurer, begin the collaborative effort that targets key aspects of the hospital discharge process.
Three working groups will focus on elements of that process that can lead to problems and patients returning to the hospital. A key to ensuring smooth transitions for patients out of the hospitals is to ensure that they know and understand their medication regimens and that they are clear on what medications they should be and shouldn't be taking.