Archive: March, 2010
Josh Goldstein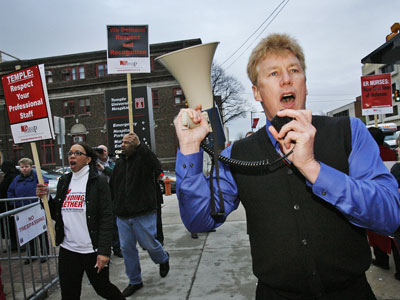 After 12 wonderful days of vacation that included skiing in Colorado and hiking in Yosemite, I returned to news that nurses at Temple University hospital are on strike and a local doctor has been convicted of dealing prescription drugs including Percocet and Xanax.
At Temple, the union representing nurses says its members - 1,000 nurses and 500 other professional workers such as respiratory therapists and social workers - voted to strike because of "bad faith" bargaining on the part of the hospital. Hospital administrators have hired temporary employees through an agency that specializes in strike forces to keep the 746-bed hospital open. Points of contention between the two sides include pay raises, the payments for health insurance, tuition benefits for employees' children, and random drug testing.
In the criminal case, meanwhile, doctor Laurence T. McKinney, 54, was convicted on 30 of 49 counts of distribution of controlled substances. He had operated the McKinney Medical Center on Frankford Avenue in Northeast Philadelphia since 2004, but three years later began to sell prescriptions for Percocet and Xanax - two of the most frequently abused controlled drugs - for $100 a pop, according to prosecutors. McKinney faces up to nine years in prison when he is sentenced on July 14.
I'll get back to regular more frequent blog posts tomorrow – after the jet lag abates a bit – but thought these were two interesting stories.
Josh Goldstein
Women accounted for 59 percent of hospital admissions in 2007, according to an analysis by the federal Agency for Healthcare Research and Quality (AHRQ).
One in five hospitals stays for women was connected with pregnancy. And even when those 5 million hospitalizations were excluded, women still accounted for 2 million more impatient stays in 2007 than men – 18.2 million for females and 16.2 million stays for males. Overall, women represented 23.2 million of the 39.4 million hospital admissions in 2007, AHRQ found.
In Philadelphia and its four Pennsylvania suburban counties, women accounted for 398,230 of 707,600 hospital discharges in 2007, or 56 percent of the inpatient visits, according to an Inquirer analysis of billing data. In New Jersey women accounted for nearly 58 percent of the 1.1 million hospitalizations in 2007.
The AHRQ report says that after childbirth and other pregnancy related issues, cardiovascular disease was the leading cause women were admitted to hospitals; conditions such as heart disease, heart failure and heart attacks led to nearly 2 million admissions in 2007.
Josh Goldstein
So, if more of us get heath coverage under the legislation that President Obama recently signed into law, will there be enough doctors to meet our needs?
According to the American College of Physicians, the Philadelphia based group representing 129,000 internists, too few medical school graduates are going into primary care residency programs. The college said the National Resident Matching Program reported 2,722 entered an internal medicine residency program in 2009. And while that represented a slight increase from the previous three years, it was a 30 percent drop from 1985 when 3,884 medical school graduates went into internal medicine programs.
"Because it takes a minimum of three years of residency after four years of medical school to train an internist, it is critical to begin making careers in internal medicine attractive to young physicians," said Steven Weinberger, a senior vice president at the college. "As America's aging population increases and more people gain access to affordable coverage, the demand for general internists and other primary care doctors will drastically outpace the primary care physician supply."
In 2008, there were 272,435 doctors actively providing primary care services in the United States, or 89.6 per 100,000 people, according to the American Association of Medical Colleges' 2009 State Physician Workforce Data Book. New Jersey and Pennsylvania ranked 13th and 14th in per capita primary care doctors respectively with 99.8 per 100,000 residents and 99.3 per 100,000. A group of state medical schools in New Jersey recently predicted a larger than expected shortage in doctors because fewer young doctors are choosing to stay after completing their training.
Josh Goldstein

Despite efforts by 54 percent of area smokers to quit in the last year, one in five people living in Berks, Bucks, Chester, Delaware, Lancaster, Montgomery, Philadelphia and Schuylkill still smokes, according to the Public Health Management Corporation in Philadelphia. Its Community Health Database shows that among smokers, about the same number of people with chronic illnesses, such as asthma and heart failure, smoke as those who don't have such conditions.
But more of those with chronic illness in the area - three in five – attempted to quit in the last year compared with slightly fewer than half of smokers who don't have a chronic disease. The local nonprofit's annual household health survey found that despite attempts to stop, 20.5 percent of residents in the eight counties continue to smoke.
The survey found that nearly 24 percent of those people diagnosed with asthma – 125,400 people – smoke. One in five people with high blood pressure – about 224,000 people – smoke. Nearly 19 percent of those diagnosed with heart disease – approximately 75,600 people in the area – smoke. And more than 18 percent – 70,300 people – of those with diabetes continue to smoke, the survey found.
"These data tell us that there is a great need for services to address the health needs of people who smoke and have a chronic disease," says Rose Malinowski Weingartner, research associate with Public Health Management Corporation. The survey results on chronic disease and smoking in the eight counties were released in anticipation of national Kick Butts Day 2010 on Wednesday March 24.
Josh Goldstein
In 2008 there was a measles outbreak in San Diego, Calif. It was the largest such outbreak in San Diego since 1991.
Researchers from the Centers for Disease Control and Prevention and the San Diego County Health and Human Services Agency tracked the outbreak and found it had been initiated by a seven-year-old boy whose parents had intentionally not vaccinated him against the disease. The researchers reported their findings in the current issue of the medical journal Pediatrics.
In January, 2008, the boy who was infected with measles returned from Europe with his parents unaware that he had the illness. Ultimately, 839 people were exposed to measles and 11 additional cases occurred. All those were among unvaccinated children, including an infant too young for vaccination who was hospitalized as a result. In addition, 48 exposed children too young for vaccination were quarantined.
The researchers noted that in interviews the majority of parents who declined vaccination for their children were concerned about adverse effects of the shots. They concluded that "despite high community vaccination coverage, measles outbreaks can occur among clusters of intentionally under-vaccinated children, at major cost to public health agencies, medical systems and families."
Josh Goldstein
Chronic illnesses are major drivers of health care costs. Many health experts believe that better management of diseases from diabetes to heart failure can reduce health care spending and improve the well being of people with such conditions.
On Tuesday evening, Noreen M. Clark, a professor of public health at the University of Michigan, will give a lecture on issues related to chronic disease prevention and management at the College of Physicians of Philadelphia. Clark directs the Center for Managing Chronic Disease at Michigan. She will discuss the center's work which focuses on people at risk and those - family, clinicians, and community - that can help them manage their conditions.
Clark's lecture is free and open to the public. It will be held at the college (19 South 22nd Street) on Tuesday evening at 5:30. You can register for the event here.
Josh Goldstein
Since my oldest daughter started going to daycare I've tried to be careful about doing things that would reduce the risk of catching the endless stream of colds and viruses that she brought home. Last spring when my wife was pregnant with our second child and swine flu hit, I became even more obsessive about hand washing and other basic precautions to prevent the spread through our household.
It turns out that those basic precautions can reduce transmission of disease within households, according to a report from the New York Department of Health.
Check out my colleague Sandy Bauers' report on that study that will appear in Monday's Health & Science section:
The advice has been clear: If you have the flu, stay home. The world will appreciate it.
But, uh, what about the rest of the family or housemates?
Josh Goldstein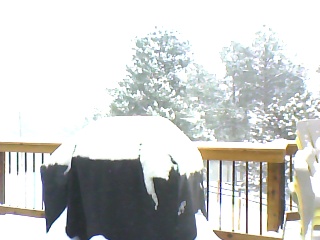 So I thought it would be a good idea to get away for a few weeks after a rough winter and lots of snow. So we got to Denver yesterday and headed for the mountains. It was 70 degrees when we landed. Now its snowing horizontally, the skiing should be good this weekend. While I'm gone I'll post periodically.
On Monday my colleague Tom Avril will report on a University of Pennsylvania study that found the news media portray cancer treatment and outcomes too positively. News stories about cancer patients are much more rare than the reality, the researchers found.
Here's what my colleague's piece:
Newspapers and magazines, which are sometimes accused of dwelling on the negative, may be suffering from the opposite problem when it comes to coverage of cancer. That's the conclusion of University of Pennsylvania researchers who reviewed a sample of 436 articles about the disease.
Josh Goldstein
A Philadelphia jury has awarded $5 million in punitive damages in a nursing home medical malpractice case. Just a week and a half ago the jury found Hillcrest Convalescent Home, owned by Genesis Healthcare Corp. of Kennett Square, and Jeanes Hospital of Northeast Philadelphia liable for $1 million in damages in the 2008 death of Joe Blango.

The jury's punitive award was for $3.5 million against Hillcrest and $1.5 million against Jeanes, which is part of the Temple University Health System.

In May 2006 Blango, then 73, developed serious bed sores during admissions - first to Jeanes Hospital, and then to Hillcrest, according to court filings. Over the next five weeks Blando contracted infections, became seriously malnourished and dehydrated during hospital and nursing home stays, according to the complaint filed by the lawyers for Blando's estate. The complaint also noted that the man's bed sores became progressively more serious and "led directly to his death" according to the plaintiffs' medical expert.

"Mr. Blango was treated at Jeanes Hospital for five days in May 2006 and again for 3 days in June 2006," said Temple University Health System spokeswoman Rebecca Harmon in a statement. "He was discharged in June 2006 in stable condition - with no complaints, no pain, and normal vital signs. Mr. Blango expired two years later - in April of 2008. There is not one shred of evidence to support any liability in this case as it relates to Jeanes Hospital, and the contemplation of punitive damages is simply inexplicable."

She added, "we intend to appeal the verdict."
Josh Goldstein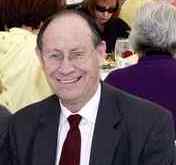 Arthur H. Rubenstein, dean of the University of Pennsylvania School of Medicine and head of the Penn health system, plans to retire in June 30, 2011, it was announced today.
Rubenstein, 72, took the helm of Penn Medicine in September of 2001. He had previously been dean of the Mount Sinai School of Medicine in New York and before that he spent 30 years at the University of Chicago.
Rubinstein plans to stay at Penn and teach. Rubenstein informed the faculty and staff of Penn Medicine today of his intention to step down. He said that while his retirement was 15 months away, it is "important to allow adequate time for a national search for the next leader of Penn Medicine."
During his tenure, he said, "I have had the privilege to see many incredible achievements of the kind that can only be found at the very best institutions."