Archive: November, 2012
Daniel R. Hoffman, Ph.D.
By Daniel R. Hoffman, Ph.D.
The Right's reflexes on matters of drug therapy are consistent with the way they feel about everything else. Trumping even considerations of whether or not the bible offers specific guidance, the Right claims that an unregulated market represents the best way, in fact the only way, of obtaining broader access to care, high quality and more affordable costs.
This reference to biblical fundamentalism is appropriate, but not just because the oligopoly corporations and the top 1% operate in unholy alliance with the repressive segments of evangelical Protestantism. (A former partner at Bain Capital let that point slip out on television this month while he was trying to argue that enormous disparities of income and wealth are good!) No, the point here is that the very idea of a completely unfettered market creating optimal benefits for everyone is as much a matter of non-empirical faith for the Right as anything to be found in a religious tract.
Michael R. Cohen, R.Ph.
By Michael R. Cohen, R.Ph.
There are more than 600 different prescription and over-the-counter (OTC) medicines that contain acetaminophen (Tylenol). The drug is often found in pain relievers, fever reducers, and sleep aids as well as cough, cold, and allergy medicines. These medicines are safe and effective when used as directed. However, severe liver damage can occur from taking too much acetaminophen (if you continue to take more than 3,000 to 4,000 mg per day). In most cases, this can happen if you take more than the prescribed or recommended dose of acetaminophen or if you take more than one product containing acetaminophen.
In January 2011, the US Food and Drug Administration (FDA) asked drug companies to limit the amount of acetaminophen in all prescription medicines to 325 mg per tablet. This would help reduce the risk of taking too much acetaminophen, particularly if the medicine is taken every 4 to 6 hours around the clock.
Diane R. Girardot
Diane Girardot is sending dispatches from the Renfrew Center Foundation's 22nd Annual Eating Disorder Conference in Philadelphia.
By Diane R. Girardot, MA, LPC
Let them eat cake! I'm not referring to Marie Antoinette's famous remark as starving peasants demanded sustenance. These four words are the hindsight of a mother devastated by her daughter's eating disorder, permission for adolescents to grow, and a whimsical slogan for eating without shame.
Michael R. Cohen, R.Ph.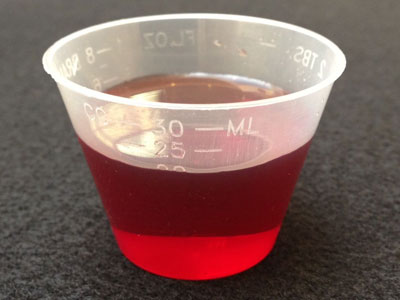 Over-the-counter liquid medications can be found in practically every medicine cabinet. Surprisingly though, there's not a standard way to measure liquid medicines doses.
All too often we resort to measuring liquids with household measuring devices like teaspoons or tablespoons, but these can provide inaccurate dosing since they aren't calibrated for medicines. There are also syringes, dosing cups, droppers, and other measuring devices and some measure using a metric scale (milliliter) while others display household measures. If you are taking liquid medicines or administering them to a child, consider the following safety strategies to prevent errors:
Never use household measuring devices(teaspoons, etc.) to give liquid medicines. They are inaccurate and may deliver more or less than prescribed. Today's OTC liquid medicines are almost always accompanied with their own measuring devices.
Use only the device that comes with the over-the-counter (OTC) medicine, such as an oral syringe or a dosing cup. These are calibrated to match the specific product labelling. In the event a dosing device does not come with the product, ask a pharmacist to recommend one.
When administering OTC liquids to a child, be sure to know the child's current weight. To get the most the accurate dose, it's best to dose according to weight, not age. Tables are often present on the product label to help guide proper dosing by weight.
Never read container labels or measure liquid medicines in a dimly litor dark room or when you are distracted.
When measuring the liquid medicine with a dosing cup, always be sure to look at it at eye level. Measure on a flat surface and not while holding in one hand.You may need to lower yourself to read the liquid volume.
If using an oral syringe with a special ribbed adapter (shaped like a Christmas tree) that allows medication to be drawn directly from the bottle, be aware that this isn't childproof. When using these products, always be sure to remove the adapter and replace the childproof cap after measuring the liquid. NEVER store thesyringe attached to the bottle adapter.
After measuring liquid medicine, immediately replace the cap. If small children either live in your home, or will be visiting, be sure child-resistant caps are always locked into place.
Always be sure to wash the dosing device after giving the medicine. If you fail to do so, bacteria can grow and cause contamination with any future use.
It's best to store both the medicine and dosing tool together. An oral syringe can be rubber banded or a dosing cup can usually be placed over the cap. This way you will always have the correct measuring device on hand when you need it. Never use a device supplied with one medicine for a different medicine. This can lead to dosing errors.
Always store adult and child preparations of liquid medicines in separate areas. This will decrease the chance of accidentally confusing the containers with one another.
Diane R. Girardot
Diane Girardot is sending dispatches from the Renfrew Center Foundation's 22nd Annual Eating Disorder Conference in Philadelphia this weekend.
by Diane R. Girardot
Controversy and Collaboration. Exactly what does that mean?
Diane R. Girardot
Diane Girardot is sending dispatches from the Renfrew Center Foundation's 22nd Annual Eating Disorder Conference this weekend.
by Diane R. Girardot
Did you know the word "should" denotes a conflict right from the start? Should I attend the next conference session about men and eating disorders or should I write this blog from today's morning session on decision making?
Diane R. Girardot
By Diane R. Girardot
On November 9th, the Renfrew Center Foundation will host its 22nd Annual Eating Disorder Conference. Diane Girardot will be blogging for us daily during the conference, giving us extensive coverage of how presenters and attendees will attempt to sort out the moral dilemmas of eating disorders.
Now that the national "war on obesity" is pretty much coast to coast, have we bitten off more than we can chew? Concerns are sprouting up that obesity-prevention programs can unintentionally lead someone into developing a severe eating disorder or other mental illnesses.
Daniel R. Hoffman, Ph.D.
By Daniel R. Hoffman, Ph.D.
Last week a reader, "Hjeff," replied to my posting in a rather exasperated tone, claiming he wanted a serious discussion about the big issues of health care. Since writers for publication are typically flattered when their musings inspire readers to serious thinking, I thought I would give Hjeff's comments the attention of an entire posting.
Starting off, he expresses displeasure about my tendency to describe the health care policies of Mitt Romney and other Republicans as "rightwing bull" and "disingenuous fantasy." Apparently he prefers calmly reasoned discourse, the invective-free sort that is guided by hard facts and sound logic.