Michael Cohen
Michael R. Cohen, R.Ph.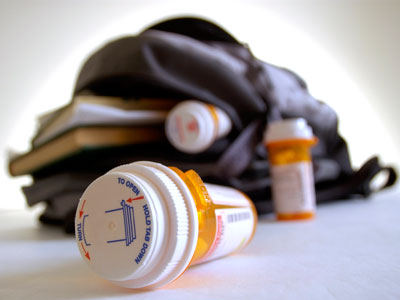 Is your medicine cabinet a source for a teen's legal "high?" Because a doctor's prescription is not needed, many mistakenly believe that over-the-counter (OTC) medicines are safer than prescription medicines and illegal street drugs. They are in fact safe and effective when taken as directed, but even OTC medicines—including herbals—can cause serious and potentially fatal side effects when abused.
Abuse of OTC medicines is most common among teens between the ages of 13 and 16. They know they might find a cheap high right in their family's medicine cabinet, often without being caught. But young adults have also abused OTC medicines, particularly in combination with other medicines, alcohol, and illegal drugs, which increases the risks. The list that follows includes the top 10 medicines currently abused by teens and adults.
Dextromethorphan: This is the active ingredient in more than 100 OTC cough and cold medicines such as Robitussin and NyQuil. One teen in every 10 has reported abuse of cough medicine to get high. Large doses can cause euphoria, distortions of color and sound, and "out of body" hallucinations that last up to 6 hours. Other dangerous side effects including impaired judgment, vomiting, loss of muscle movement, seizures, blurred vision, drowsiness, shallow breathing, and a fast heart rate. When combined with alcohol or other drugs, a large dose can lead to death. For example, Coricidin HBP Cough and Cold includes both dextromethorphan to treat a cough and chlorpheniramine to treat a runny nose. But chlorpheniramine alone abuse by itself has led to numerous deaths and hospitalizations. Dextromethorphan is also addictive and can cause withdrawal symptoms, including depression and difficulty processing thoughts, when the abuse stops. Not much is known about long-term abuse, but cases of bone marrow and nerve cell damage, high blood pressure, heart damage, and permanent brain damage have been reported.
Pain relievers: Adults and teens have taken pain relievers like acetaminophen and ibuprofen in doses higher then recommended because they want the medicine to work faster. They don't think of the side effects. They don't know that liver failure can happen with large doses of acetaminophen, and that stomach bleeding, kidney failure, and cardiac risks are heightened when taking large doses of ibuprofen.
Caffeine medicines and energy drinks: OTC caffeine pills like NoDoz or energy drinks like "5 Hour Energy," or pain relievers with caffeine have all been abused for the buzz or "jolt of energy" they seem to impart. Large doses of caffeine can cause serious dehydration, gastric reflux, panic attacks, and heart irregularities that have occasionally been linked to accidental deaths, particularly in those with an underlying heart condition. Taking too much of a pain reliever can also cause serious side effects as noted above.
Diet pills: In large doses, diet pills can create a mild buzz. But misuse of diet pills can also signal a serious eating disorder. Abuse of diet pills often starts with trying just a few in order to lose weight. But these OTC medicines can be highly addictive. Although the US Food and Drug Administration (FDA) has banned several of the most dangerous stimulants commonly found in OTC diet pills—phenylpropanolamine, ephedrine, and ephedra—other ingredients in these OTC products can be dangerous. To cite an example, bitter orange is a common ingredient that acts much like ephedrine in the body. It can cause nervousness and tremor, rapid and irregular heartbeat, high blood pressure, stroke, heart failure, and death. Many other diet pill ingredients cause digestive problems, hair loss, insomnia, anxiety, irritability, extreme paranoia, blurred vision, kidney problems, and dehydration. Furthermore, even the most "natural" diet preparations can have serious side effects when misused, particularly those containing ma huang (ephedra). An earlier FDA ban on ephedra pertained only to diet pills considered dietary supplements, not herbal remedies such as teas and Chinese preparations.
Laxatives and herbal diuretics: Like diet pills, some teens and young adults also abuse OTC laxatives and herbal diuretics (water pills), including uva-ursa, golden seal, dandelion root, rose hips, and others, to lose weight. Laxatives and herbal diuretics can cause serious dehydration and life-threatening loss of important minerals and salts that regulate the amount of water in the body, acidity of the blood, and muscle function.
Motion sickness pills: Motion sickness pills that contain dimenhydrinate (Dramamine) or diphenhydramine (Benadryl) taken in large doses can cause one to feel high and have hallucinations similar to street drugs. The dose needed to cause these symptoms varies widely according to body weight and tolerance. Some teens and adults may take as many as 40 pills of Dramamine, for example, to experience the desired high. Extremely high doses of Dramamine have caused dangerous irregular heartbeats, coma, heart attacks, and death. Long-term abuse can cause depression, liver and kidney damage, memory loss, eye pain, itchy skin, urine retention, and abdominal pain.
Sexual performance medicines: OTC sexual performance medicines, often purchased via the Internet, are sometimes abused by teens and adults who are drinking to counteract the negative effects of alcohol on sexual performance. These medicines can cause heart problems, especially when combined with alcohol or when taken in large doses.
Pseudoephedrine: This nasal decongestant and stimulant is found in many cold medicines. Its similarity to amphetamines has made it sought out to make the illegal drug methamphetamine. The medicine has also been taken as a stimulant to cause an excitable, hyperactive feeling. Abuse may be less common with pseudoephedrine than with other OTC medicines due to a federal law requiring it to be kept behind the pharmacy counter, limiting the purchase quantity, and requiring photo identification prior to purchase. However, people have taken pseudoephedrine to lose weight, and athletes have misused the medicine to increase their state of awareness and to get them "pumped up" before a competition. Dangerous side effects include heart palpitations, irregular heartbeats, and heart attacks. When combined with other drugs, such as narcotics, pseudoephedrine may trigger episodes of paranoid psychosis.
Herbal ecstasy: This is a combination of inexpensive herbs that are legally sold in pill form and swallowed, snorted, or smoked to produce euphoria, increased awareness, and enhanced sexual sensations. Marketed as a "natural" high, the main ingredient is ma huang (ephedra), an herb banned in the US but only in dietary supplements. The product can be purchased in gas stations, health food stores, drug stores, music stores, nightclubs, and online. It is easy to overdose on the product because the dose needed for desirable effects varies widely. The adverse effects can be severe, including muscle spasms, increased blood pressure, seizures, heart attacks, strokes, and death.
Other herbals: Other herbal products are increasingly being abused for their stimulant, hallucinogenic, and euphoric effects. Besides being legal, another draw is that many herbals are not detected during routine urine drug screens. One example is salvia, which is ingested or smoked to experience a short-lived distortion of reality and profound hallucinations. Users can experience severe anxiety, loss of body control, extreme psychosis, and violent behavior. They are also at risk for accidents and injuries that may result from an altered mental state. Some states have regulated the sale of salvia. Another example is nutmeg, which is eaten as a paste to experience giddiness, euphoria, and hallucinations. Nausea and vomiting set in within an hour and hallucinations begin within 3 hours and can last for 24 hours or more. Effects such as blurred vision, dizziness, numbness, palpitations, low blood pressure, and rapid heartbeat may occur.
One of the greatest difficulties with preventing OTC drug use is that few teens and adults realize the danger. Unlike the risks associated with illegal street drugs like cocaine and heroin, the risks associated with OTC drug abuse are given little thought and attention. Teens and young adults who learn about the risks of drugs at home are up to 50% less likely to abuse drugs.
Michael R. Cohen, RPh
Look-alike and sound-alike similarity between the names of two different medications used in epilepsy might be putting children in jeopardy of getting the wrong medication. The drugs are clobazam and clonazepam.
Children with a rare and severe form of childhood onset epilepsy known as Lennox-Gastaut Syndrome (LGS) are most vulnerable to this error. Clobazam was approved by FDA in October 2011, specifically for this condition. LGS is characterized by frequent seizures and different seizure types, often accompanied by developmental delay and psychological and behavioral problems. Its onset is generally between the ages of 4 to 6.
Mix-ups between these two medications have been reported to us, both by hospitals and community pharmacies, and the potential for confusion is unmistakable.
Michael R. Cohen, R.Ph.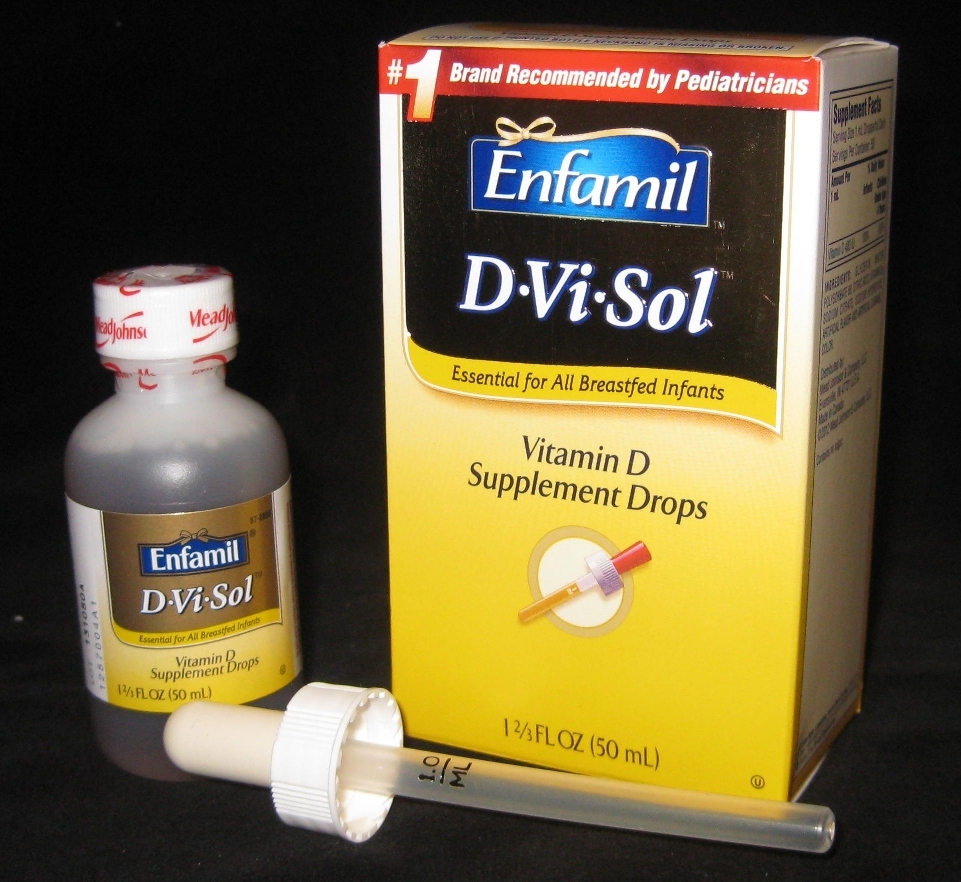 For newborns and older infants who are breastfed or partially breast fed, vitamin D is essential for babies to absorb calcium and build strong bones and teeth. A mother's milk doesn't provide enough by itself. So the American Academy of Pediatrics recommends that every breast fed baby receive a daily 400 unit dose of vitamin D supplementation. Babies who are formula fed probably don't need vitamin D supplementation since formula is fortified with the vitamin.
It's important for mothers and other caregivers to avoid giving too much vitamin D to their baby. Of particular concern is accidental overdose. The infant's product contains 400 units in 1 mL. However, be aware that other strengths of liquid vitamin D – up to 5,000 units per mL - are also available in stores and on the Internet.
In a case just reported to us, a breast fed baby was being seen by a pediatrician who recommended that the infant receive vitamin D drops 400 units. He prescribed 1 mL daily but apparently didn't specifically mention which over-the-counter product to buy.
Michael R. Cohen, R.Ph.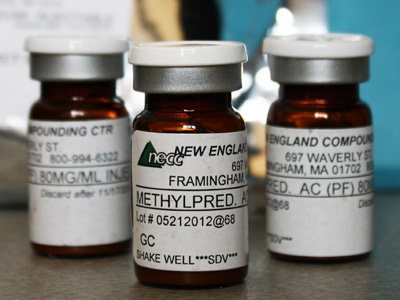 By Michael R. Cohen
In my entire career at the Institute for Safe Medication Practices, the meningitis outbreak was the worst safety disaster that I have ever seen, making 2012 a watershed year in drug safety stories. So without further adieu, the following are this year's top 10 worst cases in drug safety:
Meningitis outbreak. In October, a deadly, multistate fungal meningitis outbreak began to unfold, exposing a lack of federal or state safety oversight of pharmacies that compound sterile drug products. Some pharmacy compounders have evolved into unregulated pharmaceutical manufacturers that distribute unapproved drugs in large quantities across state lines, often in response to drug shortages (see #2 below). The toll so far? Over 600 hospitalized and 39 deaths across 19 states, making this the worst drug-related public health disaster since a 1937 drug safety disaster that led to the Federal Food Drug and Cosmetic Act. FDA Commissioner Margaret Hamburg believes a new system is needed under which nontraditional pharmacies would have to register with the FDA and undergo regular inspections, similar to pharmaceutical manufacturers.
Michael R. Cohen, R.Ph.
By Mike Cohen
Could it be "Low T?"
By now you've probably heard this line or otherwise seen a multitude of TV or newspaper ads for testosterone gel products. Increasingly, drug manufacturers have been tapping into this billion dollar market aimed at men over 40, which is when men sometimes start to feel the signs of aging and decreased desire for sexual relations. The gel is easy to use. It's applied once daily to the shoulders or upper arms. AndroGel can also be applied to the abdomen.
Michael R. Cohen, R.Ph.
By Michael R. Cohen, R.Ph.
A woman reported an error to us after her child's doctor sent an electronic prescription to a community pharmacy for her 11-year-old daughter. The prescription was for the laxative Miralax powder (polyethylene glycol 3350). The woman was told by her doctor to give her daughter 3 teaspoonfuls by mouth mixed with 6 ounces of liquid. This was to be taken once a day for 30 days. However, when the woman picked up the prescription, the label on the bottle said take three tablespoonfuls mixedwith 6 ounces of liquid daily for 30 days. That might have led to a pretty serious error. Except for one thing – an important new type of back-up system came into play.
Although the doctor sent the prescription to the pharmacy electronically, he gave the woman a hard copy of the prescription in case there was a problem. Smart move! In the past, you got a hand written prescription, where at least you could usually make out the drug name. But with e-prescribing, you may not be given anything in writing and you may not know what to expect at the pharmacy. If the pharmacist hands you something that doesn't seem right based on your expectations, then it might just be that an error has happened. In this case though, the woman told us that the hard copy saved an error. She said she would not have remembered the correct dose if she had not received the copy of the prescription. So she would have given her daughter more than the required dose for her age and weight.
Michael R. Cohen, R.Ph.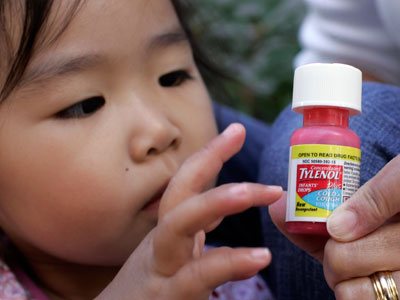 By Michael R. Cohen, R.Ph.
Few caregivers are more devoted than parents when caring for a child. Yet, even the most cautious and educated parents will make mistakes when giving medicine to children or fail to protect children from accidental poisonings. Dangerous mistakes with medicines are three times more likely with children than adults and more than half of all accidental poisonings—mostly with medicines—occur in children less than 5 years old. The list that follows, although not all inclusive, covers ten important safety tips for parents.
Ten Steps Parents Should Take to Prevent Medicine Mishaps
Discard older (concentrated strength) infant's acetaminophendrops. Acetaminophen is a common medicine for infants and children to treat pain and fever. There used to be two strengths of acetaminophen liquid—a higher strength (80 mgper 0.8 mL) of concentrated drops for infants and a lower strength of elixir for children (160 mg per 5mL). After years of serious mix-ups between these two strengths, companies are now making just the lower strength (160 mg per 5 mL)of acetaminophen. But the older concentrated drops may still be in your medicine cabinet. A dosing error can happen if your child'sdoctor gives you directions for using the new lower strength acetaminophen, but you are still using the old higher strength concentrated drops. Acetaminophen overdoses can lead to serious liver damage. To avoid errors, toss out acetaminophen drops in the higher strength (80 mgper 0.8 mL) and use only the newl ower acetaminophen strength (160mg per 5 mL).
Avoid giving cough and cold medicines to infants and young children. In 2008, drug companies voluntarily removed over-the-counter (OTC) cough and cold products for infants and children less than 2 years old due to safety concerns. The safety concerns were based on reports of seizures, rapid heart rates, loss of consciousness, and death. These products contain decongestants (ephedrine, pseudoephedrine, orphenylephrine) and antihistamines(diphenhydramine, brompheniramine, or chlorpheniramine). Laterin 2008, companies re-labeledcough and cold medicines to say that the products should not be used in children less than 4 years of age. For children 4 years and older, do not give more than the recommended dosages and stop the medicine if it makes the child sleepy.
Store medicines in a single location. Select a single, secure area to keep all medicines, rather than having them scattered in different bathrooms, medicine cabinets, bedrooms, and closets. Bathrooms and cabinets above the stove are not good because of the heat and humidity. In a 2010 study that used home visits to understand medication errors in children, homes that did not have a centralized location for medicines were more likely to experience medication errors. Thus, all medicines should be kept in one location that is up and away and out of reach of children (www.upandaway.org).
Know how to measure liquid doses. Three out of four parents make mistakes when measuring doses of liquid medicines, particularly when using dosing cups that come with OTC medicines. More than one-thirdof the mistakes are large overdoses, which are serious in children.The errors are most often due to: 1) confusing teaspoon with tablespoon, especially since the markings "tsp" and "tbsp" look similar; 2) confusing mL (milliliters) with teaspoons; and 3) assuming that the entire dosing cup is the correct dose. If your child's medicine does not come with a measuring device, or if it comeswith a dosing cup, ask your pharmacist to recommend an oral syringe to use. Before leaving the pharmacy with a prescription or OTC liquid medicine, verify with your pharmacist that you know how to measure the correct dose. Never use a household teaspoon or tablespoon to measure the dose—both are inaccurate.
Don't repeat a dose unless directed. While giving a liquid medicine to a squirming child, the parent and child might both end up wearing part of the dose. Or, the child may vomit shortly after taking the medicine. Although you may doubt the child has swallowed and kept down enough of the medicine, giving another full dose could be dangerous. It is best to call your child's doctor or your community pharmacist, who can let you know whether you should give your child anothe rdose of that medicine.
Verify all vaccines. Vaccines are made in different strengths for children and adults. But all too often, children receive an adult strength vaccine and adults receive a children's strength vaccine. This mistake is common with vaccines used to prevent diphtheria, tetanus, and pertussis (whooping cough): Tdap is an adolescent/adult strength vaccine while DTaP is a vaccine for children less than 7 years old. The letters in eac hvaccine abbreviation signify diphtheria, tetanus, and pertussis. If most of these letters are uppercase (DTaP), it signifies a stronger form of the vaccine, which is necessary for young children to establish immunity. If most letters are lowercase (Tdap), it signifies a weaker form of the vaccine for adolescents/adults to boost existing immunity. Thus, if a young child receives the adolescent/adult vaccine, he or she will not be adequately immunized. Before your child receives a vaccine, ask your doctor or nurse for a Vaccine Information Statement (VIS)—a printed sheet that explains the purpose of the vaccine. These sheets, which physicians are required to give to parents, list age groups that should receive the vaccine so you can check that the right strength has been chosen for your child.
Don't give acetaminophen prior to vaccines. Vaccines can cause mild pain at the needle injection site and fever. In anticipation, parents may want to give their child a dose of acetaminophen before they get vaccinated. However, vaccines are less effective in children who havebeen given acetaminophen prior to vaccination. Only give children acetaminophen, as recommended by your child's doctor after receivinga vaccine, if they develop a high fever (100.4 degrees in infants 3 months or younger, 102 degrees in children older than 3 months).Contact the doctor if the child's fever does not go down after receiving acetaminophen. Use a cold compress on the needle injection site as needed to reduce pain. If pain worsens or the injection site becomes red or swollen, contact your child's doctor.
Child-resistant does not mean child-proof. If you have young children or grandchildren, you are probably used to being on the look out for danger in your home and the child's play areas. But don't let your guard down with OTC and prescription medicines that come with a child-resistant cap. Sometimes it's tough for adults to open these caps, but children as young as 1 year have opened them in seconds. In 2011, a 13-month-old boy died after ingesting Suboxone (buprenorphine and naloxone) tablets. His parents allowed the child to use the bottle as a rattle, believing he could not open the child-resistant cap. According to the Consumer Product Safety Commission, child-resistant caps have to keep out only 80% of children under the age of 5. More than a million children are poisoned each year, many by household products and medicines that were in child-resistant containers.
Be alert to the countless ways in which children can access medicines. A 2-year-old child died after putting a used patch containing a powerful pain reliever, fentanyl, in his mouth. The patch was picked up on the tires of the boy's toy truck while playing on the floor i nhis grandmother's room in a nursing home. He found the patch the next day and put it in his mouth, which caused him to stop breathing. A 4-year-old child died after finding a used fentanyl patch in a trashcan and placing it on his body. A toddler sat on a patch that fell off a family member and it stuck to her upper thigh. Another child removed a patch while his grandmother was sleeping and put it on himself like a Band-Aid. Also, children have been exposed to hormone medicines after skin-to-skin contact with a person using a topical product such as AndroGel (testosterone). This hormone causes children ,ranging from 9 months to 5 years, to have such symptoms as enlarged reproductive organs, increased sexual feelings, growth of pubic hair, advanced bone age, and aggressive behavior. In another case, a young child found a bottle of Tambocor (flecainide) in the refrigerator and drank most of its contents through a twist-on bottle adaptor used to help his parents measure each dose. Bottle adapters should be replaced with a child-resistan tcap after each dose is prepared. Two in every ten medicine poisonings in children involve grandparent's medicines, oftenf ound on a shelf or table top at the grandparent's house, or in a suitcase, a weekly or daily pill holder, or in grandmother's purse.
Take care with "yummy" medicine. Never tell your child that liquid medicine is a special drinkor juice, or that solid medicine is candy. Most children's medicines are made to taste good so children will take them—a tactic that can work too well. However, even if the medicine tastes bad, don't let your guard down. Childre nhave been known to drink a whole bottle of medicine that tastes just awful! Always mark the level of liquid medicines after each use by drawing a line on the label. Then, if a child drinks the contents, you'll know how much is missing. This information will help determine if emergency care is needed.
Michael R. Cohen, R.Ph.
By Michael R. Cohen, R.Ph.
There are more than 600 different prescription and over-the-counter (OTC) medicines that contain acetaminophen (Tylenol). The drug is often found in pain relievers, fever reducers, and sleep aids as well as cough, cold, and allergy medicines. These medicines are safe and effective when used as directed. However, severe liver damage can occur from taking too much acetaminophen (if you continue to take more than 3,000 to 4,000 mg per day). In most cases, this can happen if you take more than the prescribed or recommended dose of acetaminophen or if you take more than one product containing acetaminophen.
In January 2011, the US Food and Drug Administration (FDA) asked drug companies to limit the amount of acetaminophen in all prescription medicines to 325 mg per tablet. This would help reduce the risk of taking too much acetaminophen, particularly if the medicine is taken every 4 to 6 hours around the clock.