Michael Cohen
Michael R. Cohen, R.Ph., M.S.
by Michael R. Cohen, R.Ph., M.S.
With millions of Americans suffering from diabetes, there's been tremendous growth in the use of insulin. For convenience, many insulin dependent diabetics carry their insulin in a prefilled syringe available from drug manufacturers. The device is called an insulin pen because it sort of looks like a pen and can be carried in your pocket. But it's actually a sophisticated device designed for multiple injections of insulin until the cartridge within the pen needs to be replaced.
Unfortunately, not every insulin dependent patient knows how to use their pen in the proper way and they sometimes place themselves at dangerous risk of complications. We received an interesting report from a certified diabetes educator/RN about a patient who suffered an insulin overdose by misreading the amount dialed. With some of the most popular insulin pens now in use, you have to turn a dose selector dial to set the pen to deliver the prescribed dose. The dose then appears in a little built-in window on the pen. Once you set the dose you inject the pen's needle into your skin and push a button to release the dose. In the picture below you can see what that looks like where the insulin dose that has been dialed is 46 units.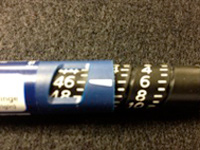 Michael R. Cohen, R.Ph., M.S.
by Michael R. Cohen, R.Ph., M.S.
Last week the French pharmaceutical company Sanofi announced FDA approval of their new product, Auvi-Q, a new concept in drug auto-injectors for patients with a history of a severe reaction after a bee sting, or exposure to certain foods like peanuts or shellfish. According to Sanofi, as many as 6 million Americans are at risk for a life- threatening allergic reactions.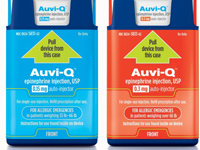 Auvi-Q contains the hormone epinephrine (adrenalin), the standard treatment for patients with severe allergic reactions. It's the same drug that's in an EpiPen, another auto-injector for use during an allergic attack But Auvi-Q may hold advantages over the EpiPen from a safety standpoint because of its unique voice-guidance system and overall design that makes using it more intuitive.
Michael R. Cohen, R.Ph., M.S.
by Michael R. Cohen, R.Ph., M.S.
Last week we learned about an unresponsive patient whose family brought him to a hospital emergency room. The patient had earlier been given a prescription for a pain patch called fentanyl. The doctors immediately identified multiple narcotic pain patches placed all over his body. The patient was given a reversal agent called Narcan and regained consciousness.
When the ER team asked about the patches the patient said he followed the label instructions exactly. The label said "apply one patch every 72 hours." But there was no instruction on the label to remove the older patch when each new patch was applied. The instruction to apply a new patch every 72 hours is correct because the rate of release from the patch starts to fall off over that time period. However, there is still a significant amount of drug left on the old patch that can continue to be absorbed. So the amount of drug the patient was actually absorbing overall began to multiply with each new patch until he eventually overdosed. Apparently neither the doctor who prescribed the drug nor the pharmacist who dispensed it gave that instruction.
In my blog entries I've written about many other problems associated with the use of pain patches, including prescribing errors and situations where kids mistake them as Band-Aids. We also shared the story of a 2-year-old boy who was found unconscious 2 days after visiting a relative in a nursing home. He later died, and a patch containing fentanyl was found in his throat. These tragic events highlight the need for increased public awareness about the safe use and disposal of this unique form of medicine.
Michael R. Cohen, R.Ph.
by Michael R. Cohen, R.Ph.
Patients who keep an EpiPen on hand in case of a severe allergic attack need to know about a potentially dangerous mix-up between the actual pen and a similar looking training pen.
EpiPen is an auto-injector that looks like a pen. It contains the medicine epinephrine (adrenalin) and has a needle at one end. Injected immediately for emergency treatment of a severe allergic reaction, an EpiPen can be life-saving. It slows down the allergic reaction and can prevent a reaction to a bee sting, or peanut or shellfish exposure, from getting worse. There's an EpiPen Jr. for children that has a lower epinephrine dose than the one for adults.
Doctors used to be able to prescribe EpiPens as a single unit. But not too long ago the manufacturer began supplying these only in packages that hold two pen injectors along with a non-functioning training pen. The company told us that they package EpiPen this way because severe reactions often require two injections. But these "2-Paks," as they are called, have created a potential for confusing the drug pen with the trainer.
Michael R. Cohen, R.Ph.
by Michael R. Cohen, R.Ph.
When the weather heats up, many families head out for vacation destinations. Traveling on vacation can be hectic enough without the added problem of worrying about your medications. But when you're on-the-go, it's important to make sure your medicine travels safely with you. So here are some things to keep in mind to reduce the risk that something will go wrong.
First, when packing for a trip, keep your medicines in their original child-resistant containers, not baggies or pill organizers that can be easily accessed by young children. Remember too that medications are sensitive to temperature extremes. So, with summer time upon us, or in winter if you're traveling to a hot and humid climate, take extra care to keep your medicines in a cool, dry place out of direct sunlight. Never store medicines in your car's glove compartment or trunk, even if packed inside luggage.
When flying, pack medications in your carry-on luggage. This way, you'll be able to keep them from extreme temperature changes and be able to access them during the flight. You'll also ensure that your medications will be with you even if your checked-in baggage gets lost. Think about bringing more medication with you than you need in case of flight delays that may extend your travel.
Michael R. Cohen, R.Ph.
by Michael R. Cohen, R.Ph.
All too often, when we learn about the death of someone whose name we might recognize, we do not really know what they have accomplished in their lifetime. Many of us at the Institute for Safe Medication Practices have had the opportunity to interact with George Di Domizio, who passed away last Friday after a 5-year battle with esophageal cancer. George was a vibrant force in the pharmaceutical industry, who played a critical role in the history of our organization. I'd like to provide a little insight about this man, who was—hands down—our most important industry advocate for safe medication practices and patient safety.
I met George during the late 1980s when he was in charge of naming drugs at Merck as the director of creative development. Among his drug-naming achievements are Pepcid, Zocor, and Bextra to name a few. In the 1980s neither the Pharmaceutical Research and Manufacturers of America (PhRMA) industry nor the U.S. Food and Drug Administration (FDA) was mindful of the need for proactive measures to prevent medication errors from look-alike and sound-alike drug names, which accounted for about a quarter of all medication errors overall. Names were chosen for their "striking power" with physicians—a term used to sum up how well doctors would remember the name so they'd be more apt to prescribe it—and how easily the name rolled off the tongue. No safety testing of drug names was done to identify currently available product names with which a new name might be confused. If errors happened after product launch, it was standard in the industry to blame doctors for their poor handwriting or pharmacists for being careless in not reading the prescription correctly. Injuries and even fatalities from medication errors were not uncommon.
Merck had a co-marketing agreement with the Swedish company Astra that owned the rights to an ulcer drug called Losec (omeprazole). I had been publishing a monthly column on medication errors in the journal Hospital Pharmacy, where readers were invited to submit reports of medication errors they'd experienced in their practice. Soon after launch it became clear that the drug was on its way to blockbuster status. But there was a problem. We began to receive reports of very serious medication errors in which prescriptions written for Losec 20 mg were confused with Lasix (furosemide) 20 mg. A patient who suffered a bleeding ulcer got Lasix, a diuretic or "water pill" and bled to death. A heart patient who needed Lasix to treat fluid retention got the ulcer drug and died from a worsening of their congestive heart failure.
Michael R. Cohen, R.Ph.
by Michael R. Cohen, R.Ph.
If a diabetic patient has poor vision, as many elderly who suffer with the disease do, and they also require insulin injections, knowing when a vial is about to be empty is crucial. This hit home with us a few weeks ago when we heard about a homebound woman who was unable to control her blood sugar, even after increasing her doses of insulin.
A homecare nurse visited the woman to try to figure out what might be leading to the constant need for more insulin. The woman had been eating her usual diet and had no sign of infection, which often increases the need for insulin. She hadn't decreased her normal level of physical activity, which also can influence blood sugar and she was also sleeping well and there was no new stress in her life. Furthermore, the technique and materials she used to test her blood sugar were appropriate. Any one of these factors could influence the dose of insulin required to keep her blood sugar under control, but nothing unusual was discovered.
The woman had poor vision, though. So the nurse asked her to show her how she measured her insulin doses each day. The woman used a special magnifier to see the syringe markings clearly. But as she lifted the vial to withdraw a dose of insulin, the nurse realized that the vial was empty. For an undetermined time, the woman had been injecting air, not insulin.
by Michael R. Cohen, R.Ph.
Oral liquid antibiotics tend to have short stability periods. So drug manufacturers often provide their products in powdered form and give pharmacists instructions that specify how the powder should be made into a liquid that can be swallowed. Pharmacists normally mix or "reconstitute" the antibiotic right before it's dispensed and they place a date on the pharmacy label beyond which the antibiotic begins to lose its potency and should no longer be used.
Unfortunately, the pharmacy reconstitution step sometimes gets missed. Just last week a mother called to let us know about an incident where her pharmacist dispensed her 2 year old daughter's amoxicillin antibiotic prescription in powder form, which she didn't notice until she arrived home. She realized her daughter couldn't take the medicine this way so she took the bottle back to the pharmacy. The pharmacist apologized for overlooking the obvious. He mixed it properly and everything turned out fine thereafter.
But patients may not always realize that they shouldn't swallow the powder itself or give it to their child. If the prescription label says "Take one teaspoonful three times a day" they might take a teaspoonful of the powder, which is way too much since it's a concentrated powder. In some cases it could cause harm or at least result in having diarrhea.
Michael R. Cohen, R.Ph.
Michael R. Cohen, R.Ph.
Pharmacists and nurses that prepare and administer cancer chemotherapy drugs are at constant risk of exposure to toxic substances that can harm them personally. When these drugs are spilled or sprayed by accident they can be absorbed through the skin or the vapors can be inhaled. Without a doubt, the biggest fear is that prolonged exposure can lead to gene mutations, reproductive problems and even cancer. A 2010 story about a Pacific Northwest caregiver who developed cancer is particularly alarming.
The Occupational Safety and Health Administration (OSHA) classifies cancer chemotherapy drugs as hazardous, and they've published recommendations for protection from occupational exposure. In addition, in 2004, out of concern about this "second hand" chemotherapy exposure, the U.S. National Institute for Occupational Safety and Health (NIOSH) urged strict precautions and also issued guidelines for handling chemotherapy, including use of protective gear like gowns and gloves. The American Society of Health-System Pharmacists (ASHP), and the Oncology Nursing Society (ONS) also have guidelines that call for donning protective gowns.
Covidien is one of the companies that provides gowns for cancer workers. One of their products is called ChemoPlus. Looking at the product name, health professionals may believe that ChemoPlus Protective Gowns offer the kind of protection that pharmacists or nurses need against personal exposure to chemotherapy drugs. Unfortunately, the name is misleading. ChemoPlus does not afford the kind of worker protection called for in the professional guidelines.
Michael R. Cohen
by Michael R. Cohen
Many cough and cold liquids and other over-the-counter products contain some alcohol. In the formulation, this helps to dissolve certain ingredients or preserve the product. Most people wouldn't give this a second thought, and rightly so, but now and then the amount of alcohol in medicines becomes extremely important. One situation is with young children.
Not too long ago we received a report from a woman whose 11 year old child began having seizures while taking a shower. The family immediately called for help. Paramedics took the child to a nearby hospital for examination. All scans and x-rays were negative. Doctors then ordered blood tests on the child. The family was surprised to learn that the child had an elevated blood alcohol level, which was most likely the cause of the child's symptoms.
Doctors asked the child's mother if there was anything new or different that this normally healthy child was taking. It was then the child's mother remembered giving the child SSS Tonic, an over-the-counter high potency liquid iron/B vitamin supplement. The product contains 12 percent alcohol, which is equivalent to a 24 proof beverage. The child was only taking this supplement for a few days and was taking the correct recommended daily dose.