Michael Cohen
Michael R. Cohen, R.Ph.
Despite warnings from the FDA, drug manufacturers, and various patient safety agencies like ours (ISMP), we're still hearing from grieving parents or grandparents or health professionals who've experienced the death of a child or who somehow got ahold of a fentanyl pain patch that someone was wearing or discarded.
Fentanyl is a powerful narcotic that is often prescribed for patients with severe chronic pain. For example, pain from cancer. When worn as a skin patch called transdermal fentanyl or Duragesic, it provides relief over 72 hours before a new application is needed. However, there is so much of the drug embedded in the patch that if a baby finds a used patch and puts it in their mouth or a small child applies it as if it were a sticker or Band-Aid, they may die. According to FDA, they've evaluated a series of 26 cases of pediatric accidental exposures to fentanyl patches reported over the past 15 years. Of these, ten resulted in death and 12 in hospitalization. Sixteen of the 26 cases occurred in children two years old or younger.
FDA notes that young children are at particular risk of accidental exposure to fentanyl patches. Their mobility and curiosity provide opportunities for them to find lost patches, take improperly discarded patches from the trash, or find improperly stored patches, all of which may result in patches being placed in their mouths or sticking to their skin.
Michael R. Cohen, R.Ph.
In 2006 the FDA warned consumers about kidney failure seen in some users of oral sodium phosphates (OSP)
like Fleet's Phospho-soda. FDA's review of adverse event data did not show kidney problems when these over-the-counter oral products were used at lower doses for laxative use. But they did notice that higher doses typically used for bowel cleansing were causing serious harm. Since then, FDA required that manufacturers change the label. The use of OSP for bowel cleansing has been discontinued.
Consumers should also be aware of potential safety issues involving the phosphate content in Fleet enemas. This is especially true in elderly patients, who may use more than just one enema at a time and risk metabolic disorders and fatalities. When a Fleet enema is used, a second dose in quick succession to the first should not be used. Prolonged use or overuse can also lead to dehydration as well as fluid and electrolyte imbalances.
In March, the Department of Veteran's Affairs (VA) issued a report about a patient who received multiple phosphate enemas in less than 12 hours. The patient subsequently developed critical electrolyte abnormalities and acute kidney injury and later died.
Michael R. Cohen, R.Ph.
Doctors sometimes provide patients with drug samples to get them started on a needed medication in a timely manner. Hospital emergency departments (EDs) have also sent patients home with starter doses or unit dose packages from the hospital pharmacy. This allows the patient to start taking the medicine as soon as possible, giving them extra time to get the prescription filled at their local pharmacy. Dispensing samples and starter doses are often seen as "patient friendly" services, but the services can also have unintended consequences. One issue is that packaging and labeling of the medications can sometimes present problems for patients.
One patient experienced severe burning in her eyes and blurred vision when she instilled what she thought was eye drops. A co-worker took the bottle from her and saw the very small notation on the label: "For dermatological (skin) use only. Not for use in the eye." The tiny sample bottle, which had no pharmacy label since it wasn't dispensed by a pharmacist, was a professional sample of a cortisone-like medication meant to be applied to the skin. The product also contained 40% isopropyl alcohol (rubbing alcohol), which severely irritated her eyes. It had been given to her by her allergist for application after allergy shots. But she inadvertently combined it with the eye drops she keeps at work and grabbed the wrong bottle. The patient saw her eye doctor and the eye was flushed, but the patient suffered blurred vision for several hours.
Another issue is the ambiguous way that drug companies sometimes label these products. It's not always patient-friendly. When the popular pain medication Celebrex was first marketed, the manufacturer, Pfizer, gave doctors samples to hand out to patients. Each package contained 3 capsules labeled "Celebrex 200 mg." A rheumatologist gave one of these to a patient along with a prescription for 200 mg twice daily. When the patient got home and looked at the label she didn't know whether she should take all three capsules for the 200 mg dose, or just one. She called the doctor's office and clarified that each capsule was 200 mg and she should take just one at a time.
Michael R. Cohen, R.Ph.
We often receive reports from people who took the wrong medicine or the wrong dose because of mix-ups with products that looked similar. Sometimes people rely on the appearance of tablets, capsules, or packages to identify their medicines, instead of reading the labels carefully.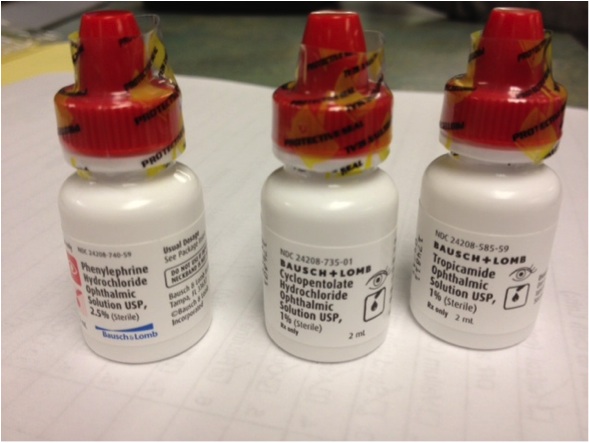 Look at these eye drop containers - three completely different medications. With the small print and similar cap colors, pharmacists, doctors and nurses would be hard pressed to tell them apart and their patients can also easily pick up the wrong item. Yet, using the wrong bottle could cause unexpected effects.
The FDA and manufacturers could do a much better job when drugs are approved by assuring product appearance is better differentiated. But there are lessons for patients and health professionals too. Most people know that reading the label is important, but human nature sometimes leads us to make assumptions and take shortcuts.
Michael R. Cohen, R.Ph.
You may find it hard to believe, but FDA has no say in how many over-the-counter drugs are named. That's a
great help to companies who want to market their drugs but it's a problem for those of us concerned about drug safety.
OTC users sometimes fall victim to a potentially dangerous situation that exists with many "over-the-counter drugs" (ones sold on grocery store or pharmacy shelves without a prescription). It's a problem that the public is largely unaware of, and it has led to confusion and medication errors made by consumers.
Here's the issue. I'm sure that you've noticed that companies often use the same trusted brand name for an entire line of products, even if the ingredients in each product are completely different. That happens with soap suds and deodorants but with OTC drugs people sometimes use the wrong medicine – to their detriment. So watch out if you're searching store shelves for Benadryl, Claritin or Zyrtec Eye Drops, Triaminic, Sudafed, Betadine, Surfak, Kaopectate, or AZO. What is in these products may not be what you expect.
Michael R. Cohen, R.Ph.
Occasionally, things go wrong when prescriptions are being prepared at the pharmacy. For example, one person's medicine may be placed into a bag that is labeled with someone else's name. Or a label prepared for a prescription may be mistakenly placed on a bottle containing another person's medicine.
Another reason that a patient might receive a medication intended for another patient is often because the patient was not properly identified before the medication was given. For example, if the pharmacist identifies the patient only by name it can cause a mistake if there is another patient with the same or similar name is listed in their computer system or their prescription bag is also ready for pick-up. Also, patients who are confused or hard of hearing might answer "yes" even if they are called by the wrong name.
One of the most important things you need to do when picking up medicine from the pharmacy is to confirm that what you've been handed is actually for you.
Michael R. Cohen, R.Ph.
Nearly 1,200 patients in Canada received lower doses of their cancer drugs as a result of poor communication between a compounding pharmacy supplier and several hospitals that utilized the service. The drugs were cyclophosphamide and gemcitabine, used as part of a regimen for breast and lung cancer as well as lymphoma and leukemia. Patients received watered down doses for about a year without anyone realizing there was more saline solution in the bags than stated on the label. Finally, a pharmacy technician at one of the hospitals noticed more fluid in the bags than expected and brought it to the attention of others.
When preparing chemotherapy, cancer drugs are added to ready-to-use intravenous fluid bags from a manufacturer, but the bags typically hold a greater volume of diluent than stated on the label, a situation known as "overfill." Overfill takes into account that some evaporation might occur from the plastic bags and also that some fluid will be left in IV tubing after injection. Additional fluid is also added to the individual cancer drug vials to make a solution out of the powder inside before adding them to the bag.
About a year ago, the hospitals stopped outsourcing chemotherapy preparation from a pharmacy they'd worked with previously and contracted with a new provider. In this recent incident, the new pharmacy labeled the product differently than in the past. The total amount of drug in the bag was labeled correctly but the final drug concentration listed on the label did not take overfill into account.
Michael R. Cohen, R.Ph.
It's not uncommon for us to hear from consumers who've been given the wrong medication at their pharmacy. Sometimes patients can be given incorrect information about a drug they're taking.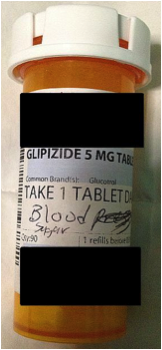 Last week we heard from someone whose father was on multiple medications for blood pressure and diabetes. He had an old prescription in his medicine cabinet for glipizide, which is used to help control high blood sugar. At the time the prescription was filled, the patient's doctor didn't include the reason for the medication with the original prescription directions. So, to avoid confusion with other medications, the patient had asked his pharmacist to write on the prescription container what the medicine was for.
Rather than retyping the label the pharmacist took a pen and wrote right on the label. By accident though, instead of writing "for blood sugar," the pharmacist wrote "for blood pressure."