Diane R. Girardot
Diane Girardot is sending dispatches from the Renfrew Center Foundation's 22nd Annual Eating Disorder Conference in Philadelphia.
By Diane R. Girardot, MA, LPC
Let them eat cake! I'm not referring to Marie Antoinette's famous remark as starving peasants demanded sustenance. These four words are the hindsight of a mother devastated by her daughter's eating disorder, permission for adolescents to grow, and a whimsical slogan for eating without shame.
Harriet Brown recalled being jubilant that her sixth grade daughter opting for more healthy eating by giving up cake as suggested by her health teacher in a standard classroom lecture on nutrition. But that new habit was a very bad omen and soon turned deadly. Her joy became a fear for her child's life no parent should have to face.
Michael R. Cohen, R.Ph.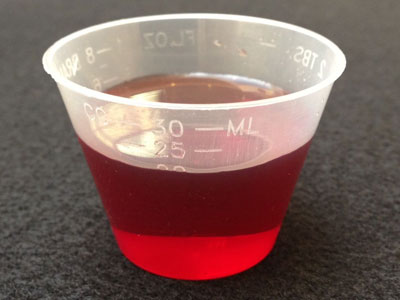 Over-the-counter liquid medications can be found in practically every medicine cabinet. Surprisingly though, there's not a standard way to measure liquid medicines doses.
All too often we resort to measuring liquids with household measuring devices like teaspoons or tablespoons, but these can provide inaccurate dosing since they aren't calibrated for medicines. There are also syringes, dosing cups, droppers, and other measuring devices and some measure using a metric scale (milliliter) while others display household measures. If you are taking liquid medicines or administering them to a child, consider the following safety strategies to prevent errors:
Never use household measuring devices(teaspoons, etc.) to give liquid medicines. They are inaccurate and may deliver more or less than prescribed. Today's OTC liquid medicines are almost always accompanied with their own measuring devices.
Use only the device that comes with the over-the-counter (OTC) medicine, such as an oral syringe or a dosing cup. These are calibrated to match the specific product labelling. In the event a dosing device does not come with the product, ask a pharmacist to recommend one.
When administering OTC liquids to a child, be sure to know the child's current weight. To get the most the accurate dose, it's best to dose according to weight, not age. Tables are often present on the product label to help guide proper dosing by weight.
Never read container labels or measure liquid medicines in a dimly litor dark room or when you are distracted.
When measuring the liquid medicine with a dosing cup, always be sure to look at it at eye level. Measure on a flat surface and not while holding in one hand.You may need to lower yourself to read the liquid volume.
If using an oral syringe with a special ribbed adapter (shaped like a Christmas tree) that allows medication to be drawn directly from the bottle, be aware that this isn't childproof. When using these products, always be sure to remove the adapter and replace the childproof cap after measuring the liquid. NEVER store thesyringe attached to the bottle adapter.
After measuring liquid medicine, immediately replace the cap. If small children either live in your home, or will be visiting, be sure child-resistant caps are always locked into place.
Always be sure to wash the dosing device after giving the medicine. If you fail to do so, bacteria can grow and cause contamination with any future use.
It's best to store both the medicine and dosing tool together. An oral syringe can be rubber banded or a dosing cup can usually be placed over the cap. This way you will always have the correct measuring device on hand when you need it. Never use a device supplied with one medicine for a different medicine. This can lead to dosing errors.
Always store adult and child preparations of liquid medicines in separate areas. This will decrease the chance of accidentally confusing the containers with one another.
Diane R. Girardot
Diane Girardot is sending dispatches from the Renfrew Center Foundation's 22nd Annual Eating Disorder Conference in Philadelphia this weekend.
by Diane R. Girardot
Controversy and Collaboration. Exactly what does that mean?
This year's Renfrew Center Foundation Eating Disorders Conference is giving life to these two words and the sentiency was palpable in Friday's keynote presentation to about 700 attendees.
Diane R. Girardot
Diane Girardot is sending dispatches from the Renfrew Center Foundation's 22nd Annual Eating Disorder Conference this weekend.
by Diane R. Girardot
Did you know the word "should" denotes a conflict right from the start? Should I attend the next conference session about men and eating disorders or should I write this blog from today's morning session on decision making?
This is one of those dilemmas where there are two or more conflicting values - participation or productivity? If time (and energy) permitted I would devote myself to both independently. Unfortunately acting on one automatically violates the other.
Diane R. Girardot
By Diane R. Girardot
On November 9th, the Renfrew Center Foundation will host its 22nd Annual Eating Disorder Conference. Diane Girardot will be blogging for us daily during the conference, giving us extensive coverage of how presenters and attendees will attempt to sort out the moral dilemmas of eating disorders.
Now that the national "war on obesity" is pretty much coast to coast, have we bitten off more than we can chew? Concerns are sprouting up that obesity-prevention programs can unintentionally lead someone into developing a severe eating disorder or other mental illnesses.
Mental health professionals worry there will be perceived sanctioning of "fat" people as the enemy since the nation has declared war on their body weights and the sizes of their sodas. Overweight teens and adolescents, already brutally bullied, could face an increase in shame, depression and even self harm if they are singled out for "help" to slim down. Heavy employees could certainly feel a flush when tapped to come down for weekly weight loss meetings.
Daniel R. Hoffman, Ph.D.
By Daniel R. Hoffman, Ph.D.
Last week a reader, "Hjeff," replied to my posting in a rather exasperated tone, claiming he wanted a serious discussion about the big issues of health care. Since writers for publication are typically flattered when their musings inspire readers to serious thinking, I thought I would give Hjeff's comments the attention of an entire posting.
Starting off, he expresses displeasure about my tendency to describe the health care policies of Mitt Romney and other Republicans as "rightwing bull" and "disingenuous fantasy." Apparently he prefers calmly reasoned discourse, the invective-free sort that is guided by hard facts and sound logic.
If that wish could go from Hjeff's keyboard to American reality, the public forum would certainly be more enlightened. But we must honestly ask, who has debased the level of conversation? On health care and across the range of public policy issues, Republicans have perpetrated wholesale lies and scare tactics that are pathological even for politics, a realm of life that remains notorious for distorting the truth. They have polluted the air with slogans such as death panels, made fraudulent claims about the Affordable Care Act stealing $761 billion from Medicare, and lied about a voucher system not destroying existing safety net programs. They have done this in a cynical effort at appealing to their Republican base of half-wits, lunatics, bigots, economic exploiters and blind-faith, market advocates.
Michael R. Cohen, R.Ph.
By Michael R. Cohen, R.Ph.
In response to the national outbreak of fungal meningitis, it makes sense for healthcare providers to seriously consider whether they have an ethical and legal obligation to inform end users when they dispense high risk sterile products prepared by a compounding pharmacy. To do that, doctors who inject these products need to be informed of the source.
While some physicians order compounded preparations directly from external compounding pharmacies, others simply prescribe the compounded medication and leave it up to the pharmacy or office staff to secure it from a reputable source. Thus, they may not know that a drug has been compounded from non-sterile ingredients or by an external pharmacy.
Yesterday, Congressman Edward J. Markey (D-Mass) took a step in this direction. Markey is proposing legislation to strengthen federal regulations for compounding pharmacies. Among the features in the bill is a requirement that compounded drugs be labeled to ensure that recipients are aware that FDA has not tested the drug for safety or effectiveness. The New England Compounding Center (NECC), a compounding pharmacy located in Rep. Markey's Congressional District, has been found to be the source of contaminated injectable steroids that have led to 28 deaths and 377 illnesses in 19 states.
Daniel R. Hoffman, Ph.D.
By Daniel R. Hoffman, Ph.D.
This week The New Yorker's financial writer, James Surowiecki, persuasively made the case (see here) that the single, most important basis for casting next Tuesday's presidential vote involves medications and health care in general. "Health care," according to Surowiecki, "is where the election's outcome will have the most immediate and powerful impact on how Americans live." Both the availability and cost of health care, including drugs, will vary enormously depending upon who wins the presidency.
On several occasions Mitt Romney has stated that on his first day as president he would try to either repeal Obamacare or render it inoperable. At a minimum that would eliminate subsidies for people to buy health insurance and allow insurers to deny coverage for people with pre-existing conditions. Romney prefers giving people tax breaks to buy insurance, effectively pushing them to obtain high-deductible policies. He believes this would make consumers more price-conscious in choosing treatments and doctors.
The underlying rationale of Romney's health care approach supposedly consists of "unleashing the free market," a process that will somehow improve quality and reduce prices. But this market fetish is a deceptively disingenuous fantasy. While the laissez faire approach may provide more choices and lower prices in sectors such as consumer electronics and packaged goods, it fails completely in health care. Health care is not and cannot be a market as a result of some stubborn facts.
Michael R. Cohen, R.Ph.
By Michael R. Cohen, R.Ph.

Ameridose LLC, a compounding pharmacy that shares ownership with New England Compounding Center (NECC), the pharmacy behind the meningitis outbreak, has begun a national voluntary recall of all products.
In a 3:30 p.m. FDA-arranged conference call this afternoon, the Agency said that they found a "lack of sterility assurance" during recent inspections at the facility. They did not say they found any unsterile products or identified impurities in any Ameridose products and said have been no known infections in patients. FDA has cited Ameridose in the past for quality issues but that is also true for many major pharmaceutical manufacturers and other compounders.
Ameridose, licensed in Massachusetts as a compounding pharmacy and also registered with the FDA as a manufacturer, had already stopped dispensing drugs on October 10, 2012 in the wake of the investigation at its sister company, NECC. But until today, products that had already been dispensed remained in use. Hospitals were told to quarantine all products from Ameridose.
Michael R. Cohen, R.Ph.
by Michael R. Cohen, R.Ph.
America's poison centers are urging people in the path of Hurricane Sandy to exercise caution when using portable generators to avoid carbon monoxide poisoning.
Carbon monoxide poisoning is the most common poison-related cause of hospitalization and death in the wake of hurricanes, says the American Association of Poison Control Centers. It is called a "silent killer" because there are no odors or symptoms that signal a problem.
When people use generators improperly – too close to homes, in garages or outside bedroom windows – carbon monoxide can seep in and sicken or even kill. Open windows or outside garage doors do not provide adequate ventilation for generators or other gas-powered equipment.