Archive: May, 2010
Josh Goldstein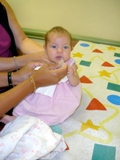 A study from the Journal of Infectious Diseases released Friday reported that vaccines against the rotavirus had nearly cut in half hospitalizations of children in the U.S. in just two years.
Also on Friday, the U.S. Food and Drug Administration reversed course and said that pediatricians and other clinicians should use GlaxoSmithKline's Rotarix vaccine to immunize infants against rotavirus. The agency also reaffirmed its position that Merck & Co.'s RotaTeq vaccine should remain in use.
Rotavirus often starts with a fever and can be followed by a week or more of watery diarrhea and vomiting. The infection is one of the most common causes of death in young children worldwide.
Josh Goldstein

The Hospital of the University of Pennsylvania earned the top spot among local hospitals with a profit of $119.3 million on operating revenues of $1.8 billion in the year that ended June 30, 2009, according to the latest report on hospital fiscal health by the Pennsylvania Health Care Cost Containment Council.
In a year of tightening margins at hospitals, Penn, Children's Hospital of Philadelphia ($57.5 million in the black) and the three acute-care hospitals of the Main Line Health System ($92.7 million in profits) bucked the trend. Still, 15 of 41 hospitals in Philadelphia and its four suburban Pennsylvania Counties lost money in fiscal 2009 compared with 14 that had incomes of $10 million or more.
Among the biggest losers were Northeastern Hospital which was closed in 200x by the Temple University Health System. Temple attributed a $46.9 million loss to that hospital for the year.
Josh Goldstein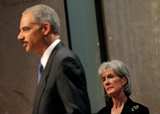 On Thursday an alphabet soup of government investigative agencies from the HHS OIG to the DOJ's FBI reported that the new health reform law – the Affordable Care Act – gives them new tools to help fight fraud and protect tax dollars.
The new law "strengthens our ability to stop fraud before it starts by making it harder to submit false claims and easier to catch those who try to cheat," said Health and Human Services Secretary Kathleen Sebelius.
But even as the Obama administration touts its approach to proactively stop health fraud rather than the old "pay and chase" model, that old approach has been paying huge dividends.
Josh Goldstein

Eleven universities and medical research institutions in Pennsylvania, New Jersey and Delaware were awarded more than $100 million in federal grants to build or renovate laboratories, the National Institutes of Health announced Friday.
The grants were part of more than 146 awards made nationwide for construction or renovations of scientific facilities. The grants, worth more than $1 billion, were part of the 2009 federal stimulus bill – the American Recovery and Reinvestment Act.
The University of Pennsylvania was awarded nearly $13 million to build its Center for Chronobiology where scientists and doctors will explore biological rhythms and develop medical applications. Temple University will get nearly $12 million to build a facility for research into brain trauma and neurodegenerative diseases.
Josh Goldstein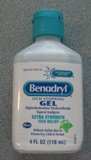 The U.S. Food and Drug Administration Wednesday warned consumers of the potentially serious side effects of swallowing Benadryl Itch Stopping Gel, an over-the-counter product made by Johnson & Johnson intended for use on the skin.
After several reports of injuries due to people mistakenly drinking the gel apparently thinking it was one of the Benadryl liquid allergy products that are supposed to be swallowed, the company will add prominent warnings "For Skin Use Only" on the gel's label and on a sticker attached to the cap, according to the FDA.
The action by the company "to help consumers recognize that Benadryl Extra Strength Itch Stopping Gel is meant for use on the skin" came more than 17 months after a problem was identified by a Philadelphia-area nonprofit.
Josh Goldstein

With both our daughters, my wife and I have fought to see who had to hold the children when they are getting shots. It's good natured, but both of us really want to avoid the pain it inflicts on us to be the parent when our children have even the fleeting pain of needle pricks for vaccinations.
A new study in the BMJ journal Archives of Disease in Childhood may have an answer for us. A drink of sweetened water apparently eases the pain of shots and reduces crying in infants up to the age of 12 months. Researchers from Canada, Australia and Brazil examined the results of 14 randomized control trials involving 1,674 injections of infants to determine if sweetened water helped babies endure shots.
It was known that oral sucrose, glucose or other sweet solutions acted as painkillers for newborns during procedures, such as shots, that cause small amounts of pain. The researchers examined existing studies to see if the analgesic effect held for older children.
Josh Goldstein

Proton pump inhibitors, such as Nexium, are among the most widely prescribed medications in the United States with nearly 120 million prescriptions filled in 2009 at a cost of $13.6 billion, according to IMS Health, a company with offices in Plymouth Meeting, Pa. that tracks drug sales.
These drugs are widely used to treat heartburn, although they are intended for more serious and chronic conditions such as bleeding ulcers. In Tuesday's edition of the Archives of Internal Medicine, five studies (1, 2, 3, 4, and 5) and an editorial examine the adverse consequences of the drugs, including a slight increase risk of fractures for women after menopause and an increased risk of a serious bacterial infection.
The latest studies follow a report two-weeks earlier in the same medical journal that found proton pump inhibitors increase the risk of rehospitalization for patients on the bloodthinner Plavix.
Josh Goldstein

Actually, if you are trying to lower your cholesterol, about a third of a cup of nuts a day should help, according to a study in Tuesday's Archives of Internal Medicine. That's good news if you are like me and gobble down a handful of peanuts or sunflower seeds as a snack that can help fend off the compulsion to grab that bag of chips that will only make you hungry for more junk food.
Turns out that dieting trick is probably a good way to lower your "bad" LDL cholesterol. Researchers from Loma Linda University in California and colleagues in Spain examined data from 25 studies of nut consumption to examine the impact how other factors such as weight and diet type (Mediterranean, low fat etc.) on cholesterol lowering.
The researchers found that eating about a third of a cup a day improves cholesterol levels. And that the impact is greater for people with high cholesterol at begin with. It also works better for folks with lower body mass indexes.