Archive: November, 2010
Marie McCullough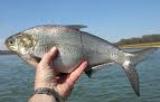 Don't be shad, but a rigorous new study concludes that DHA fish oil supplements don't fight Alzheimer's disease. (Sorry, I codn't resist the bait.)
Previous studies that relied on circumstantial evidence — like finding less dementia among people who eat lots of seafood — raised hopes that omega-3 fatty acids in fish oil would slow the mental and functional decline of Alheimer's disease. Hopes were particularly high for an omega-3 called docosahexaenoic acid, or DHA.
To put DHA to the test, researchers from Oregon Health and Science University and Portland Medical Center randomly assigned 402 people with mild to moderate Alzheimers to take DHA supplements (2 grams per day) or a placebo for 18 months.
Alas, DHA had no benefit, based on clinical assessments of patients' cognitive and functional abilities, and rates of brain atrophy measured by MRI imaging.
Marie McCullough

Almost all severely depressed adolescents recover with treatment, but about half suffer another crisis within five years.
That's the good news-bad news from a federally-funded study that included researchers from Children's Hospital of Philadelphia and nine other medical centers.
Previous studies have also found high recovery and relapse rates. In many ways, the new research, published Monday online in Archives of General Psychiatry, confirms the perplexing nature of teenage depression, and the limited effectiveness of current treatments.
The researchers started with 439 teens who had been diagnosed with a "major depressive disorder" marked by thoughts of suicide, hopelessness, irrational thinking, and other symptoms.
Michael Cohen

By guest blogger Michael Cohen:
Most people recognize that accidental poisonings in children are a daily occurrence in the US. But you may be surprised to learn that one of the most common sources of these poisonings is Grandma's or Grandpa's medications.
A scientific study of 200 childhood poisonings conducted by the Long Island Poison Center found that about two of every 10 medicine poisonings in children involved grandparents' medications. Most of these poisonings, caused by what the study participants called the "Granny Syndrome," involve children gaining easy access to grandparents' medicines that had been left on a table or countertop (46%), on low shelves (29%), in grandmothers' purses (17%), or in a cabinet or higher shelf more than 36 inches from the floor (8%).
In a couple of the cases in the study, children pulled off a medicine patch while sitting on their grandparents' laps and got sick after sucking on or licking the patch. My August 16, 2010 blog, "Parents – your medicine patches can injure your kids," discussed this and other safety issues in households where kids might be present and where someone uses medicine patches.
Marie McCullough

Even if you glug a gallon of green tea daily, you won't cut your breast cancer risk, judging from a large Japanese study.
Studies in lab dishes and animals have suggested that green tea may have a protective effect against breast cancer, but results from human studies have been inconclusive.
The new study, led by researchers from Japan's National Cancer Center, assessed the intake of two types of green tea by 54,000 women who completed a questionnaire at the beginning of the study and again five years later. Their consumption ranged from less than a cup per week to 10 cups or more per day.
Although 350 cases of breast cancer were diagnosed during 9.5 years of follow-up, there was no association between green tea drinking and the likelihood of cancer.