Archive: July, 2012
Esther Lee

, Philly.com

Hollywood golden child Blake Lively nails the role of "Gucci Girl" in her first short film as the face of Premiere.

The ad campaign footage was directed by Drive director Nicolas Winding Refn and shot in a glorious home with sky high glass windows overlooking the city. It might actually look familiar to some, because the stunning home known as the "Sheats/Goldstein residence" has been featured in films like The Big Lebowski, Bandits and Charlie's Angels: Full Throttle.

Lively sang Gucci's praises earlier this summer, leading many to speculate if a rift with Chanel had occured. She told WWD, "It is a brand I have always looked up to because to me it represents strength."
Esther Lee

, Philly.com
Surprise, surprise.
Vanity Fair released its 73rd annual "International Best-Dressed List" Tuesday morning, and the top spot is secured by the Duchess of Cambridge Kate Middleton. Other bedazzled stars featured in V.F.'s annual Style Issue include:
Jessica Chastain, Bill Cunningham, Jay-Z, Colin Firth and his wife Livia, Tom Brady, Alicia Keys, Penn grad and founder/designer of Alice + Olivia Stacey Bendet, Diane Kruger (seriously, when has she not made this list?), Lauren and Andre Santo Domingo, Victor Cruz, Matt Lauer (who has a Twitter handle named after his plaid suit), Stella McCartney, and Prince Harry.
Esther Lee

, Philly.com

Philly has long dealt with its unwanted share of flash mobs, resulting in a dramatic increase in security, particularly along retail-heavy streets.

The following account did not take place in our city, but it's a warning sign to law enforcement officials that a "flash mobbery" (coined by the Chicago Sun-Times) could occur here, and more importantly to perpetrators that their actions bear consequences.

On Saturday, a group of twenty teens flooded Mildblend Supply Co., a Wicker Park-based fashion boutique, and managed to run off with $3,000 worth of Nudie Jeans. For those unfamiliar with Nudies, the premium denim brand has gained steam recently, riding the free trade, organic craze. And like its fruit and vegetable counterparts, the "100%-organic" jeans are quite costly with prices ranging from $179-299 per pair.
Esther Lee

, Philly.com
The Egyptian Olympic Committee's blunder over faux uniforms is hopefully the last story in the saga we've aptly titled, "The Great Uniform Debacle of 2012."
Unlike the domestically-manufactured garment issue that so fiercely gripped our nation in recent weeks, Egypt's uniforms were pinned for a different reason: Authenticity. Or the lack thereof.
The Telegraph reported this week that the country's athletes were handed fake Nike apparel, which all 117 selected participants were required to wear in Athletes' Village. Given Egypt's tumultuous political and ensuing economic circumstances this past year, the Committee intentionally sought a foreign vendor who could produce these items at a minimal cost. The president of the EOC eventually admitted to knowing the items were fake, yet showed resistance when asked if he would eradicate the situation. Unfortunately for the athletes- who were asked to shell out 2000 EGP (approximately 329.59 USD) each to fund the outfits- they received cheap wear with a controversial and unwarranted price tag.
Esther Lee

, Philly.com
We've been nostalgic for the '90s lately, and MTV must have felt the same way.
On Tuesday, the network announced the return of its iconic show House of Style, which covered the fashion industry in 72 episodes over the span of 12 seasons from 1989-2002.
The legendary series is set to make its monumental return October 9, completely re-branded, revamped and ready to influence a new generation of taste-makers. In the meantime, MTV's vice president of digital production Sophia Rai tells Entertainment Weekly that what is presumably the network's talent division is in the process of reviewing a "short-list" of candidates for the coveted position of show host. Considering previous faces of House Style have included Cindy Crawford, Rebecca Romijin and Molly Sims, MTV is still deliberating over which generational voice would be best-suited for the role. The host will officially be announced at the Video Music Awards on September 6.
Esther Lee

, Philly.com

Stars attending the annual Teen Choice Awards made a conscious effort to outshine the blazing, bright pink carpet beneath their funky heels Sunday evening. The event frequented heavily by young Hollywood typically lends itself to a fun, colorful, high fashion atmosphere. This year was no different. Click through for the best-dressed:

Zoe Saldana in Jonathan Saunders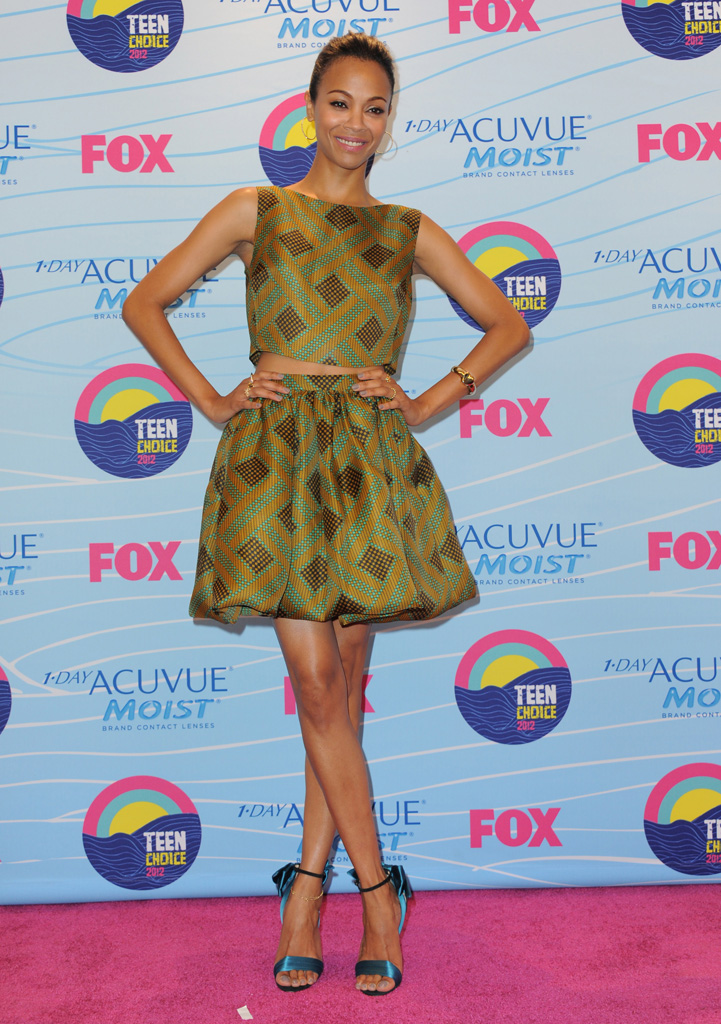 Esther Lee

, Philly.com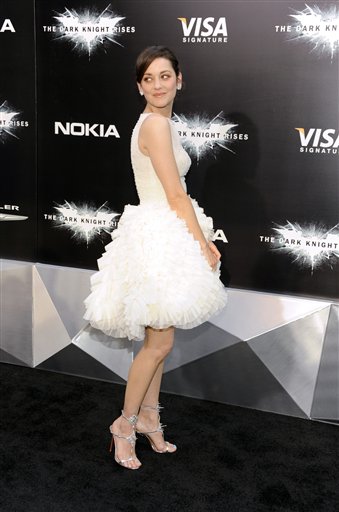 Move over, Christopher Nolan. Fashion's obsession with Marion Cotillard continues.
The French actress, who stars as socialite/love interest for Christian Bale's Batman Miranda Tate in the latest series installment, stunned at the premiere of The Dark Knight Rises Monday evening.
The face of Lady Dior, Cotillard's role as an ambassador to the brand seems to be working out well for her. The Inception star paired her strappy Louboutin heels with an off-white, organza dress from the French fashion house for an overall A plus outfit.
Esther Lee

, Philly.com
Summertime Sadness is one song Lana Del Rey should not be crooning.
Coming off a hot year with the release of her Born to Die album, the indie singer/songwriter has taken her past experiences as Elizabeth Woolridge and launched her career as international artist Lana Del Rey. With her haunting voice, dramatic physical features, and controversial allure, Del Rey was bred for fashion editorials.
On Monday, H&M confirmed that the 26-year-old is the global face of the Swedish retailer's autumn/winter ad campaign. The photos were shot by Inez van Lamsweerde and Vinoodh Matadin, and a short film of the singer performing a "Blue Velvet" cover is set for its debut on September 19 on hm.com. Although this is Del Rey's first modeling gig, it is not her first foray into fashion.