Archive: May, 2011
Esther Lee, Philly.com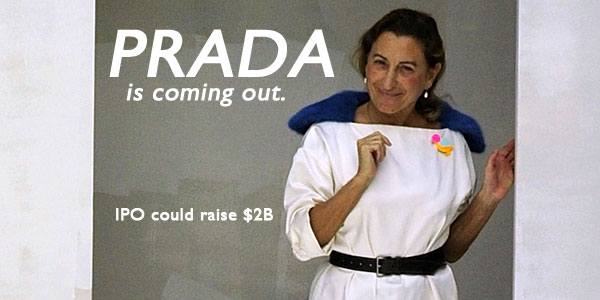 Following a year of record-breaking sales, Miuccia and company confirmed that Prada SpA will list its shares in Hong Kong, after receiving the green light from the listing committee late Thursday evening.
The projected time line is as follows:
May 20: Company officials will have several weeks to pre-market the Initial Public Offering.
June 6: The company will begin presenting to investors.
June 24: Tentative listing date (Bloomberg)

Esther Lee, Philly.com
Esther Lee, Philly.com
For those who followed New York Fashion Week's Spring 2011 shows in September, it was predicted by the masses that this season's collections would yield to soft palettes, flowy pieces, and breezy collections. Envision loose white dresses, intricate necklines, and minimalism with a bohemian flair.
One brand in particular that captures Spring 2011's eau de parfum is Ports 1961, and at the helm of its very successful NYFW showing is Fiona Cibani, Creative Director and Head Designer of Ports—not to be confused with her sister Tia Cibani, who just stepped down from the position in August. "She's relaxing now," says Fiona with a giggle. The insanity however, has just begun for Fiona.
I had the opportunity to meet the front woman of Ports 1961 at Nordstrom King of Prussia for the very first stop of her intense clientele meet-and-greet campaign in November: