Archive: August, 2011
"To me Macy's is the perfect department store in the United States where everybody can find what they're looking for without ruining their budget," said Karl Lagerfeld in July.
Well, it's here! On Wednesday evening, the much-anticipated Karl Lagerfeld for Macy's "Impuse" capsule collection was showcased in SoHo.
The 45-piece collection, set to launch in select Macy's locations nationwide this fall, mixes a bit of Chanel and a whole lot of Karl. For example, the white-haired, leather-gloved, sunglassed designer/artist/photographer has plastered his image on various tees and tanks, which are available to Lagerfeld lovers for a mere $45. After all, iconically-speaking, Lagerfeld's profile is fashion's equivalent to college football's Joe Paterno.
Esther Lee, Philly.com
An image of the Missoni for Target ad campaign was officially released on Wednesday.
The ad features 28-year-old Margherita Missoni, dressed in Missoni's vibrant, classic zigzag prints, strolling along an urban setting. Margherita, heiress to the Italian fashion house, is also widely recognized as the face of the brand.
Esther Lee, Philly.com
It is now the third day of indisputably the hottest month of summer, and according to forecasts, this weekend will be sweltering hot. Which leads us to today's Inquirer fashion feature.
Columnist Elizabeth Wellington compiles ten tips on how to turn the remainder of summer into a more aesthetically pleasing time for all. The following is Hautehouse Row's top three picks from her column, with visuals on how to execute these looks.
If you're revealing your bra straps, make it intentional.
"That means your bra should be bejeweled, translucent, or coordinated," writes Wellington. How does one pull this off without looking risqué or simply, trampy? Last summer, while I was in L.A., I met up with a friend who had recently moved there, and it was evident that she had adapted the West Coast's style culture. For example, she took an interesting spin on the "revealing the bra" look, by pairing an open-back, gray, form-fitting dress, with a hot pink, lace bra. The result:
The official start of the month of August arouses a confusing mash-up of emotions…Sadness at the imminent waning of sandal season? Melancholy due to the quickly approaching end to the acceptability of summer's brights? Yet, optimistic aspiring stylistas such as myself eagerly greet the eighth month with anticipation.
Fall ad campaigns trickle onto the pages of premium fashion magazines, forecasting the upcoming season's trends. But more than foresight and trend awareness, to more passionate and artistically vulnerable readers, these ads offer momentary escape. Dare I refer to the Dante-esque landscape of McQueen's fall 2011 editorial as "art"? Too much to wish that my wedding can take place on the set of Cavalli's campaign shoot? Call me an impressionable, American consumer, but this fall's campaigns have not only sold me on the featured high-end threads, but also on the lifestyles of the campaign's characters.
I want to stand in the middle of a desert at sunset before a fall thunderstorm looking as fierce and unfazed as Saskia de Brauw for Versace… Why can't I pose for a group portrait in front of my sprawling New England estate wearing head-to-toe Hilfiger and accompanied by my basset hound…?
Esther Lee, Philly.com
It was revealed through court papers filed by supermodel Linda Evangelista that her baby-daddy is indeed François-Henri Pinault. If that wasn't a mouthful of information to dissect, just wait for this storyline.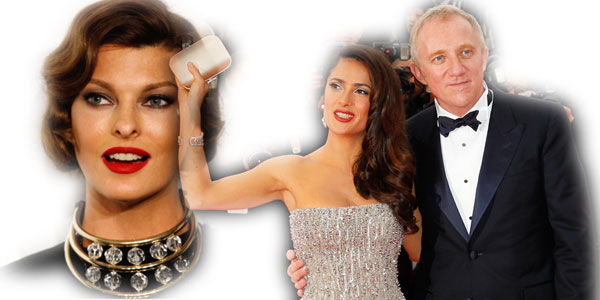 Linda Evangelista is requesting $46,000 a month in child support from baby daddy François-Henri Pinault, husband of Salma Hayek. (AP Photos)
Pinault is also actress Salma Hayek's billionaire husband, father of the star's three-year-old daughter Valentina, and CEO of PPR, a luxury firm that owns Alexander McQueen, Gucci, Bottega Veneta, and other high-fashion brands. In early 2006, Pinault and then-girlfriend Hayek separated, allowing Evangelista to fill the dating void in the French playboy's life. Although he and Hayek got back together later that year, Pinault meanwhile impregnated Evangelista, a fact that the parents of four-year-old Augustin James have fervently denied... until now.
Esther Lee, Philly.com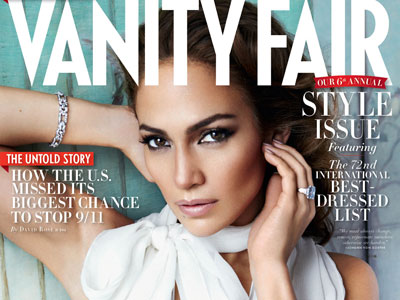 Speaking of hot bodies, Jennifer Lopez looks stunning on the cover of Vanity Fair's September issue.
In J.Lo's first interview after her high-profile split from singer Marc Anthony in July, she opens up to contributing editor Lisa Robinson and poses for photographer Mario Testino. "Sometimes it doesn't work- and that's sad," she says. However, Lopez insists that despite the recent turn of events, "I remain an eternal optimist about love...It's still my biggest dream."
She reveals what eventually lead her to end the relationship. "To understand that a person is not good for you, or that that person is not treating you in the right way, or that he is not doing the right thing for himself—if I stay, then I am not doing the right thing for me," she confesses.
Esther Lee, Philly.com
"Up at the gym just working on my fitness."
Well move on over Fergie, because Helen Mirren has been named the "Body of the Year," in a 2,000 person poll conducted by L.A. Fitness.