Archive: March, 2012
Esther Lee

, Philly.com

Soon-to-be household name Jennifer Lawrence stunned in a dramatic, metallic, cut-out gown from Prabal Gurung's fall 2012 collection at The Hunger Games premiere in Los Angeles last night. According to twitter, Gurung and his camp were "beyond ecstatic" to see Lawrence in the gold number.

The 21-year-old actress, who plays heroine Katniss Everdeen in Suzanne Collins' trilogy-turned-brewing-blockbuster-film, is known for her sultry, risk-taking fashion choices on the red carpet. Her premiere piece was a suitable choice for the star, hugging and exposing her killer bod in all the right places. Despite its effect, the golden girl admitted to Hollywood Life that her dress was quite snug, quipping, "I'm going to have a nervous breakdown."

Which could have occurred if her stylist had set it aflame, which actually happens to her character in one particular sequence of the book. "Was everybody disappointed that I wasn't set on fire?" a mildly-amused Lawrence asked MTV. The beautifully-detailed moment is one that fans anticipate seeing translated from the pages of the novel to the big-screen.
Esther Lee

, Philly.com

The teen model whose parents sued Urban Outfitters for $28 million for printing provocative images of their daughter will face the retailer in court.

On Monday, a New York federal judge rejected Urban's fall 2011 claim that the suit was procedurally defective. Judge George Daniels ruled that Hailey Clauson's suit will move forward, stating that the model, "has sufficiently alleged a cause of action against Urban Outfitters for use of her image to create false endorsement or false designation of origin."

The offending images shot by Jason Lee Parry.
Esther Lee

, Philly.com
The Erin Express wheels its way through the city starting tomorrow, and what better way to celebrate the drunken debacle of a holy holiday like St. Patrick's Day than in an all-American, inappropriate and mildly offensive fashion, participants may speculate.
There is no occasion that's directly correlated with drunkenness more than St. Patty's Day, besides Fat Tuesday, and okay, Thanksgiving Eve. However, we've noticed a rising number of offensive, stereotypical tees- some funny and others, extremely inappropriate and lewd.
So offensive are some of these products that the Congressional Ad Hoc Committee on Irish Affairs sent a letter to the newly-inducted CEO of Urban Outfitters earlier this month, to request a halt on the sale and distribution of some of the company's St. Patty's Day-related graphic tees and products (see below). The letter stated that the offending items were, "fueling stereotypes that many Irish-Americans, as well as the people of Ireland, work so hard to dispel."
Esther Lee

, Philly.com
Once Oprah listed it as one of her "favorite things" in 2000, it was game on for Spanx.
Since then, celebrities like Gwyneth Paltrow and Emily Blunt rarely make an appearance on the red carpet without it. Department stores stock up on Spanx products. Even my own mother admittedly professes her love for the shapewear.
And it shows because at 41, Sara Blakely, founder of the brand, covers Forbes' Billionaires issue as the list's youngest self-made billionaire, "by reinventing the girdle."
Esther Lee

, Philly.com

Menswear designer-turned-photographer Hedi Slimane has been appointed creative director of Yves Saint Laurent, parent company PPR announced in a statement Wednesday.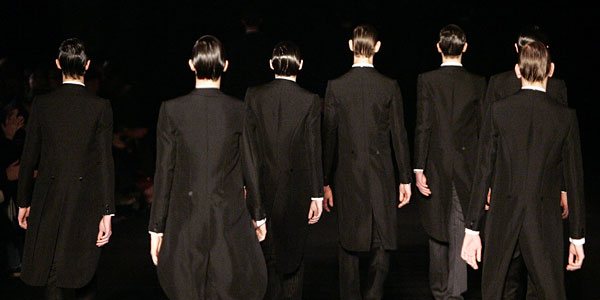 Hedi Slimane's final collection for Dior. (AP Photo / Francois Mori)
Slimane, who has kept a relatively low profile since 2007 after leaving his post as designer of Dior Homme, will temporarily forego his burgeoning career as a photographer to replace the outgoing Stefano Pilati.
Esther Lee

, Philly.com

This is even better than the new SEPTA bullet trains!

One for theatrics and grandeur when it comes to his fashion shows, Marc Jacobs beat out Karl Lagerfeld's jumbo-jet setting for Chanel's couture show last month and Christopher Bailey's rain on the runway idea for Burberry Prorsum at London Fashion Week with his latest runway setting.

The star designer, who's known for staging whimsical fashion shows for his own personal amusement, certainly outdid every other designer (including himself) with Louis Vuitton's Autumn/Winter 2013 RTW collection show on Wednesday.
Esther Lee

, Philly.com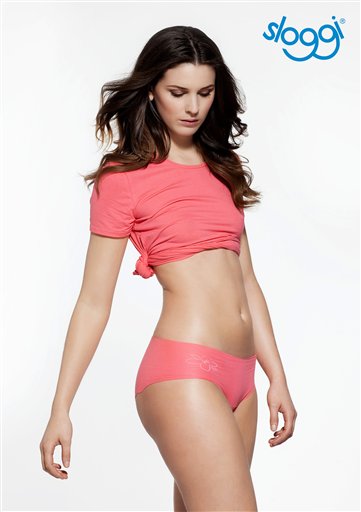 So, get this: The 2008 victor of Holland's version of "America's Next Top Model" has won a lawsuit against the agency that violated the terms of her contract. The reason for the suit?
Amanda Marchildon was supposedly dropped for having hips that were too large, reports the Associated Press. According to the claim, the model was certain she was let go by Elite agency because she didn't lose enough weight to sustain the contract.
In a court ruling Wednesday, the Amsterdam District Court concluded that Marchildon was indeed entitled to receive what she was promised on the show, awarding her around €65,000 (approximately $85,000) in damages, in addition to interest and legal fees.
Esther Lee

, Philly.com

It's a bird (cage), it's a (jumbo jet) plane, it's... Superman II?

On Tuesday, Karl Lagerfeld transformed the Grand Palais, home of Chanel's Fall/Winter 2012 show, into a crystal cave of crunchy, cool fashions. His models made way onto the mineral-inspired runway complete with iced eyebrows, velvet leggings, geometric patterns and "blue of amethyst"-hued pieces.

The only thing missing was Christopher Reeve of the 1980s flying off to the Fortress of Solitude.