Archive: November, 2011
Esther Lee, Philly.com
Well this must be bloody good news for the British Fashion Council.
Designer and daughter of Sir Paul, Stella McCartney, has announced that she will reveal a one-off collection from her eponymous label, as part of London Fashion Week next spring. McCartney, who for the past decade, has chosen Paris as her go-to Fashion Week, will still reveal her F/W 2012 collection in the city of lights in March.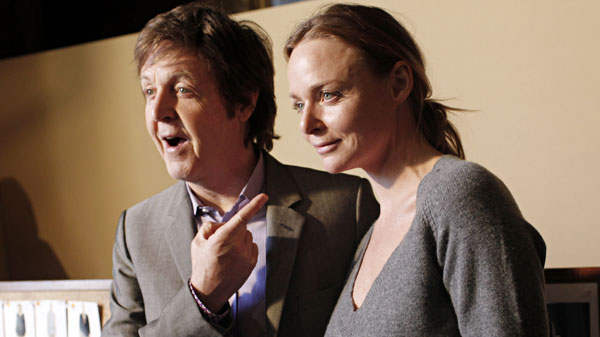 Stella McCartney, right, with her father, Sir Paul McCartney, backstage after one of her shows. The two are very close. (AP Photo)
Esther Lee, Philly.com
It has been a monumental year for the Missoni family.
First, Missoni's Target collaboration line, which debuted this fall, crashed the Target website, sold-out in stores across the country, and ultimately caused a retail crisis for frenzied buyers who wanted more zigzags for less. Soon thereafter, select Missoni for Target items re-emerged on eBay for three times the original amount.
The success of the line generated an overwhelming amount interest in mass retailer-designer collaborations, where fashion-focused men and women could add designer collections to their closets, without breaking their banks.
Esther Lee, Philly.com
Among the range of characters James Franco has portrayed within the scope of his acting career, he's played a medieval-age stoner, a hiker with a limb-losing penchant for survival, and a sympathetic doctor who breeds angry apes. However, for 33-year-old Franco, his most impressive roles are the ones he's fulfilled in life.
Franco's intellectual pursuits include a B.A. from UCLA, an M.F.A. from Columbia, and a pending Ph.D. from Yale. He admits that he enjoys putting himself in uncomfortable situations (i.e. reverting back to soap opera appearances after a successful film career, hosting the Academy Awards with Anne Hathaway--which was so awk, and the list continues). Simply put, the man loves learning, rejects complacency, and wants to conquer.
On Friday, WWD reported that Hollywood's quintessential Renaissance Man has signed on to pursue a new endeavor- as the director and photographer of Seven For All Mankind's (7FAM) spring 2012 ad campaign.
Esther Lee, Philly.com
It's a memorable, if not iconic scene in American film history: An elegant young lady, draped in pearls and a black Givenchy gown, noshes on a croissant as she wistfully stares into the window of Tiffany & Co. from behind her oversized sunglasses.
Two weeks ago, Tiffany's hosted a breakfast at its Walnut St. location where guests enjoyed pastries and mimosas as they perused bright shiny jewels. The bona fide Breakfast at Tiffany's was held not only to kick-off the holiday shopping season, but also to announce several exciting festivities in the coming year.
Furthermore, Wednesday marked the 21st birthday of the Center City store! And it was an extra-happy occasion for 1414 Walnut St., which also debuted its annual holiday display windows.
Esther Lee, Philly.com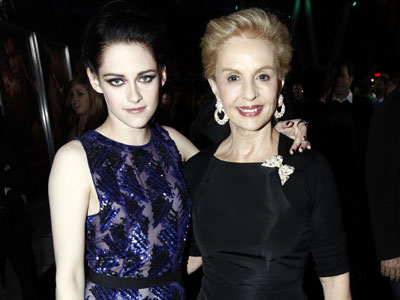 No wedding dress has generated this level of interest since Sarah Burton and Vera Wang designed Kate Middleton and Kim Kardashian's bridal gowns (respectively).
All eyes will be on Kristen Stewart's character as she walks down the aisle in the first installment of "The Twilight Saga: Breaking Dawn." The film, which debuts this Friday, premiered Monday evening in Los Angeles.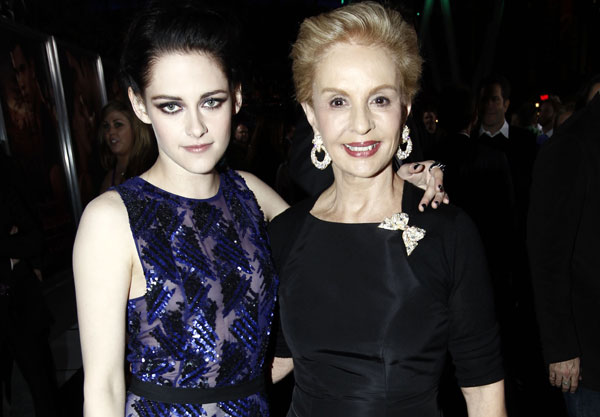 Kristen Stewart, left, and Carolina Herrera arrive to the world premiere of "The Twilight Saga: Breaking Dawn - Part 1" on Monday, Nov. 14, 2011, in Los Angeles. (AP Photo/Matt Sayles)
Esther Lee, Philly.com
The winner of this year's CFDA/Vogue Fashion Fund award is the ever-so-talented (and handsome) designer Joseph Altuzarra, as announced at Monday evening's gala at Skylight studios in New York.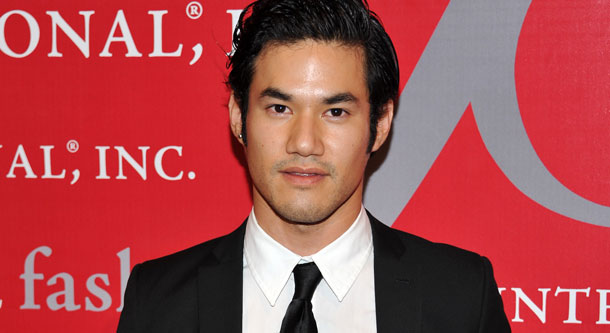 Joseph Altuzarra at an event for FGI. (AP Photo / Evan Agostini)
As the winner of the award, the Parisian-born Altuzarra not only pockets $300,000, but will be mentored by a key designer in the fashion industry. Judges included Diane von Furstenberg and Steven Kolb (of CFDA), Anna Wintour (of Vogue), Jenna Lyons (of J.Crew), and Jack McCollough and Lazaro Hernandez (of Proenza Schouler).
Esther Lee, Philly.com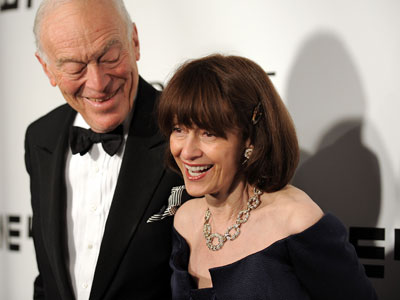 Evelyn H. Lauder, 75: Refugee, wife, mother, grandmother, philanthropist, teacher, cancer survivor, creator of the Pink Ribbon, and founder of the Breast Cancer Research Foundation.
For the matriarch of the Lauder empire, a magnanimous list of lifelong accomplishments falls second to who she actually was. On Saturday, the woman who dedicated her life to improving the lives of others, lost her battle to nongenetic ovarian cancer.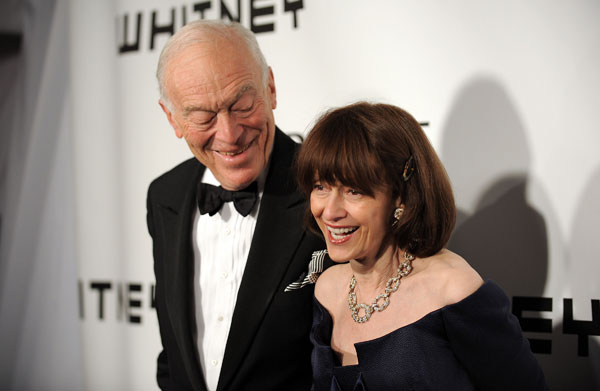 Leonard and Evelyn Lauder attend the Whitney Museum of American Art's gala on Monday, Oct. 20, 2008 in New York. Evelyn, a member of the Estee Lauder cosmetics family who helped create the pink ribbon symbol for breast cancer awareness, passed away on Saturday, Nov. 12, 2011. She was 75. (AP Photo/Evan Agostini, File)
Esther Lee, Philly.com
"Madame love them Jimmy Choo," croons Lady Gaga in her song, Fashion.
Over the weekend, Tamara Mellon, the "madame" who co-founded, loved and nurtured the brand, announced she is stepping down.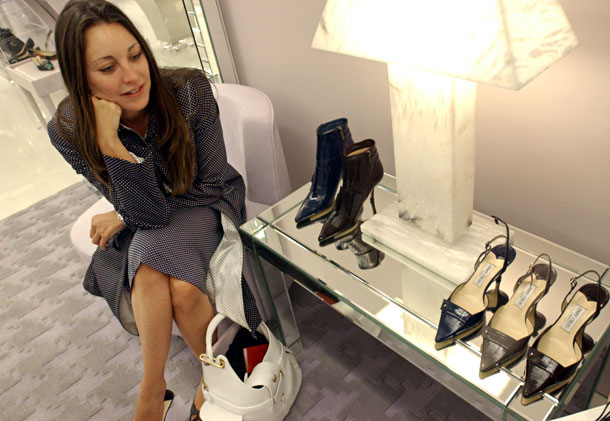 Tamara Mellon, above, in 2003. (AP Images)