Esther Lee

, Philly.com
UPDATE, Monday, Jan. 7: Rescue crews and officials in Venezuela continue the search for a small plane carrying Vittorio Missoni, the CEO and head of prominent, family-owned and operated Italian fashion house Missoni.
Monday marks the fourth day since the plane vanished from radar screens shortly after departing from Los Roques, a remote, luxurious coastal resort island in Venezuela, for Caracas, the country's capital, at 11:39 Friday morning. Missoni SpA representative Paolo Marchetti told a group of reporters Saturday that the missing aircraft was carrying six people, including Missoni himself, two friends, two crew members, and Missoni's wife Maurizia Castiglioni.
Despite the gravity of the situation, the Missoni family remains vigilant about Vittorio's fate, even hinting at a potential targeted kidnapping. In an interview with Italian newspaper La Repubblica, Angela Missoni, sister of the missing Vittorio said Sunday, "Our hope is that he is still alive." ABC News correspondent Matt Gutman reported Monday that the plane went down in area that is "a well known drug smuggling route." The Daily Beast added to this argument by reporting of an "eerie" text message sent late Sunday evening, that's "given family members hope that the missing Milanese designer and fellow passengers are alive and were kidnapped, not victims of an air-sea accident." The contents of the SMS, which was received by the son of Guido Foresti (who was aboard the aircraft with Missoni) read, "Call now, we are reachable." Telecom Italia Mobile confirmed to a local TV station that the message was indeed sent from the device, although the Italian telephone company could not verify the exact date and time the message had been written. The phone has since been shut off.
Esther Lee

, Philly.com
Amended, Monday, Jan. 7: Page Six reported that Campbell was hailing a cab during the time of this incident. It turned out she was actually in a limo.
Naomi Campbell has been using a wheelchair and crutches for over a month now, but it was only revealed Friday that the cause of the supermodel's injury was something far worse than a botched walk down the runway.
The New York Post reports that Campbell was violently attacked on a Paris street and robbed last month as she attempted to hail a cab. The 42-year-old fashion icon suffered a torn ligament after her assailants "violently pushed" her to the ground. It is believed that the thugs were after Campbell's jewels.
Esther Lee

, Philly.com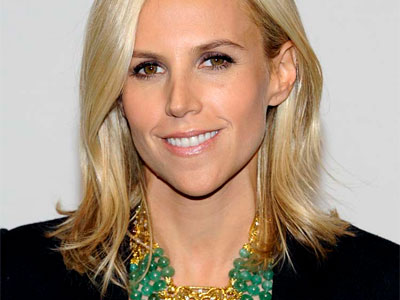 And just like that, Tory Burch is a billionaire.
The Valley Forge native and Penn grad has amassed enough of an empire to become the latest fashion tycoon to land on the 2013 Forbes World's Billionaires list, which will be released in March says the publication. 46-year-old Burch is the second to youngest, female, self-made billionaire, after Spanx founder Sara Blakely, who in 2012 made the list at 41. Blakely opened her first three standalone Spanx retail locations last year, including a store in King of Prussia Mall. Both Blakely and Burch have seen their products land on the "Favorite Things" list of another self-made billionaire woman: Oprah.
Tory's newfound billionaire status follows the Jan. 1 announcement that a settlement agreement was reached between the designer and her ex-husband Chris Burch. After months of lawsuits, counterclaims, nasty remarks and a very bitter, public battle between the two Burches, Chris sold part of his 28.3% stake in the brand to two minority investors this week. Forbes calculates that Tory Burch LLC is valued at least $3.5 billion, which means Tory's stake in her company is estimated at approximately $1 billion.
Esther Lee

, Philly.com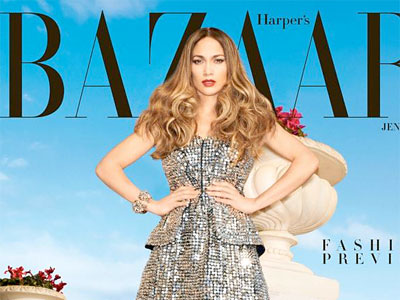 Jennifer Lopez covers the February issue of Harper's Bazaar, oddly resembling a (really fabulous) disco ball in a shiny, strapless Versace dress as part of the publication's accompanying spread.
The entertainer stands tall in those strappy, metallic Tom Ford boots - yes, the ones Anne Hathaway wore to the Les Miserables premiere last month, only Hathaway's were black and comprised of vegan leather.
The 43-year-old star discusses her twins, boyfriend, manager, assistants, security personnel and basically, practically everyone who's part of her extensive entourage. She tells the publication, "I make it as simple and as beautiful as I can because my life is kind of big." How so, one might ask?
Esther Lee

, Philly.com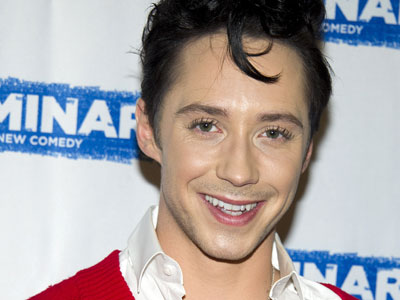 Luxury consignment firm Linda's Stuff, which is based in Horsham, will begin a seven-day auction on Monday comprised of coveted items from Olympic figure skater Johnny Weir's personal wardrobe.
Both Dan Gross and WWD report that items up for auction include a vintage Chanel jacket worn by Weir when he judged "Skating With the Stars." Other select items include a pair of black Riedell figure skates and designer pieces from Gucci, Vuitton and Balenciaga.
A portion of profits will be donated to a charity that Weir actively supports - The Trevor Project is a nonprofit that focuses on suicide prevention among LGBT and question youth.
Esther Lee

, Philly.com
Who needs an afternoon dose of cuteness?
10-year-old Romeo Beckham flaunts his modeling chops as the star of Burberry's Spring Summer 2013 ad campaign in the latest video released by the luxury brand. In it, a trench coat-clad Beckham laughs, jumps and races around the other models (featuring an impossibly still cast of Edie Campell, Cara Delevingne and Charlie France).
This is Romeo's first foray into fashion, which would have inevitably happened as his parents are considered global style icons. His mother Victoria Beckham has her own eponymous fashion line, and his soccer star dad David Beckham has starred in Armani and Calvin Klein underwear ad campaigns. Last year, Beckham senior started a collaboration underwear line with H&M.
Esther Lee

, Philly.com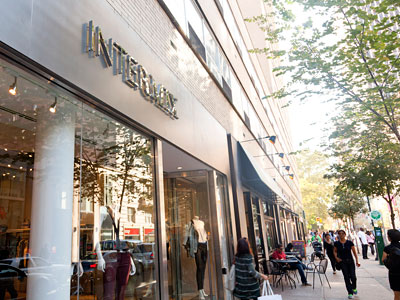 In 2012, Intermix made news in the Philadelphia shopping scene as it marked its first location in the city on Rittenhouse Row. Two days after the new year, the multibrand luxury company announced that it is being sold to Gap Inc. for $130 million.
The Wall Street Journal reports that the deal will open relationships and potential opportunities in the luxury market for Gap, which largely specializes in casual clothing. Although Intermix - which has 30 store locations across North America - does not currently produce its own namesake clothing, the company is the arbiter of creating cool, designer-label looks for its clients. This requires maintaining close relationships with luxury brands like Rag & Bone, DvF and other top and emerging designers.
Intermix CEO and founder Khajak Keledjian will remain as the company's chief creative officer. On the acquisition, he tells the WSJ, "We are the incubator with emerging brands, and we can help them out with collaborations." Gap says it plans to expand Intermix overseas as the company competes with rival retailers like Zara and H&M.
Esther Lee

, Philly.com
The world's top fashion publication released its first issue of the new year with another first.
Vogue Italia features first solo Chinese cover model
Fei Fei Sun is the first-ever Chinese model to cover Vogue Italia on her own. The 2013 cover, which was shot by legendary fashion photographer Steven Meisel and styled by Lori Goldstein, was released Wednesday with the accompanying headline, "Global Life." The actual issue hits stands Thursday, Jan. 4. On the fashion spread, Vogue Italia writes, "Fusion elegance. The language of style is universal: border-free. Thus, by evoking the exotic and sophisticated allure of China Machado, the fusion icon of the Fifties, a story of elegance and refinement is recounted." (Vogue Italia, Models.com)