Esther Lee

, Philly.com

Nicolas Ghesquière, whose name has become synonymous with luxury big brand Balenciaga, is parting ways with the fashion house after 15 years as its creative director.

The statement says the split goes into effect Nov. 30. Both Ghesquière and PPR, the parent company of the label, call it, a "joint decision to end their working relationship."

There are no details on who will replace the acclaimed designer. Ghesquière, however, should have no problem finding a new role if he hasn't already: He is largely responsible for steering Balenciaga into becoming one of the most-coveted Parisian labels worldwide.
Esther Lee

, Philly.com

There's a new boutique along the Main Line that will make moms and daughters happy.

Bala Cynwyd-based dress boutique Gabrielle has broken through its walls to house a separate store for girls, tweens and teens called G Lizzy. It's one of the few boutiques of its kind in the Main Line region that carries special occasion dresses for young girls: Think Bat and Bar Mitzvahs, Sweet Sixteens, family functions, and every occasion in between.

"We want our girls to looks beautiful, sweet, confident, fashionable and age appropriate," says co-owner Susan Cooper. The boutique exclusively carries Elena Do Vale custom designs and will also house its very own G Lizzy brand.
Esther Lee

, Philly.com

Banana Republic and Focus Features have teamed up for a special collaboration line anticipating the release of the film adaptation of Leo Tolstoy's 19th-Century novel, Anna Karenina, starring Keira Knightley and Jude Law.

The pieces, created by the film's costume designer Jacqueline Durran, are inspired by 19th Century Russian high-society. Think feather hair accessories, lace dresses, military coats, fur stoles, topcoats for men, and more.

For more information, click here. See the complete line, below.
Esther Lee

, Philly.com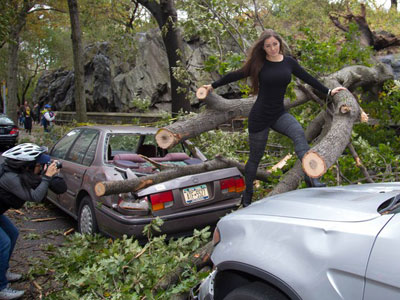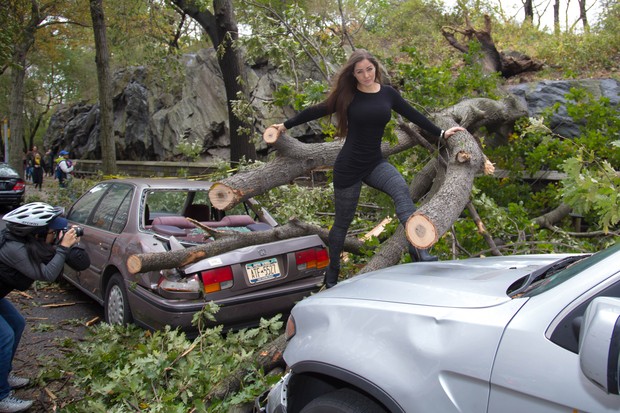 Social media was rife with Sandy photos (real and faux) Sunday evening when the storm ransacked the region, destroying properties, causing mass evacuations, leaving millions without power, and mercilessly taking dozens of lives.
So imagine the disbelief of those who caught wind of Brazilian model and Manhattan resident Nana Gouvêa, who with her husband ventured out to the streets of New York to survey the storm's damage and take some photos. The result, seen above, is a photoshoot gone awry. (Gawker)
Esther Lee

, Philly.com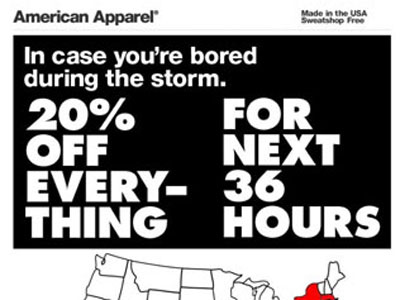 No stranger to controversy, American Apparel experienced a backlash of anger and disbelief from East Coast Twitter users after sending an email blast Monday evening, titled, "Hurricane Sandy Sale."
The retailer - pegged for insensitivity in the midst of a natural disaster - offered a 20% discount to residents in states along Sandy's path of destruction over a time frame of 36 hours - stating, "in case you're bored during the storm."
After the overwhelming damage and devastation incurred up and down the northeast corridor, particularly in our region up to New York, in the wake of the freakish superstorm, it's rubbed many the wrong way that American Apparel and other retailers - though not as outwardly vocal about their intentions - are capitalizing on the Sandy disaster by offering discounts.
Esther Lee

, Philly.com

There's nothing we appreciate more than fashion, democratized.

Maybe we say this because we're post-election season, after every crevice of our daily lives was filled with something related to politics. But largely it's because our fall/winter wardrobes are aching for some chic, designer updates that won't set us back thousands of dollars for a much-desired coat. Or trouser pants. Or leggings.

If there's a fashion house that's adopted the philosophy of democratized fashion, it's Maison Martin Margiela. Which is why we wanted to share the highly-anticipated Maison Martin Margiela x H&M collection with our readers.
Esther Lee

, Philly.com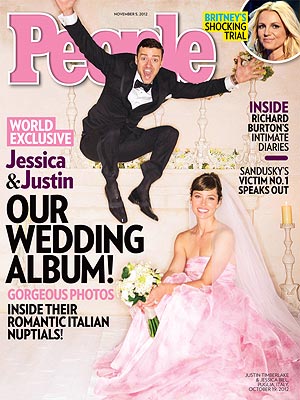 She was a blushing bride, indeed.
Jessica Biel wed Justin Timberlake in Southern Italy last week in an intimate, romantic ceremony before 100 guests.
People magazine, with details involving the nuptials, released a preview of its pending issue Wednesday morning. The publication reportedly dished out $300,000 to obtain exclusive rights to the couple's photos. The magazine's cover features Timberlake, jumping for joy, and Biel, seated in her pink wedding gown. Yes, pink!
Esther Lee

, Philly.com

Now you, too, can dress like Zoe Saldana and FLOTUS - at a fraction of the cost!

Target announced Monday morning that the next designer to partner with the mega-retailer is 2011 CFDA Swarovski Award winner Prabal Gurung.

"It's almost like a rite of passage for new, young designers," Gurung said to Vogue in an interview.