Esther Lee

, Philly.com

It's been two years since John Galliano was captured on video, spewing anti-Semitic remarks like "I love Hitler," within his infamous, profanity-laced tirade at a crowded Parisian cafe.

"Several years prior to my sobriety, I descended into the madness of the disease," said Galliano in a statement released Friday morning. "I said and did things which hurt others, especially members of the Jewish community," he continued. Seemingly contrite and penitent enough, perhaps it's time for the fallen designer to return to fashion?

The recovering alcoholic who has since kept a covert profile, only marking appearances for certain occasions including Kate Moss' wedding in 2012, has been invited to spend the next three weeks in Oscar de la Renta's studio, the company announced Friday.
Esther Lee

, Philly.com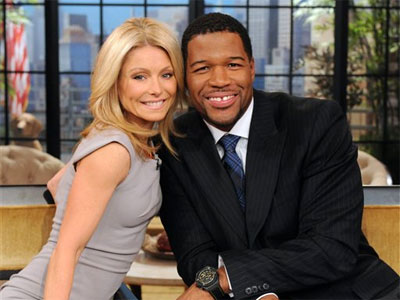 Bright, cheery, perky. These are all words we would use to describe Kelly Ripa, the 42-year-old Stratford, New Jersey native who's positively adored by legions of morning show viewers across America.
In an extensive February issue interview with Elle, the co-host of her own namesake Live! Show spills her secrets – on the longevity of her marriage to her husband Mark Consuelos, whose name she has tattooed on her wrist, and the challenges she faces with staying relevant in the media industry.
And although she hasn't gone under the knife, per se, leave it to Kelly to be open and honest about her youthful glow. The personality confesses she uses Botox, the age-defying formula that women (and men) injection into their faces and other body parts to remove fine lines, wrinkles and more. Ripa shares with Elle that she does, in fact, receive routine injections in her face, and even under her armpits to avoid sweating!
Esther Lee

, Philly.com
Rihanna's coming to Revel. And the Style Network. And London Fashion Week. As well as Opening Ceremony. Plus, she released her latest single this week. Essentially, she's everywhere!
The singer, who has designed a capsule collection for British fashion label River Island, will reveal her "really special" creations at an event on Feb. 16 during London Fashion Week. Her line will then be available online starting Mar. 5, and in Opening Ceremony stores across the U.S.
In July, when the collaboration was first announced, Rihanna said working with a British, family-run business "really appealed to me." The crooner shared that she found the city of London " inspiring" while the brand she's working with "loves to have fun with clothes."
Esther Lee

, Philly.com

"Grace Coddington, one in a million right here."

The legendary Vogue creative director appeared on his show Tuesday evening. Watch Jimmy Fallon profess his love for the fashion favorite below.
Esther Lee

, Philly.com
Art critics – largely scaling the "dislike" range regarding the Duchess of Cambridge's official portrait – had much more to say about the impending iconic image than commenting on her sleeveless blouse.
Leave it to fashion to figure out the exact article of clothing Kate Middleton was wearing when she was immortalized in her painting. As we all know, the mum-to-be enjoys a good sale. In May, the Duchess was spotted perusing the sale rack at the French Connection store in London which is where she may have picked up the said item in her portrait - the Sub Silky Tie Top from French Connection, a navy-colored, polyester sleeveless blouse, that's still on sale for $49.99!
Get it quick. Despite your personal opinions over the context of the portrait itself, if the Duchess has it, the world wants it. (More from Grazia)
---
Esther Lee

, Philly.com
As we reported last week, Lady Gaga wrote a rather long and public open letter to Kelly Osbourne in response to an interview where the Fashion Police host called Gaga's fans, "the worst."
Sharon Osbourne, ever so protective of her kin, responded to Gaga in her very own open letter on Facebook stating, "Are you so desperate that you needed to make this public? A word from you would stop all the hideous, negative and vile threats from your 'little monsters.'" The pop star then took to her Facebook to diffuse the claims, followed up by a concert on Friday, where she appeared on stage in Vancouver, Canada wearing a bra comprised of two plastic guns - notably also the artist's first time wearing the questionable article of clothing since the Sandy Hook massacre. She's previously worn rifled articles of clothing, including her 2010 music video, Alejandro, and on the cover of Rolling Stone.
Gaga's controversial choice of apparel lead Osbourne to state on The Talk on Monday, "Don't wear guns, don't allow your fans to use the word 'guns' on your website, on your Twitter." Anti-gun activists are equally outraged over Gaga's gun bra, although the star has made it clear that she is morally opposed to gun violence, joining the likes of Martha Stewart in support of the Demand A Plan, which calls for Congress to devise a plan that will reduce gun violence.
Poll: Your thoughts on Gaga's gun bra?

(53 votes)
Esther Lee

, Philly.com
The designer of French fashion house Lanvin is going from couture to cosmetics.
The company announced Monday that the collaboration line is set to debut on June 15. Watch the video below. More details, here.
It was a sea of reds, nudes and blacks at the Golden Globes Sunday night - one of the glitziest, celebrity-crazed, couture-driven evenings of the year. Below, we detail who wore what on the 70th Golden Globes red carpet - also the first ever to feature heating lamps.
The good, the bad and the unfortunate, we follow it all with commentary. Also, check out our six best-dressed picks, here.