Archive: June, 2012
Esther Lee

, Philly.com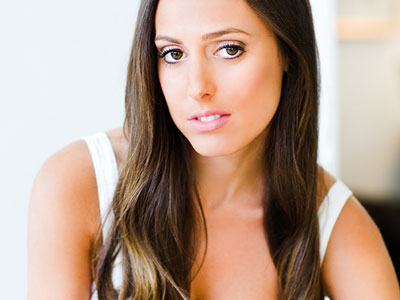 Gladwyne-raised Jenna Leigh Blatstein, the designer-daughter of local real estate developer Bart Blatstein, is set to open her first stand-alone boutique at Revel resort and casino in Atlantic City this summer.
"I chose Revel because it is close to 'home' for me," she tells us. "I grew up going down the shore every summer, so it's very exciting to open my very first store at the Jersey Shore."
The boutique will offer the latest pieces from the 25-year old's eponymous collection, which launched May 2009. The line has seen a number of successes since its debut: Kim Kardashian wore one of her pieces on the September 2010 cover of Allure, and celebrity clients who have professed their love for the collection include Mariah Carey and Leighton Meester. Most recently, her designs have been featured in Cosmopolitan's May and June 2012 issues, and W Magazine's April spread of cover girl Jessica Biel included a shot of the actress in a Jenna Leigh cotton bra.
Esther Lee

, Philly.com
For the second time ever, Vogue is going with Lady Gaga as its cover girl, this time for its big, bad annual September issue.
In what's considered to be a very strategic and smart move from editors and executives at Conde Nast, Gaga's cover has already been shot by Mert Alas and Marcus Piggott, reports WWD. The worldwide pop sensation's March 2011 Vogue cover was the second best-selling issue of the year.
The cover will debut in conjunction with the launch of Gaga's first fragrance from Coty, Inc., two years after she signed the license in 2010. The scent is rumored to be named Monster, and according to reports, Gaga asked it smell like "blood and semen."
Esther Lee

, Philly.com

The rumors are true: Swedish retailer H&M is collaborating with Maison Martin Margiela.

The mass retailer issued a statement Tuesday morning confirming the one-off collection, which will include clothing and accessories for men and women, said to be available across 230 stores worldwide and online on November 15.

The French fashion house stated in the release, "The democracy of our fashion has always been at the center of our creativity, and the collaboration with H&M allows us to push this instinct further." Maison Martin Margiela was founded by Belgian designer Martin Margiela, best known as one of the original members of the "Antwerp Six." The Paris-based fashion house promises an interesting line come autumn, claiming that it will "surprise all."
Esther Lee

, Philly.com
This sea of stilettos just turned sour. A French court rejected Christian Louboutin's trademark-infringement claim against high-street retailer Zara.
The luxury showmaker originally sued Zara in 2011, with claims that the Spanish retailer's £40 red-soled, peep toed, slingback shoes not only infringed upon its trademark, but was remarkably similar to the Louboutin Yo-Yo shoe. The exact wording in the suit was "counterfeiting and unfair competition" according to WWD. Initially, the court sided with Louboutin, but a dissatisfied Zara filed an appeal.
Just last week, the court ruled that Zara could in fact, sell these red-bottomed shoes, stating that customers would not confuse Louboutins and Zara-branded heels. Furthermore, Louboutin has been ordered to compensate Zara with 2,500 euros or $3,600 for their troubles.
Esther Lee

, Philly.com
Believe it or not, we're counting down the days until football season officially kicks off. And we're not the only girls well-acquainted with the industry to say it, loud and proud.
In an attempt to target its high-fashion-adoring demographic, the NFL has tapped Marchesa's Georgina Chapman to design a limited-edition shirt for the league. According to WWD, the item is set to debut September 5 for the Giants-Cowboys opener, and should be an interesting reveal, considering Marchesa's reputation as an award season staple on the red carpet. Now how exactly did the NFL manage to pull this one off?
Suzanne Johnson, wife of Jets owner Woody Johnson, contacted Chapman's award-winning producer-husband Harvey Weinstein, requesting from one Jets fan to the next, that his wife design for the league.
Esther Lee

, Philly.com
Does she have a stylist or not?
It's a question editors and fans constantly pose because Blake Lively's red carpet choices are just that good.
The 24-year-old Gossip Girl star shifts from the sunny, scandalous , incestuous microcosm of the Upper East Side to the gritty realm of drug dealing in Oliver Stone's "Savages" where she stars opposite Taylor Kitsch, Aaron Johnson and Salma Hayek, who plays the leader of a drug cartel. Looking ahead to the film's debut on July 6, Lively recently sat with Marie Claire's Nina Garcia to discuss a range of topics that mostly involve everything but Ryan Reynolds (sad, we know). The highlights below:
Esther Lee

, Philly.com
The Council of Fashion Designers of America's (CFDA) announced that it's adding 26 new members and extending Diane von Furstenberg's presidency through 2014.
On DvF's continuation as president of the organization, Steven Kolb told WWD, ''The time and resources she gives and the vision she has created is a huge benefit for our organization and industry.''
Celebrity stylist-turned-reality-TV-star-turned-designer Rachel Zoe was added to the CFDA's board. She was also added to the new members list along with Swarthmore grad Joseph Altuzarra, Vince Camuto, Jean-Michel Cazabat, and Lisa Perry.
Retired, professional boxer Muhammad Ali, 70, is the new face of the luxury leather goods company Louis Vuitton.
Pictured with Ali in the ad is his three-year-old grandson Curtis Muhammad Conway Jr., per the legendary boxer's request. The ad campaign is set to run in 60 countries around the world starting June 14. Celebrities who have previously endorsed the brand include Angelina Jolie, Uma Thurman, Madonna and Sean Connery.