Archive: May, 2012
Esther Lee

, Philly.com

After five seasons of OMFG fashion moments and more indelible drama-for-your-mama than one could stomach, CW's Gossip Girl is gearing up for its sixth and final season.

On Thursday, the CW Network presented its 2012-13 broadcast schedule in New York. Side note: Flo Rida opened the presentation with a musical medley of his top hits, but I digress. Gossip Girl, the fashionable Manhattan-based show starring golden girl, Louboutin-lover and stylist-to-herself Blake Lively, and the adorable, multi-talented Leighton Meester, will take the 9-10 p.m. EST time slot on Monday nights in October. The show, which is executive produced by The O.C.'s Josh Schwartz and Stephanie Savage, has fueled the fashion-feeding habits of industry insiders since its astounding debut season in 2007.

Has the CW found a replacement for its targeted demographic? As we noted earlier this year, The Carrie Diaries, based on the earlier years of Sex and the City's Carrie Bradshaw, will debut in January, replacing the dramz of GG. The new series will star AnnaSophia Robb as the '80s Carrie according to the release.
Esther Lee

, Philly.com

Ostentatious. Ornate. Obsequious. Oh, wow.

Karl Lagerfeld pulled off yet another cost-effective fashion show in an extraordinary setting: The gardens of Versailles for Chanel's cruise 2013 collection.

View photos from the show below.
Esther Lee

, Philly.com
One country in Asia says Lady Gaga is not allowed to perform within its borders.
On Tuesday, the national police of Indonesia decided to deny Gaga's permit for her June "Born This Way" performance in Jakarta. The nature of the snub? Her clothes (or lack thereof).
According to protesters and lawmakers across the country, Gaga's suggestive stage outfits and her dance routines could corrupt younger generations. Islamic conservatives especially find her influence to be troublesome, and have protested against her June 3 sold-out show, some stating that they would resort to physical violence to prevent her from stepping off that plane.
Esther Lee

, Philly.com

The London premiere of "Snow White and the Huntsman" was held Monday evening, and the "loveliest of them all" was statuesque Charlize Theron in a black tulle Christian Dior Couture gown. At least we thought she stole the scene in this instance. What are your thoughts- did she win this round or did the evil queen's on-screen nemesis Kristen Stewart outshine her in Marchesa? Vote!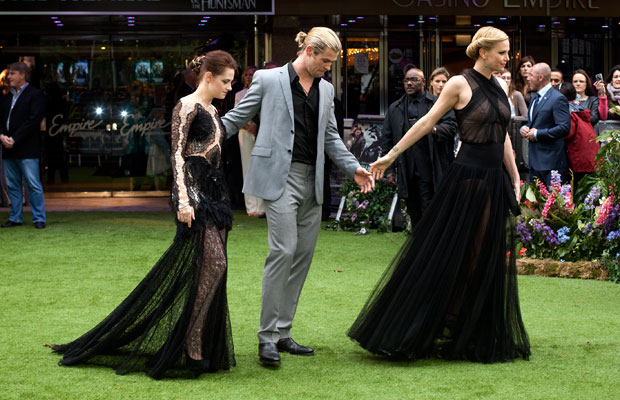 Esther Lee

, Philly.com

Editor-in-chief of Vogue Anna Wintour appeared on The Colbert Report last night to promote the Met's Costume Institute exhibit "Schiaparelli and Prada: Impossible Conversations." Wintour held her own as she discussed a range of topics with Stephen Colbert, including President Obama's endorsement of gay marriage, her thoughts on Miuccia Prada and Elsa Schiaparelli, and potentially bobbing for french fries with the Comedy Central host. Highlights from her appearance:

Thoughts on the President backing gay marriage:
"I think it was a long-overdue endorsement and we're glad that he's come forward, finally."

On clothing and how it reflects the culture of a given time period:
"If you look at a great fashion picture say of the sixties it tells you just as much about what was going on in the world as a headline in the New York Times. Fashion is self expression."
Esther Lee

, Philly.com

Household name and hairstylist Vidal Sassoon passed away in his Los Angeles home at the age of 84 on Wednesday, confirmed the Los Angeles Police Department. The cause of his death remains unknown.

After seven decades of styling celebrity manes and revolutionizing the haircare/cut process, Sassoon is arguably the most influential hairstylist of his time.

Born in London in 1928, Sassoon's early life was full of strife and poverty. His flair for hair began at age 14 after his mother told him he was to become a hairstylist. It was at that age he was first exposed to the beauty industry as a shampoo boy. He told AP, "I thought I'd be a soccer player but my mother said I should be a hairdresser, and, as often happens, the mother got her way."
Esther Lee

, Philly.com

Nestled across the street from a children's playground stands a charming boutique located several blocks over from perpetually-bustling Rittenhouse Square. Unlike its Walnut and Chestnut Street neighbors, this newly-minted women's lifestyle shop has a calming effect with its brick facade, serene inner blue walls and eclectic, reasonably-priced offerings.

It's what Aoki's owner and curator of the space Alina Alter wanted shoppers to experience in the former bike repair shop-turned-boutique- "accessibility and comfort," she says. After all, the well-traveled, one-woman show at Aoki knows a thing or two about hospitality. The 24-year-old worked in the hotel industry upon graduating from Temple's School of Tourism and Hospitality. After several years of working for companies like W Hotels and Garces Restaurant Group, Alter realized that the corporate career path was not for her, and started to consider alternatative life routes.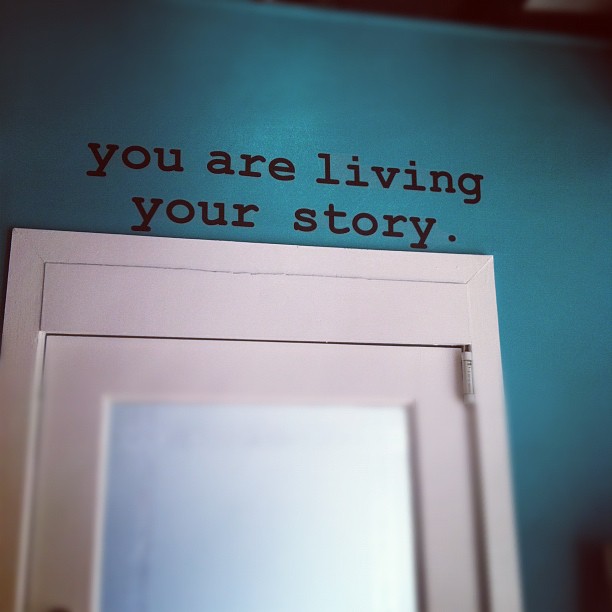 Philly.com / Instagram
Esther Lee

, Philly.com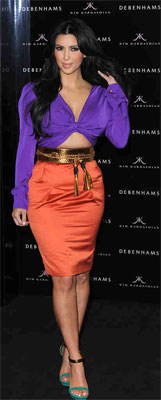 Philly.com readers are certainly enjoying our 2012 Met Gala slideshow, especially with controversial, beautiful couples like Tom Brady and Gisele, and Justin Timberlake and Jessica Biel included among the mix of stars at the event.
Noticeably missing from Monday night's affair was Kim Kardashian, whose current beau Kanye West attended the event, solo.
For $25,000 a ticket, the Met Gala is the annual go-to event for the fashion and entertainment industry's biggest faces. Therefore, we found it a bit odd that Kardashian went missing, only to emerge in Mexico with her sister Kourtney and her nephew.