Esther Lee

, Philly.com
Fashionably speaking, of course.
The artwork on the cover of Justin Timberlake's single "Suit & Tie" fittingly shows the artist in a tuxedo, satin lapels and a big bow tie, while the video gets swankier with Timberlake in a three-piece suit and tux crooning his heart away. Timberlake is shown in head-to-toe Tom Ford - and it's not a coincidence or simply a matter of preference.
Timberlake has collaborated with the celebrated menswear designer to create a very fashion-focused "20/20 Experience" - the title of his new album which drops March 19. According to the release, Ford worked directly with Timberlake to accomplish the following: "Made-to-measure tailoring, including eveningwear, suiting, shirting, ties, shoes and accessories that will be a focal point of the 'The 20/20 Experience.'"
Esther Lee

, Philly.com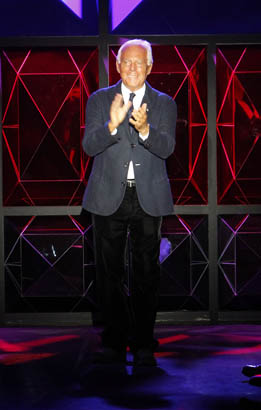 At least they have good taste?
Authorities in Romania say that five people have been nabbed in the theft of $2.6 million worth of clothes from Giorgio Armani's spring 2013 line. The stats and facts below:
- The thieves reportedly broke into Armani's Verona, Italy warehouse in December and stole more than 1,400 items.
Esther Lee

, Philly.com
Despite what it looked like when she walked on stage to accept her SAG Award Sunday evening, Silver Linings Playbook star Jennifer Lawrence did NOT rip her dress, Dior says.
The actress, who was in recovery mode after a brutal bout with pneumonia, looked as if she was wearing a one piece gown on the red carpet earlier that evening. However, Lawrence's outfit was a two piece dress: The skirt portion lifted as she walked up the stairs, revealing a sheer panel underneath. It may have appeared that she had ripped Raf Simons' beautiful creation - which would have had throngs of fashion folk (including us) screaming oh mon dieu on behalf of the French fashion house, but any material Dior Haute Couture uses is practically indestructible. And exorbitantly expensive.
Glad we could clarify that for the masses. For our list of best-dressed stars at the 2013 SAG Awards, click here.
Esther Lee

, Philly.com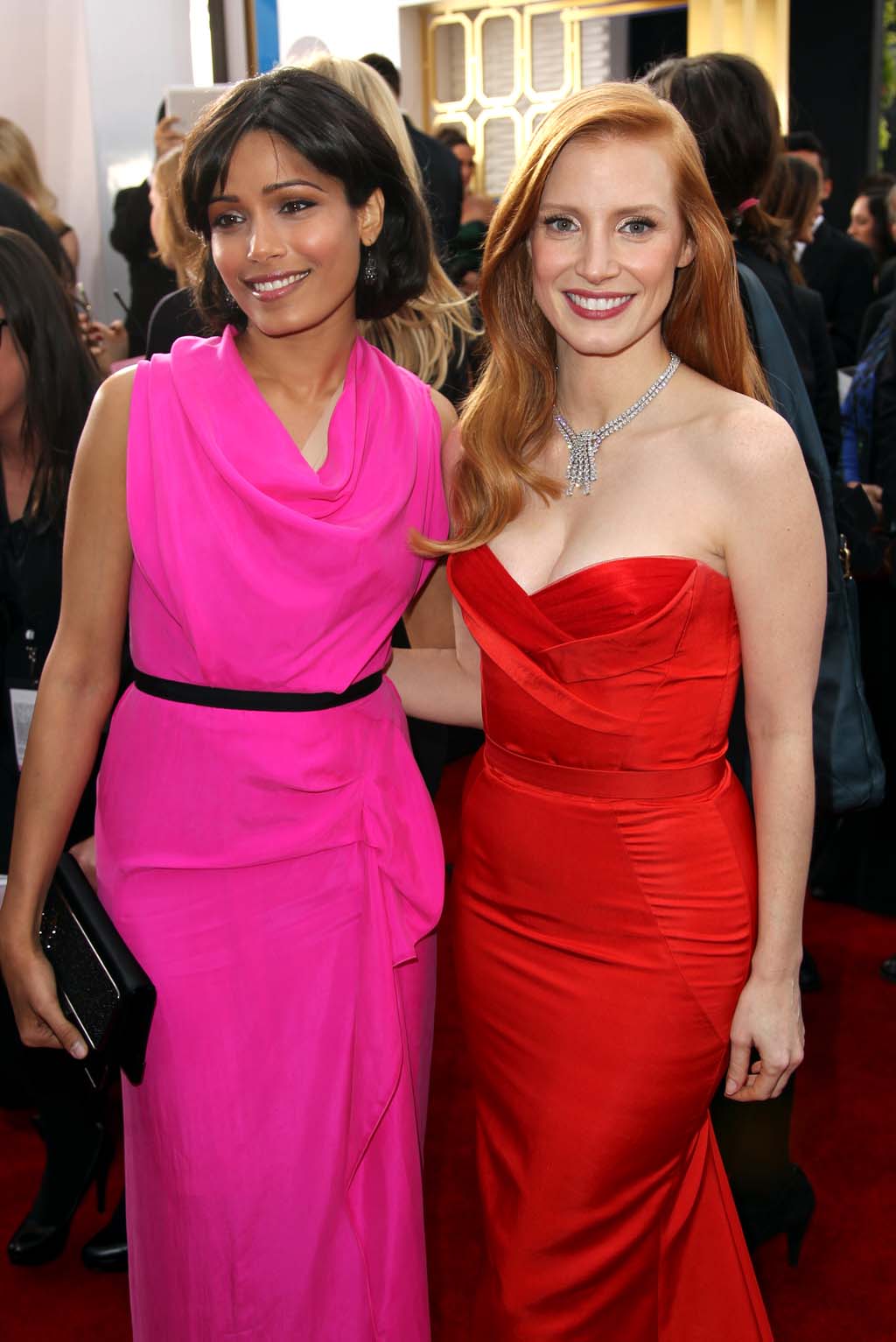 Jessica Chastain continued to make ripples on the red carpet as we're quite certain she's graced every best-dressed list possible from Sunday's SAG Awards. The star of Zero Dark Thirty looked glam in her strapless, satin, red Alexander McQueen gown. She paired the look with heels from Charlotte Olympia and Harry Winston diamonds.
We also loved Freida Pinto's bright pink Roland Mouret gown (above left). She looked like a fashionable highlighter on the red carpet - chic and sharp.
Esther Lee

, Philly.com
Because the "Shameless" star shares an unequivocal love for fashion.
In an interview published Friday, Rossum tells Daily News TV critic Ellen Gray, "Dressing up is really fun, has always been fun for me. I love fashion, I love clothes, I love having that Cinderella moment where you get to borrow something and then it turns into a pumpkin and you give it back."
The star was an instant sartorial style hit on the red carpet after she starred as Christine in The Phantom of the Opera in 2004. Since then, Rossum has become a staple celebrity at fashion weeks, making best-dressed lists left and right. She cleans up really well at appearances, although we can't say that's the case for her on-screen character Fiona Gallagher. Read more, here.
Esther Lee

, Philly.com
From blogging to designing.
It's all in a day's work for Philly-based menswear blogger Sabir M. Peele of Men's Style Pro, who's teamed up with a custom footwear retailer and released his own shoe.
"The brand reached out to me - found me on Twitter," Peele explained Thursday afternoon. "They said, 'We love your stuff, we love your site, would you be interested in doing a collaboration with us?'"
Esther Lee

, Philly.com
We are all about DIY crafts and cool vintage finds these days (hello Pinterest!), so this upcoming event is the perfect addition to our weekend agendas.
Ardmore's most popular outdoor market, Clover Market, will hold an indoor event at the 23rd Street Armory this Sunday. With more than 50 vendors on site, food trucks, and informative workshops – on embroidery, how to create vintage style signs, and a floral arrangement demo – the event, officially dubbed the "Winter Market," should be worth checking out for interested buyers and creative types. Especially since founder Janet Long has been organizing Clover Market since Spring 2010. "It's a terrific community," Long says of her project, which just finished its third year in downtown Ardmore.
"I was thinking about [the Winter Market] last spring and the planning accelerated into the early fall," she told us Friday. The one-woman show says she's expecting a few thousand people to filter through the Armory's doors Sunday. Visitors, however, should expect an array of interesting and high-quality product offerings: Each vendor filled out an application and was selected with much consideration. Long explains how it's not only an opportunity for hand crafters to sell their products, but also for vendors to establish relationships with potential long-term customers. "We've seen that really blossom at the Market," she explains.
Esther Lee

, Philly.com

Quite possibly the highest honor you can receive as a narcissistic, fashion-conscious human being is to land on Vanity Fair's International Best-Dressed List.
The feature, now in its 73d year, includes different types of chosen ones – editors, actors and actresses, artists, designers, socialites, politicos, royals, and other rich people. Previous honorees include Stacey Bendet Eisner of Alice & Olivia, actress Diane Kruger, Kate Middleton, Tory Burch of her eponymous brand, the Gyllenhaal siblings, and Martin Scorsese.
So what does it take for the super elusive, secret Best-Dressed committee to recognize that there are commoners in different pockets of the world with clear and coherent style senses?