Archive: August, 2012
Esther Lee

, Philly.com
There's a 14th Century Masaccio painting that comes to mind when I think of John Galliano. It's a provocative work of art that depicts Adam and Eve, shamed and banned from the Garden of Eden, while an angel hovers above the two with a blazing sword. In essence, the painting evokes feelings of disgrace and depravity.
Two years ago, the name Galliano was associated with dreamy couture and flowy gowns comprised of chiffon and plumage. The talented, young designer held the torch for the future of haute couture and high-fashion, serving as an emblem of promise and hope in an industry hard-hit by financial and economic turbulence.
It was Galliano's services to French couture that led former President Nicolas Sarkozy to award the burgeoning young designer with France's highest honor- the Legion d'Honneur- in 2009.
Esther Lee

, Philly.com

We imagine Katie Holmes' checklist looks something like this:

x Announce that's she's splitting from her controlling, high-profile hubby Tom Cruise... while he's away filming? Check.
x Allow her PR and legal teams to monitor her appearances and post-split plans in well-timed blocks? Check.
x Finalize her divorce from Tom Cruise? Check that off the list.

___ Successfully move on to the next phase of her career as Katie Holmes: Actress, designer, mom, and no longer attached to the clearly-unwanted title of "Mrs. Tom Cruise."
Esther Lee

, Philly.com
Kristin Cavallari and the Laguna Beach cast have certainly come a long way from their ubiquitous SoCal wardrobes consisting of ripped jeans and flip flops.
The new mom and fiance of NFL QB Jay Cutler is launching her very own capsule collection with Chinese Laundry. The designs will consist of pumps, platforms, booties and flats designed by Cavallari, who said she formed her line for the "fashion-conscious young woman who leads an on-the-go lifestyle."
Cavallari, who has served as a web ambassador for the brand, has been offering styling tips for Chinese Laundry's blog since 2011. According to the release, Cavallari says to work as a designer "has truly been a dream come true."
Esther Lee

, Philly.com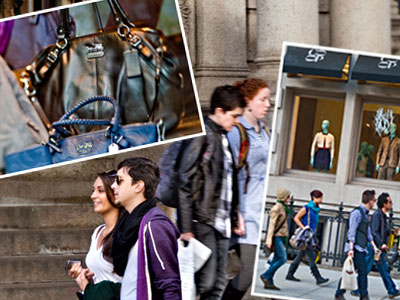 One fashion boutique leaves Walnut Street, another fills its place.
Intermix will open along Rittenhouse Row this fall, taking over Knit Wit's previous location at 1718 Walnut Street. Knit Wit moved to 1729 Chestnut Street earlier this summer.
"This is great news for local fashionistas," says Executive Director of Rittenhouse Row Corie Moskow. "I personally have been wishing for Intermix to come to my district for more than a decade," she said to me Thursday evening, adding that with each trip she took to New York, she would "wish and wonder" how to get the retailer to Philly.
Esther Lee

, Philly.com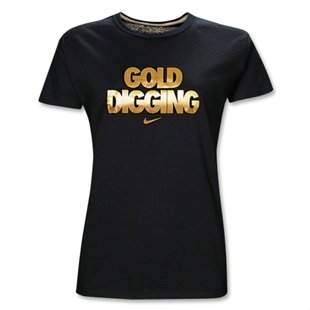 Perception is everything. And if you haven't heard the latest controversy shrouding a sports apparel company, allow us to enlighten you.
Nike, the official outfitter of the 2012 London Olympics, apparently overstepped a contentious gender boundary by distributing the following product: A basic black or gray t-shirt with the phrase "Gold Digging" marked across the front of the tee in bright gold coloring. There are several points that make the shirt offensive, one being that it's only available in women's sizes, which from a marketing and selling standpoint makes sense because if we were to honestly question this product, what dude would walk around in this t-shirt, let alone a self-respecting woman?
Evidently, the phrase "gold digger" and its implications bring multiple stereotypes to mind, namely scantily-clad women walking around some bar, honing in on invisible, dollar signs hovering above the heads of potential "sugar daddies." The term oftentimes involves a backhanded, premeditated method of gaining a goal, or in most cases- a potential mate. Nothing about the phrase attributes the grueling hard work of female Olympic athletes, or female athletes in general.
Esther Lee

, Philly.com

The woman who once famously remarked, "Good girls go to heaven, bad girls go everywhere," has died. Author, publisher, savvy businesswoman, and longtime editor-in-chief of Cosmopolitan Helen Gurley Brown passed away Monday at age 90, Hearst announced in a statement.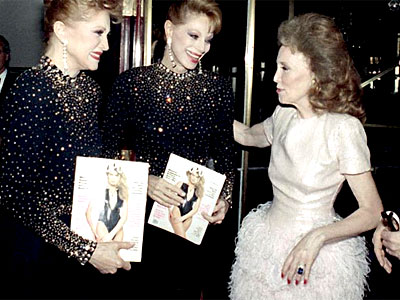 Hearst Corp. CEO Frank A. Bennack, Jr. said in the statement, "She lived every day of her life to the fullest and will always be remembered as the quintessential Cosmo girl."
Esther Lee

, Philly.com
Michael Phelps has gone from dominating Olympic pools to sitting in bathtubs.
The newly-retired 27-year-old is the latest cultural phenomenon to front luxury leather goods company Louis Vuitton. In an image released Sunday evening, Phelps seductively stares into the camera while sitting in a bathtub in his standard uniform: A Speedo with a pair of goggles draped over his forehead.
Where's the fashion element of the ad, one might ask in the Annie Leibovitz-shot campaign? A traditional LV monogrammed luggage bag worth several thousands haphazardly- and strategically- rests on a towel beside the tub.
In case ballet isn't beautiful enough, legendary designer Valentino is creating what will undoubtedly be stunning costumes for New York City Ballet's fall gala.
That performance, on September 20 at Lincoln Center's David H. Koch Theater, will also be a Valentino celebration, with all events a nod to the great master.
The costumes will be worn for three works by Peter Martins, City Ballet's ballet master. One set is for selections from Tchaikovsky's Eugene Onegin. The other two are for rarely performed pieces d'occasion created in 1988: Sophisticated Lady, set to music by Duke Ellington, and Not My Girl, a pas de deux inspired - and set to music - by Fred Astaire.