Archive: October, 2012
Esther Lee

, Philly.com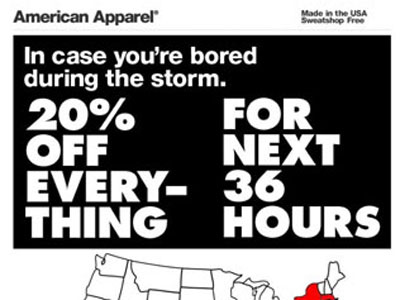 No stranger to controversy, American Apparel experienced a backlash of anger and disbelief from East Coast Twitter users after sending an email blast Monday evening, titled, "Hurricane Sandy Sale."
The retailer - pegged for insensitivity in the midst of a natural disaster - offered a 20% discount to residents in states along Sandy's path of destruction over a time frame of 36 hours - stating, "in case you're bored during the storm."
After the overwhelming damage and devastation incurred up and down the northeast corridor, particularly in our region up to New York, in the wake of the freakish superstorm, it's rubbed many the wrong way that American Apparel and other retailers - though not as outwardly vocal about their intentions - are capitalizing on the Sandy disaster by offering discounts.
Esther Lee

, Philly.com

There's nothing we appreciate more than fashion, democratized.

Maybe we say this because we're post-election season, after every crevice of our daily lives was filled with something related to politics. But largely it's because our fall/winter wardrobes are aching for some chic, designer updates that won't set us back thousands of dollars for a much-desired coat. Or trouser pants. Or leggings.

If there's a fashion house that's adopted the philosophy of democratized fashion, it's Maison Martin Margiela. Which is why we wanted to share the highly-anticipated Maison Martin Margiela x H&M collection with our readers.
Esther Lee

, Philly.com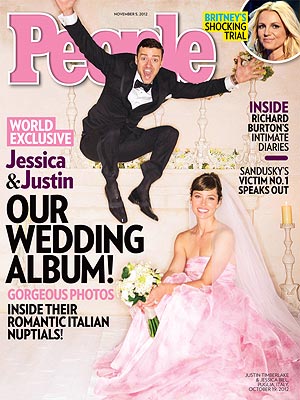 She was a blushing bride, indeed.
Jessica Biel wed Justin Timberlake in Southern Italy last week in an intimate, romantic ceremony before 100 guests.
People magazine, with details involving the nuptials, released a preview of its pending issue Wednesday morning. The publication reportedly dished out $300,000 to obtain exclusive rights to the couple's photos. The magazine's cover features Timberlake, jumping for joy, and Biel, seated in her pink wedding gown. Yes, pink!
Esther Lee

, Philly.com

Now you, too, can dress like Zoe Saldana and FLOTUS - at a fraction of the cost!

Target announced Monday morning that the next designer to partner with the mega-retailer is 2011 CFDA Swarovski Award winner Prabal Gurung.

"It's almost like a rite of passage for new, young designers," Gurung said to Vogue in an interview.
Yes, we like the rain!
Okay, maybe we don't love it but what we enjoy is running around in our favorite pair of rain boots. The perfect pair of wellies can turn the darkest days into the best. Big puddle ahead? Bring it on! Here are five picks to splash your way through the streets.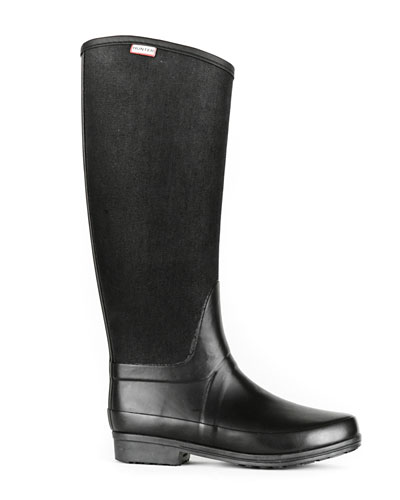 Hunter rain boots will always be a fashion-girl favorite. These boots pair well with everything.
Hunter Regent St. James, $195
Esther Lee

, Philly.com

"On Wednesdays, we wear pink." (Regina George, Mean Girls)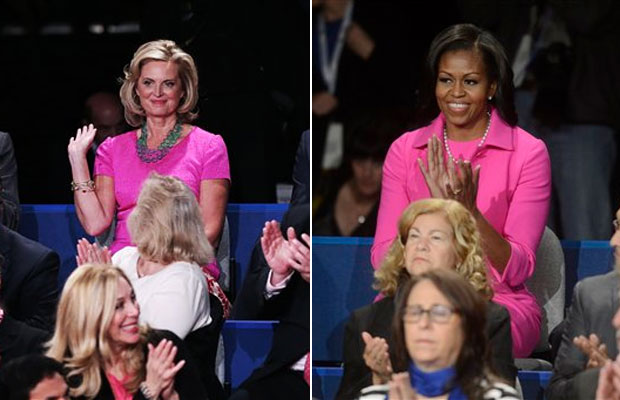 Tuesday evening, Michelle Obama and Ann Romney broke that rule and donned blazing pink outfits for the second presidential debate. Was it a sheer coincidence that both candidate's wives wore the same rosy hue?
Esther Lee

, Philly.com

The CW Network announced Tuesday that it's ordered Cycle 20 of America's Next Top Model. Not surprising.

But there's a twist! For the first time ever, male models will also be in the running to compete for the title, and they're moving into the models' house, too.

This could create an interesting dynamic. We're thinking Bachelor Pad meets Gallery Girls.
Esther Lee

, Philly.com

It's been three years since Lauren Conrad and her perfectly-polished toes stepped off the reality TV screen, but the storyline involving the heart of The Hills and Laguna Beach keeps getting better.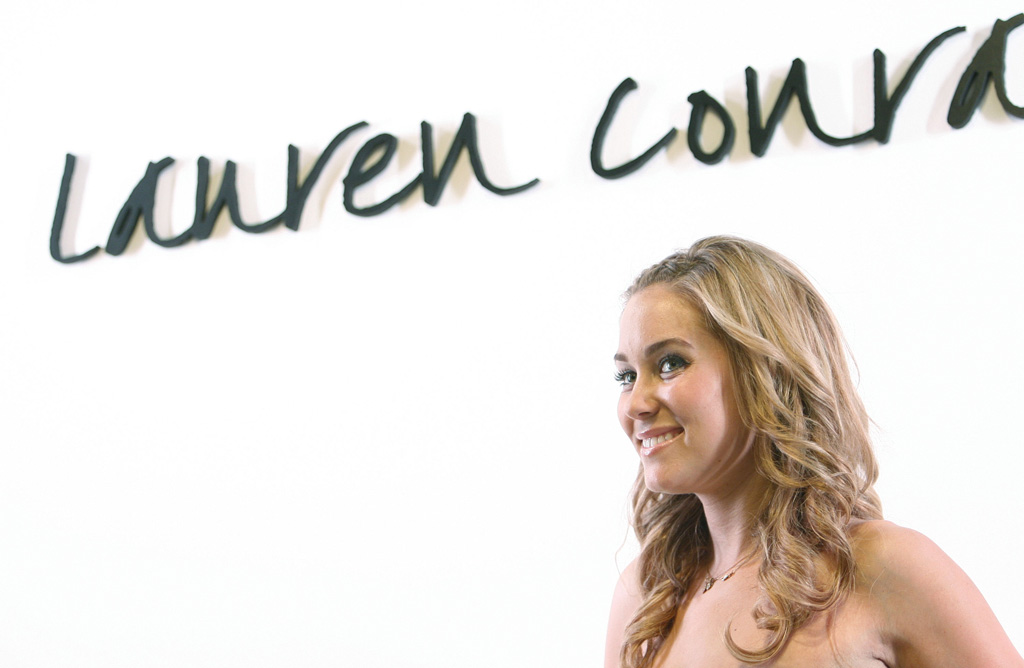 AP Photo
Unlike many of her reality TV show peers who've taken the route of frequenting the club scene for promotional appearances or vying for their own individual spinoffs, Conrad has actually built a brand around her name. With two successful shows and an immense fan base, the Hollywood heroine saw that the foundation for her long-term goals had already been created.