Vogue Italia is no stranger to controversy.
In August 2010, the publication released a contentious 24-page fashion spread featuring models in feathered garments, slathered in oil, and washed up beside rocky beaches. The shoot, an "artistic" response to the Gulf oil spill, was photographed by Steven Meisel, who in 2007 notoriously also shot a tasteless Iraq War-inspired fashion editorial.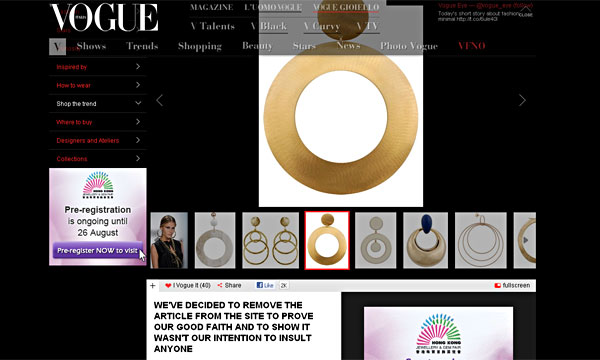 The latest offense occurred on Monday, when the publication posted yet another deeply-concerning piece on a style of earrings they referred to as "slave earrings" as reported by the Guardian. The culturally-insensitive description read as follows:
"Jewellery has always flirted with circular shapes, especially for use in making earrings. The most classic models are the slave and creole styles in gold hoops....If the name brings to the mind the decorative traditions of the women of colour who were brought to the southern Unites States during the slave trade, the latest interpretation is pure freedom."
"Decorative traditions." Really? The correlation between slavery and "decorative" is not only inappropriate, but also borderline conflicting in terminology. We understand what Vogue Italia was attempting to say, but how the writer presented the hoop earrings was tactless.
The wording, offensive to so many readers, moved them to leave heartfelt comments like these:
"Being a "woman of colour" married to an Italian and having lived in Rome - I absolutely believe that this post was no "mis-translation", but a thoughtless, insensitive bit of non-history that you were using to glamourize a disgusting period in the history of the Americas."
"If the name brings to the mind the decorative traditions of the women of colour who were bought and sold like pieces of property across the United States in the 18th century, the latest interpretation is anything but freedom. This trend as Vogue Italia references it, brings to the mind painful memories of a bloody and brutal history."
As of Tuesday morning, Vogue Italia has removed the article from its website. "We've decided to remove the article from the site to prove our good faith and to show it wasn't our intention to insult anyone," reads the site. Although the description has been removed, it insults the memory of those who have suffered under the bondage of slavery in our nation's history. We hope that Vogue Italia produces a more heartfelt apology.