The holiday season continues with the televised premiere of the 2011 Victoria's Secret Fashion Show tonight on CBS. The actual event was held in early November at the Lexington Avenue Armory in New York City and according to reports, the show was an absolute party on the runway.
The following is a list of noteworthy moments viewers should look forward to: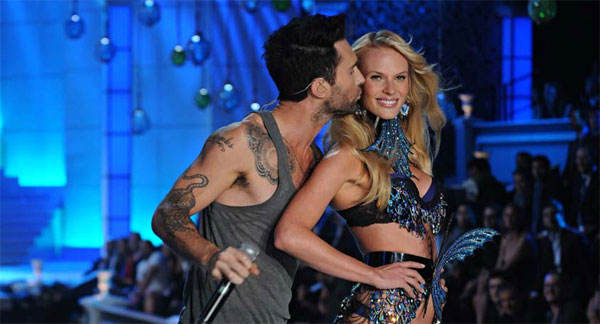 View VS Fashion Show gallery. (AP Photo)
1. Kanye West, flamboyant in a Versace for H&M jacket and leather pants. Meanwhile, his "big bro" Jay-Z, in an all-black everything ensemble.
2. Speaking of Jay and Ye- The duo, performing together on the runway, while Beyonce and babyonce watch from the audience.
3. Speaking of babies- New father Orlando Bloom lauding his wife Miranda Kerr, as she models the $2.5 million Fantasy Treasure Bra.
4. Speaking of beautiful couples- Adam Levine serenading his ladyfriend Anne V as they hop and strut down the runway together.
5. Speaking of Adam Levine- Maroon 5 performing Moves Like Jagger. The song won't budge from the top ten charts on Billboard and iTunes.
6. Speaking of Moves Like Jagger, watch the Angels put their own spin on the song, below.
Are you going to watch it? We have pictures! Preview it, here.