There is only one woman who can meditate in the middle of an Iowa corn field and debut an exclusive look into the life of one of the world's top designers, both in one week. Nice going, Oprah.
OWN announced in May that the network would profile designer Tom Ford for a special series. The much-anticipated, hour-long feature on Ford, which is part of the five-episode Visionaries: Inside the Creative Mind series, premiered Sunday evening.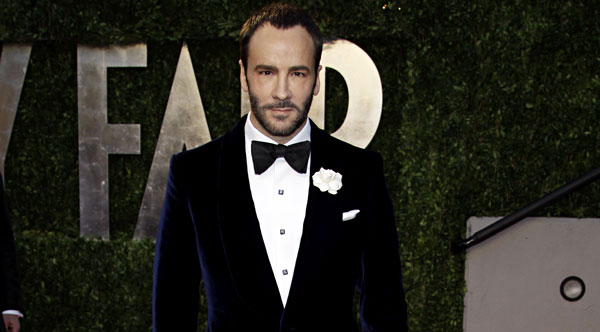 Tom Ford at Vanity Fair's 2011 Oscars after-party. He is a celebrity in his own right. (AP Photo)
The series follows a magnanimous, talented group of creative industry leaders. They include: Writer/director Tyler Perry, designer Tom Ford, director James Cameron, BEP's will.i.am and renowned photographer Annie Leibowitz. The series is supposed to provide a "unique insight into what made these visionaries who they are."
The beginning of the Ford segment started off with the wry-humored, quirky designer providing an inside look at his design studio in London. Ford is known to stray away from documentaries and cameras that shadow his personal life, which he also noted in the first five minutes of the hour-long feature. However, who can honestly say "no" to Oprah? Didn't think so.
Through this segment, viewers were given the opportunity to delve into the mind of a man who is a true creative visionary. "Perfectionism is almost an illness with me, but sometimes it'll happen in moments when everything spreads and everything is absolutely clear, and you can feel rather than think," he stated.
Ford has not only directed brands like Gucci, Yves Saint Laurent, and his very own eponymous company, Tom Ford, but he has also founded his very own production company, through which he wrote, produced and directed his first film.
However, we related most with Ford when he said, "I remember the day I left Gucci...I came home, pulled all the drapes, and went to sleep. I woke up the next morning and looked at my calendar. It was usually so full, and there was just nothing. I didn't know who I was, I didn't know what I was supposed to be."
The vulnerability captured in this moment made us realize that Ford's darkest moments have paved the way to his brightest. This is reflective of humanity, is it not? And that's what the special revealed- that like us, Tom Ford is human. However, his vision has made all the difference in his life and beyond.