The VMAs always draws out an eclectic mix of fashions. This year the styles ranged from high-end designer gowns to stuffed animal accessories and bird masks.
In music, where personality and style coincide, artists are oftentimes excused from an array of fashion faux-pas. However, we here at Hautehouse Row have a few qualms with several guests and performers who even dared to strut across the VMA step-and-repeat in their heinous attire.
First, let's start with the best-dressed of the evening: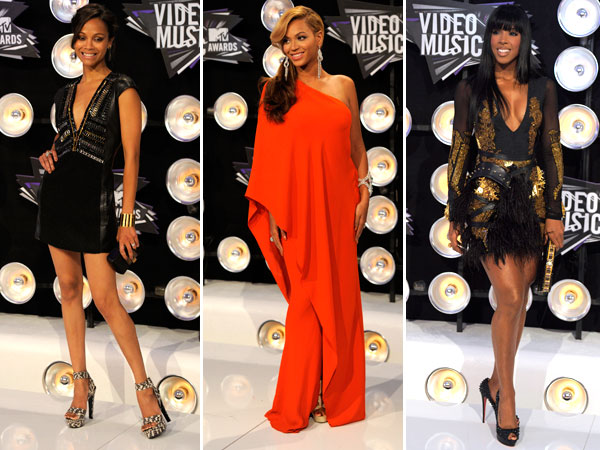 AP Photos
From left:
(1) Zoe Saldana, star of Colombiana, deserves much applause for this metallic mini Barbara Bui number. From head to toe, she looked trendy and nailed the "VMA" hip-artist scene look.
(2) Beyonce stole the entire show, starting with her entrance when she confirmed to MTV that she was indeed carrying Jay-Z's child. Poised and striking in a red-orange Lanvin gown, Bey glowed and screamed, "hot mama" Sunday evening.
(3) Kelly Rowland, who supposedly knew of Beyonce's pregnancy months in advance, basked in her own beauty as she stepped out in spiked Louboutin pumps, and a feathered black and gold leather Falguni and Shane mini.
Now, on to the worst:
After the debacle of Sunday night's episode, the Jersey Shore ladies managed to look classier than ever. How these four can make couture look like complete garbage is a reverse talent.
Although there's a lot going on below, Deena Cortese glimmered above the other fist-pumping-femmes, for the worst. Her techno-colored sparkly strapless mini, paired with those long highlighted extensions leads us to wonder if she's a distant relative of an oompa loompa. As for the other glittered guidette, Jenni "J Wowww" Farley, a word of advice: Too much bling is not always a good thing.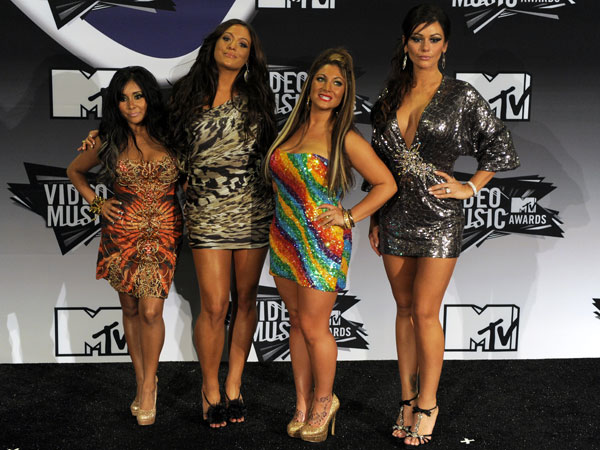 AP Photo
On to Nicki Minaj. We understand that the rapper/singer's personality is full of flavor, and she expresses her creativity through bright-colors and eclectic pieces. However, the "I heart Harajuku" look does not work in this case.
The following is an example of what would have been the perfect outfit for Nicki on Sunday: A multi-colored body-con mini paired with insanely high pink stiletto pumps, and outrageous jewelry and accessories. The cotton-candy hair style could have also stayed, since fashionable expression, not pleas for attention, is embraced.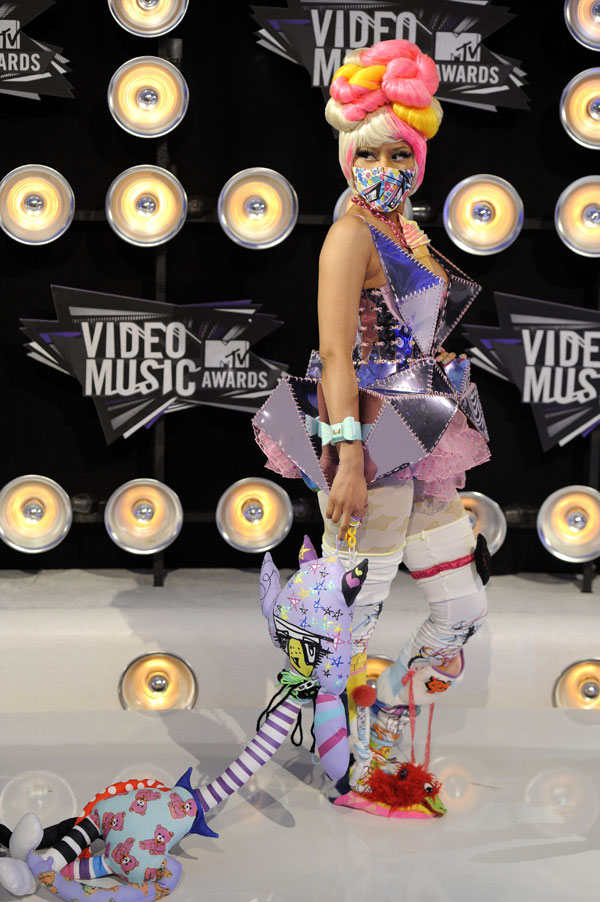 Word of advice to Nick: The stuffed animal and bedroom slippers should have been left at home. (AP Photo)
If you were the stylist to Nicki Minaj and the Jersey Shore cast, what are some looks you would have pulled for the VMAs?