Well this must be bloody good news for the British Fashion Council.
Designer and daughter of Sir Paul, Stella McCartney, has announced that she will reveal a one-off collection from her eponymous label, as part of London Fashion Week next spring. McCartney, who for the past decade, has chosen Paris as her go-to Fashion Week, will still reveal her F/W 2012 collection in the city of lights in March.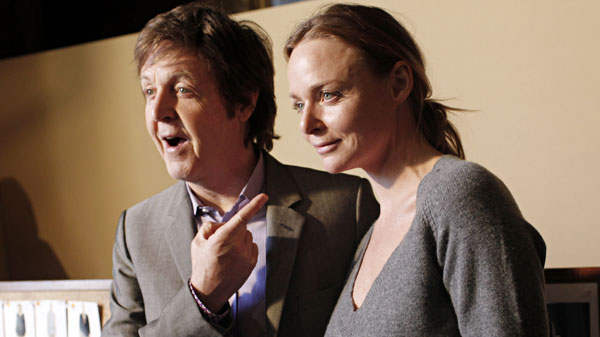 Stella McCartney, right, with her father, Sir Paul McCartney, backstage after one of her shows. The two are very close. (AP Photo)
Meanwhile, her special presentation will be revealed on February 18, 2012 in London. The runway event is supposedly the highlight of a city-wide "Stella takeover" marketing campaign, which was crafted by a London-based firm, as reported by the Telegraph.
As part of the Stella madness, other McCartney-related events will include an exhibit titled, "World of Stella" at Selfridges, a new fragrance debut, and the grand opening of a second Stella McCartney store in the city. As for the designs featured in the London presentation? They will be vegan-friendly, naturally, and available online/in-stores in May of next year.
Speaking of Stella's designs, actress Kate Winslet seems to have taken a liking to the cut of McCartney's optical illusion dress.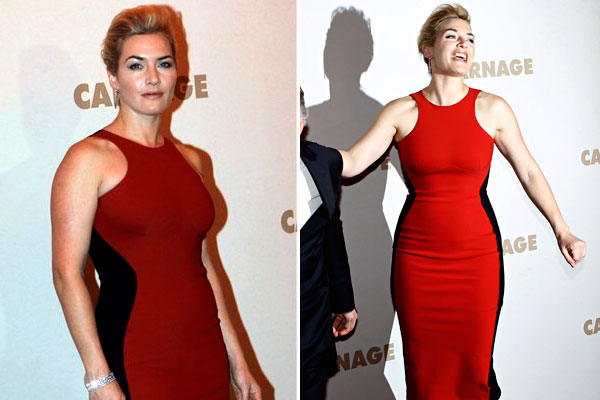 Kate Winslet on the red carpet at the premiere of Carnage. (AP Images)
Winslet first stepped out onto the Venice Film Festival red carpet, looking slimmer and hotter than ever in the form-fitting, flattering, color-blocked McCartney dress. On Monday, she wore the same design in a different hue at the premiere of Carnage in Paris. Not that we're judging, especially since Ms. Winslet looked fabulous and we wish we could get our hands on the $1,600 item, too.
Va va voom.