Ah, state dinners. These glitzy, star-spangled, special occasions are social calendar highlights for the politically-driven in D.C. It's no surprise that the Salahis wanted-in (enough to crash the party in 2009).
For the first time since 1998, the United States hosted a state dinner for South Korea on Thursday evening. The coveted invitations went out to 225 guests including various high-profile actors, TV personalities, and politicians. The event was hosted by U.S. President Obama and the First Lady, and guests of honor included South Korean President Lee Myung-Bak and his wife Kim Yoon-ok. Despite the damp weather, guests stepped into the dry corridors of the White House in black-tie attire.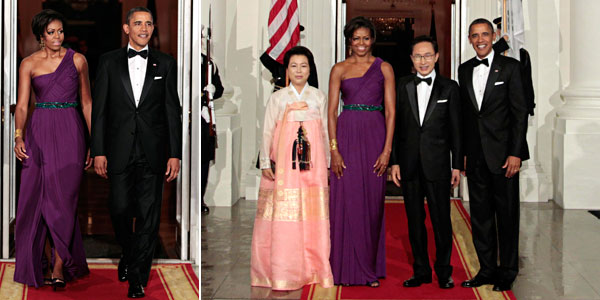 AP Photos / Pablo Martinez Monsivais
The Obamas know their lifestyles are under constant scrutiny: What they eat, drink, wear, where they vacation, dine, play, poo- it matters. Therefore, I'd like to laud the consideration and thoughtfulness Michelle Obama put into dressing for this particular function. There's a reason why she's been dubbed the modern-day Jackie O. The First Lady has an impressive understanding of personal style, reach of high and low designers/brands, and knows exactly when to wear what.