Ah, state dinners. These glitzy, star-spangled, special occasions are social calendar highlights for the politically-driven in D.C. It's no surprise that the Salahis wanted-in (enough to crash the party in 2009).
For the first time since 1998, the United States hosted a state dinner for South Korea on Thursday evening. The coveted invitations went out to 225 guests including various high-profile actors, TV personalities, and politicians. The event was hosted by U.S. President Obama and the First Lady, and guests of honor included South Korean President Lee Myung-Bak and his wife Kim Yoon-ok. Despite the damp weather, guests stepped into the dry corridors of the White House in black-tie attire.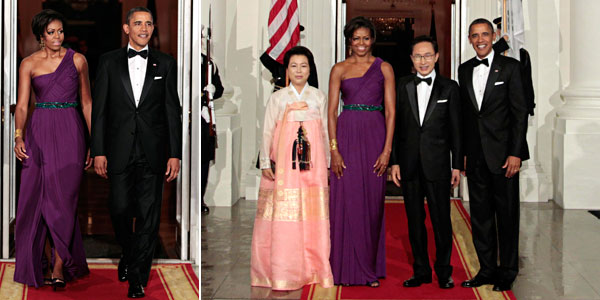 AP Photos / Pablo Martinez Monsivais
The Obamas know their lifestyles are under constant scrutiny: What they eat, drink, wear, where they vacation, dine, play, poo- it matters. Therefore, I'd like to laud the consideration and thoughtfulness Michelle Obama put into dressing for this particular function. There's a reason why she's been dubbed the modern-day Jackie O. The First Lady has an impressive understanding of personal style, reach of high and low designers/brands, and knows exactly when to wear what.
Last night, America's number one woman selected a one-shouldered, purple gown by Doo-Ri Chung. Why is this significant from a fashion perspective? Chung, the CFDA fashion fund winner in 2006, is a rising star in the designer world, and recognized for her sleek, elegant creations including her signature jersey dress. However, she is still relatively unknown to the masses.
More importantly, why is this significant from a political standpoint? Mrs. Obama chose to wear a dress by a Korean-American designer, signifying a level of respect for her guests of honor: The First Couple of South Korea.
Meanwhile, the First Lady of South Korea donned a traditional Korean dress known as a "hanbok." Other fashion-forward notables included performer Janelle Monae in a crisp blazer and pumps, and Korean-American comedian/actor John Cho in a sharp suit and bowtie. The ladies in purple who stunned included newscaster JuJu Chang in a one-shoulder piece and Jane Boone Pelley, wife of newscaster Scott Pelley.
The result? A brilliant, fashion-forward, political slam-dunk evening of elegance, class and tact.
View photos from the State Dinner here