Evelyn H. Lauder, 75: Refugee, wife, mother, grandmother, philanthropist, teacher, cancer survivor, creator of the Pink Ribbon, and founder of the Breast Cancer Research Foundation.
For the matriarch of the Lauder empire, a magnanimous list of lifelong accomplishments falls second to who she actually was. On Saturday, the woman who dedicated her life to improving the lives of others, lost her battle to nongenetic ovarian cancer.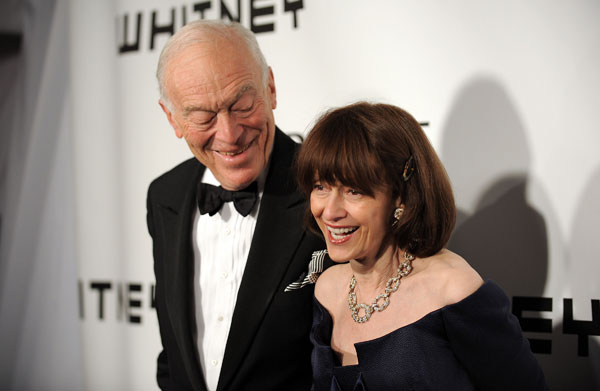 Leonard and Evelyn Lauder attend the Whitney Museum of American Art's gala on Monday, Oct. 20, 2008 in New York. Evelyn, a member of the Estee Lauder cosmetics family who helped create the pink ribbon symbol for breast cancer awareness, passed away on Saturday, Nov. 12, 2011. She was 75. (AP Photo/Evan Agostini, File)
Among Lauder's achievements, she is perhaps best-remembered for her contributions to breast cancer awareness and research. In 1992, Lauder, a survivor of breast cancer herself, co-created the pink ribbon campaign with former Self magazine editor Alexander Penney. That same year, she went on to establish the Breast Cancer Research Foundation, which has raised over $350 million to date.
Estee Lauder was notably the first company to promote and distribute Pink Ribbons. Model/actress Elizabeth Hurley, who was also the face behind the beauty brand's first Pink Ribbon campaign, shared, "Evelyn Lauder was an amazing woman and her phenomenal work for breast cancer will never be forgotten. She inspired me in so many ways and I learned so much from her. She was a wonderful friend to me for over 17 years and I will miss her terribly."
According to Page Six, Mayor Michael Bloomberg, Ralph Lauren, Barbara Walters, and others came to pay their respects at her funeral on Monday. One source said, "There was not a dry eye in the house."
Lauder's lifelong contributions will continue to help countless women around the world, today and well into the future. She not only sets a precedent for those who desire to Be the change you want to see in the world, but Lauder leaves an incredible legacy of promise, hope, and inspiration for those who mourn her passing.
Rest in peace, Evelyn. You will be missed.
---
Read her full obituary, here / Visit the Breast Cancer Research Foundation, here.