Marc Jacobs presented spots as the big trend in his Fall 2011 collection show. But who knew the star designer could potentially be filling the spot of shamed Dior designer John Galliano?
Various rumors this past summer buzzed with possibilities like Alber Elbaz, Christian Lacroix, Alexander Wang and Marc Jacobs. However, it seems very likely that luxury conglomerate LVMH is eying the revered, latter designer for the position.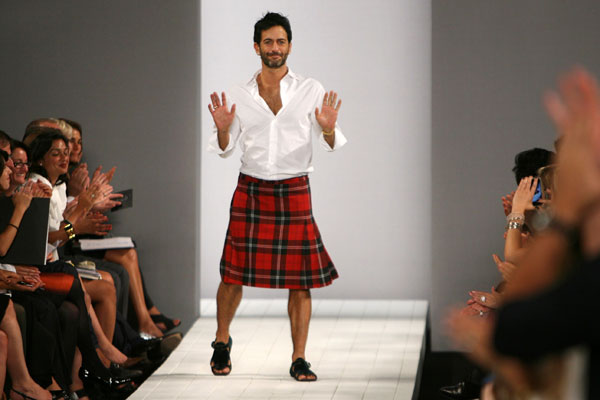 Marc Jacobs after his Marc by Marc Jacobs spring 2009 collection show at NYFW. (AP Photo/Seth Wenig)

According to Women's Wear Daily, LVMH CEO Bernard Arnault has "seriously" discussed the possibility with Jacobs, who currently heads three lines- two of which are his own, and the third being French leather luxury goods brand Louis Vuitton.
If Jacobs is appointed as head of Dior, he will have to relinquish his position as designer of Louis Vuitton. Céline's and my chick in that new Phoebe Philo could meanwhile take the interim role of Creative Director of LV, which could turn into a permanent position.
In February, Galliano was suspended as head designer of Dior following his arrest over an anti-Semetic outburst at a bar in Paris. The incident sparked outrage from the fashion community and Miss Dior Cherie spokeswoman Natalie Portman, whose paternal great-grandparents perished at Auschwitz. Dior announced that it would part ways with the designer in March.
According to sources, "the American designer and Dior management are so far 'excited' about the prospect." Marc Jacobs and his legal representatives will meet with LVMH executives in Paris this week.
More to come.
---
WWD / Slideshow: Marc Jacobs FA 2011 collection / Slideshow: Marc Jacobs for Louis Vuitton FA 2012