Sunday evening marked 18 years of the Screen Actors Guild Awards, and what better way to fête the event, than in a refined and age-appropriate manner? The lovely ladies of Hollywood walked across the red carpet in an array of goddess-like, jewel-toned, nude gowns.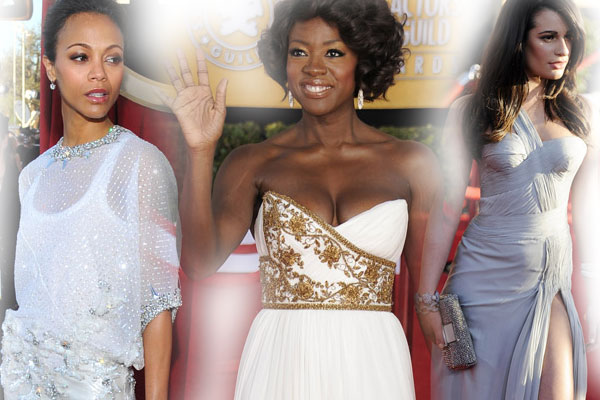 We revisit the best (and worst) dressed of the bunch.
1. Julie Bowen in Temperley London
Uptight Modern Family mom Claire Dunphy was not in the house Sunday evening. She was replaced by an elegant Julie Bowen in a a draped-sleeved, magenta Temperley gown with jeweled shoulders. Temperley has certainly gained some steam as one of Kate Middleton's favorite brands, so we wonder if anyone will select the designer for the Oscars.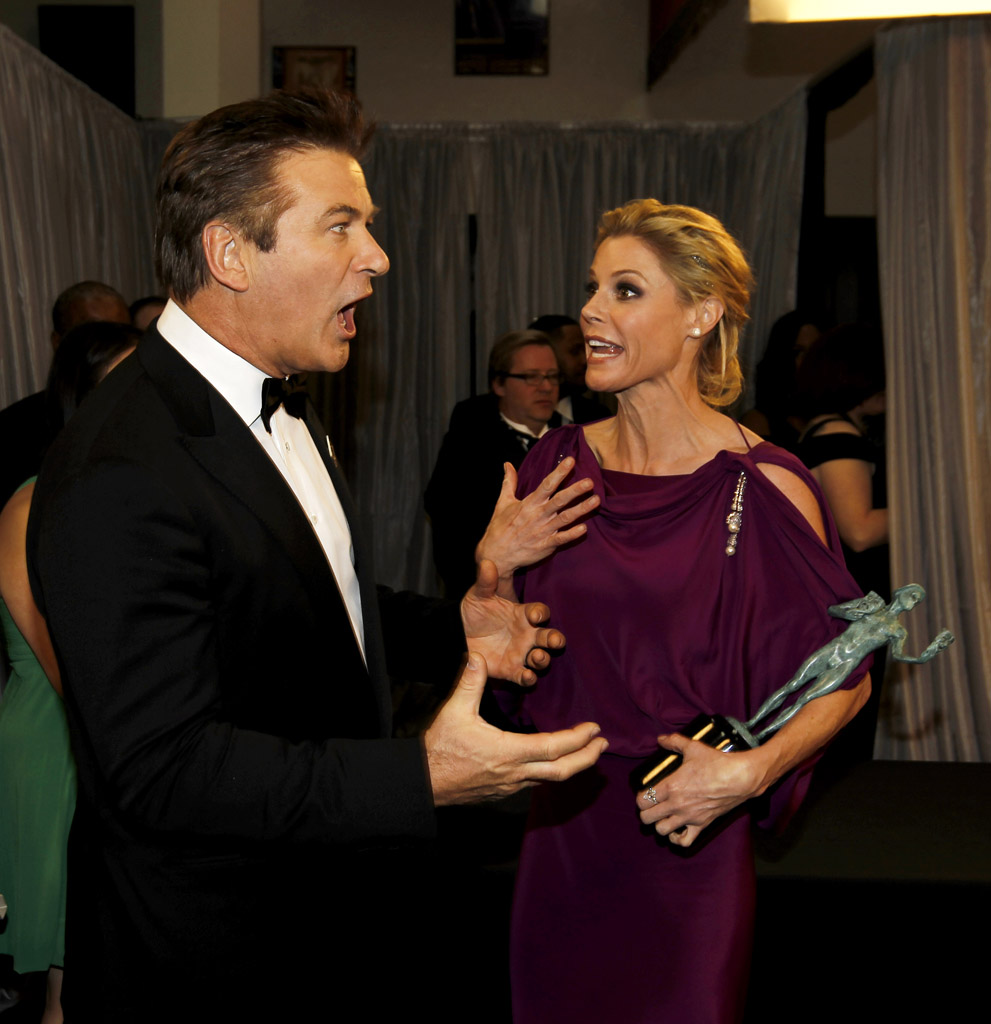 2. Zoe Saldana in Givenchy Haute Couture
Zoe Saldana took the high route at this year's SAG Awards with Givenchy Haute Couture. We appreciate that the fashion-forward actress took a risk in this sleek number, since the cut and fit, paired with her Tiffany & Co. jewels, was just right.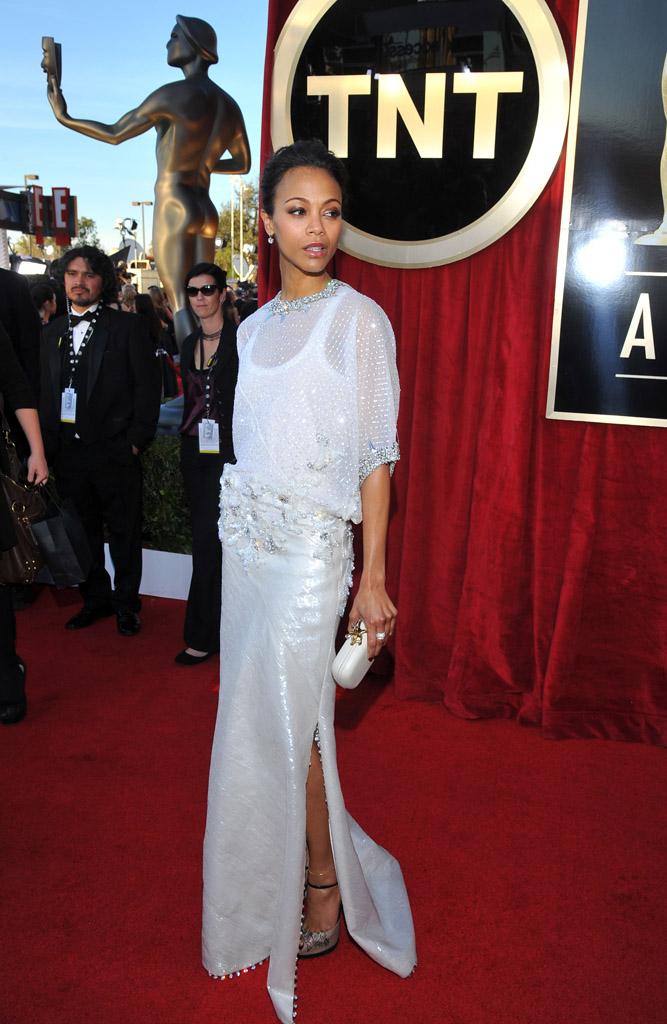 3. Viola Davis in Marchesa
The winner of the "Outstanding Performance by a Female Actor in a Leading Role" award looked statuesque in her white, strapless, gold-embellished, Grecian Marchesa gown.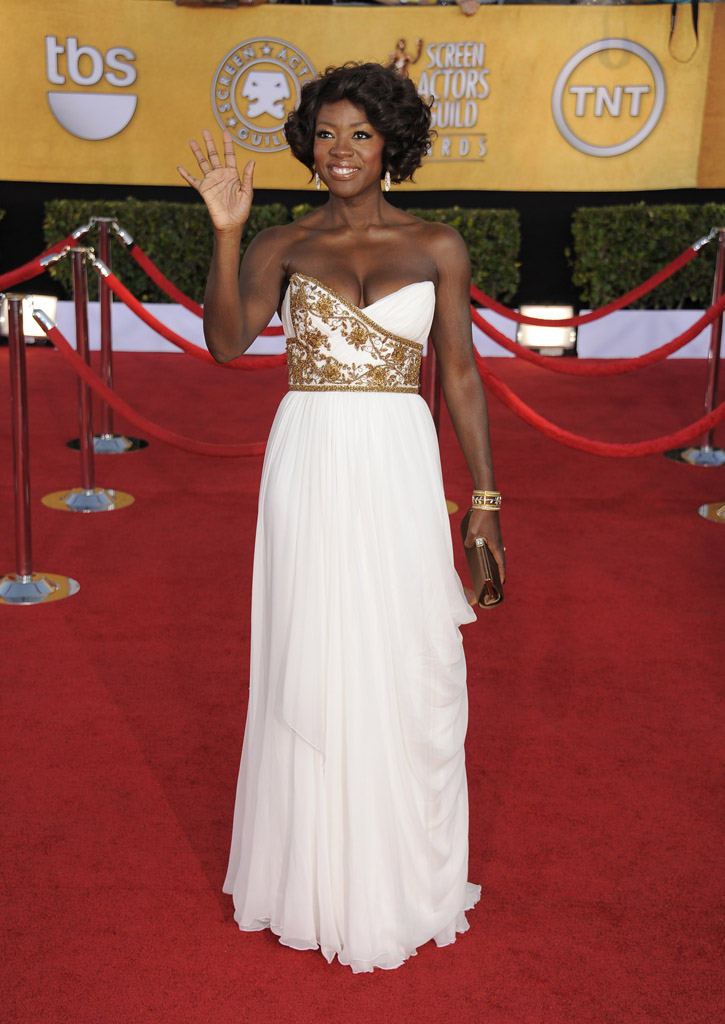 4. Emily Blunt in Oscar de la Renta
Two words: The color! Way to go Mrs. K.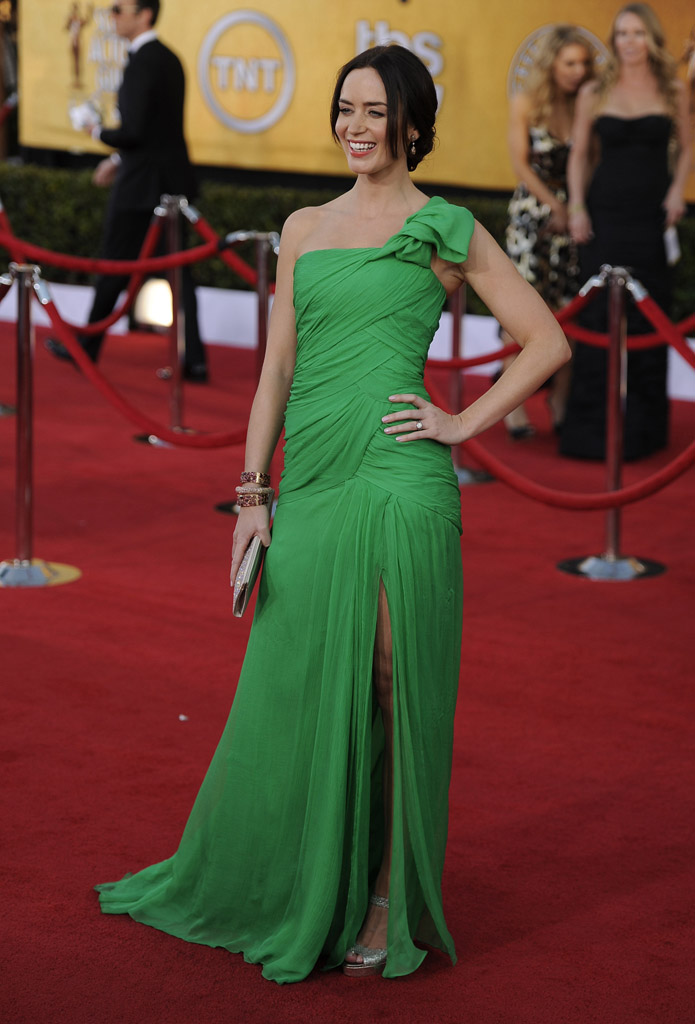 5. Emma Stone in Sarah Burton for Alexander McQueen
She looked coquette in her McQueen strapless dress. Although we weren't big fans of it from the waist down, Stone looked stunning from the top-up. We especially liked the Paloma Picasso for Tiffany & Co. earrings she paired with her elegant up-do.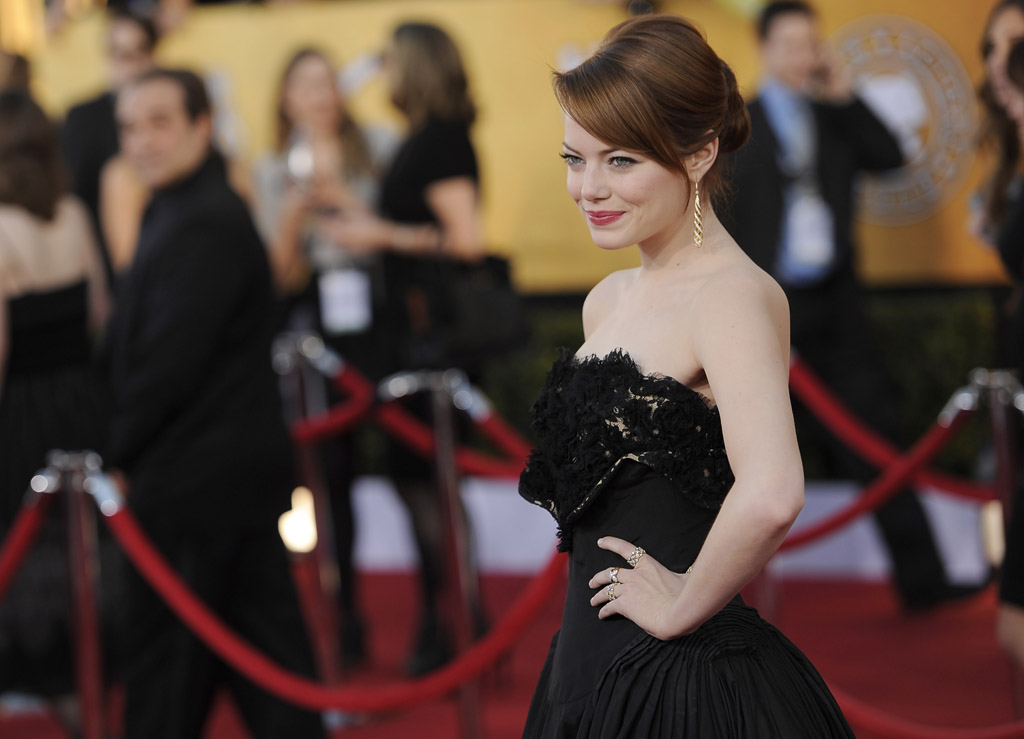 6. Octavia Spencer in Tadashi Shoji
The winner of the "Outstanding Performance by a Supporting Actor" award beamed in this off-white, scalloped Tadashi gown.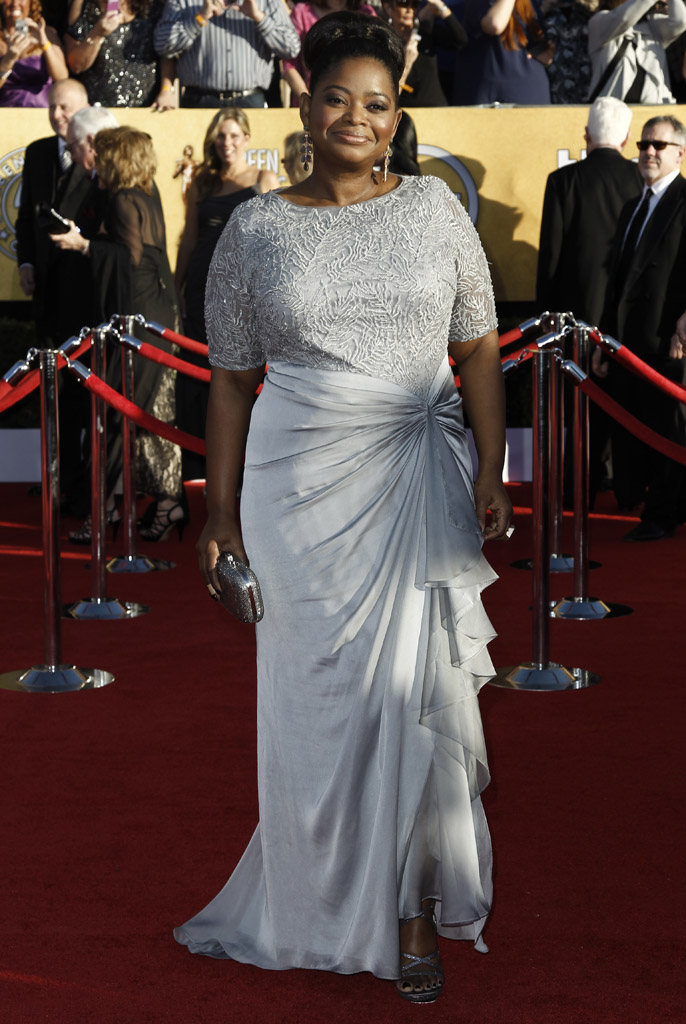 7. Kyra Sedgwick in Emilio Pucci
The Closer star confidently worked the red carpet in this fiery, cut-out Pucci dress. We especially loved the plunging backline. Sigh, some people never age.
Although we like to focus on the positive, it's also our job to call-out the worst-dressed of the bunch. We appreciate the fruitless risks and attempts taken by these actresses to be "daring" and "fashion forward." We really do, which is why we leave them with these words of encouragement: Better luck at the Oscars!
1. Lea Michele in Versace
Fresh off a spa day, Lea Michele glowed in a one-shoulder Versace gown. However, there was something perplexing and unforgivable about the unavoidable, in-your-face, thigh-high slit down her left leg. It reminded us of those Abercrombie jeans with intentionally-ripped holes and faux-paint splotches that were admittedly cool in 2004, which similar to Lea's overall appeal Sunday evening, screamed, "Hi. I'm trying way too hard!"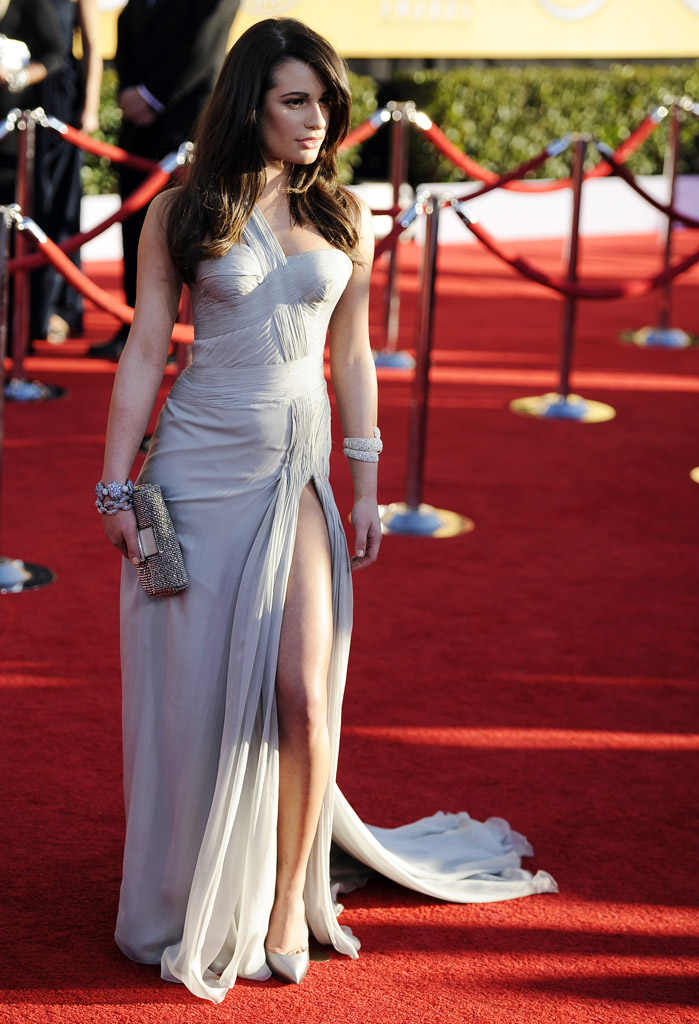 2. Angelina Jolie in Jenny Packham
Despite what the masses say, we thought a star with Angie's red carpet experience could've done much better Sunday evening. The Hefty bag Jenny Packham dress may have been a "comfortable" choice, but it was an unflattering reminder of Jolie's Billy Bob, blood vile days. Brad wins in this case.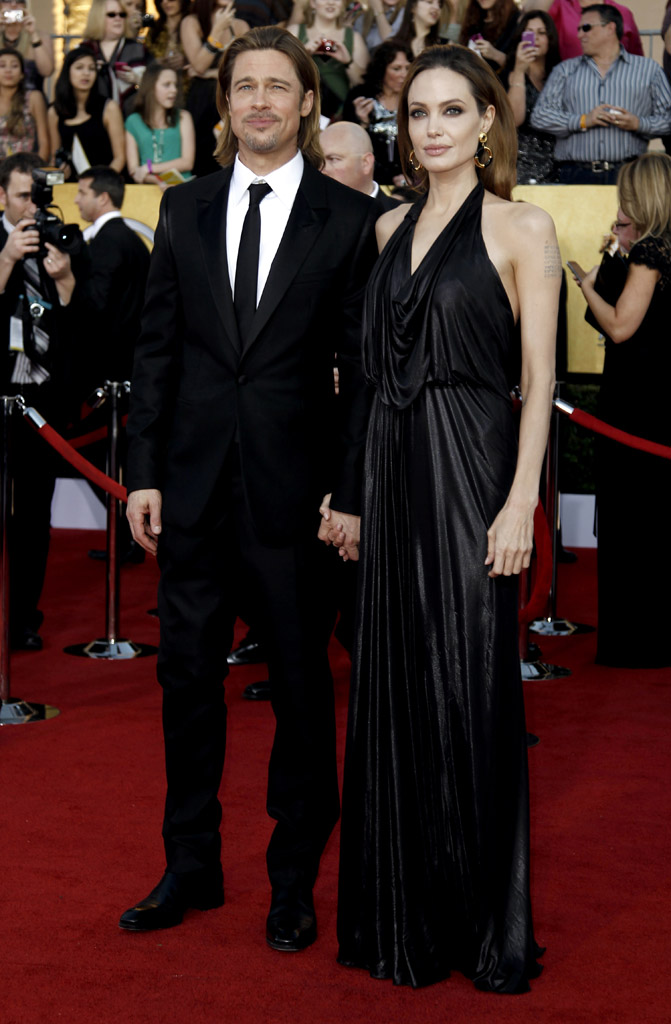 3. Shailene Woodley in a L'Wren Scott printed floral dress
Perhaps she should have considered some gardening lessons. We thought it was a frumpy choice for a young, emerging talent like Woodley.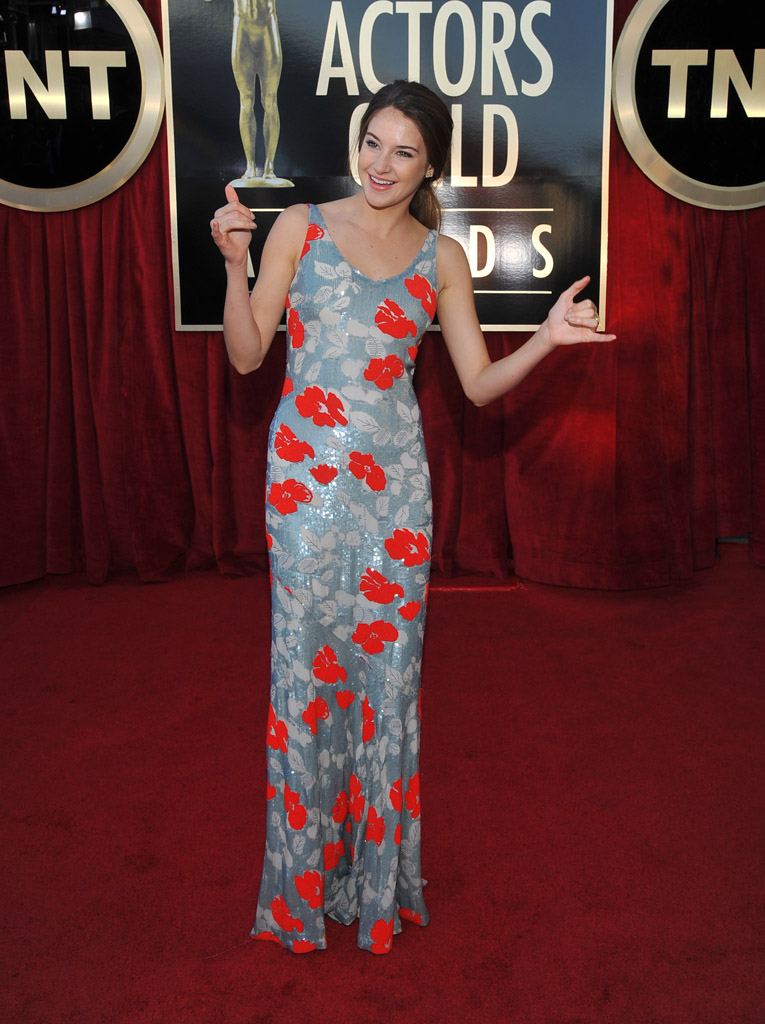 Not pictured: Even the photogs thought these ladies weren't camera-worthy.
4. Heather Morris in a terrible, sheer-paneled, part-faux-leather gown
5. Kaley Cuoco in a seafoam-green, fluffy-looking Romona Keveza gown
6. Busy Philipps in a horrifying hippie dress
Vote: Who was the best-dressed at the SAG Awards?