"There can be as much value in the blink of an eye as in months of rational analysis," wrote bestselling author Malcolm Gladwell in Blink. It's not something people like to admit openly, but first impressions are everything. And in the wonderful world of interviews, client meetings and business lunches, image is an essential component of making strong first impressions.
With regards to the aforementioned topic, in early September, Philly.com Style partnered with The Philadelphia Collection for Make Me Over, Philadelphia!, a contest that would give two winners a complete makeover furnished by Collection participants. Each contestant was asked to submit a photo with an accompanying explanation on why he or she best deserved to receive this all-inclusive makeover package.
After reviewing submissions, the team selected Amanda and Steve Rinaldi, a hardworking, local married couple, who deserved to be pampered from head-to-toe. Here's why.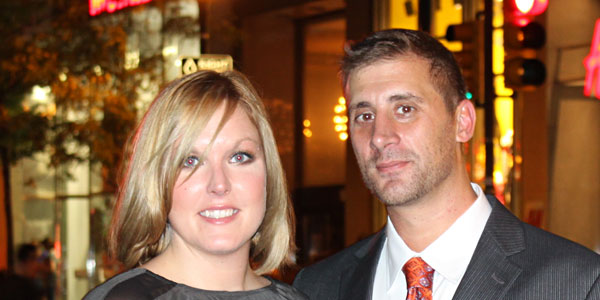 Amanda and Steve Rinaldi flaunt their new look on Chestnut Street. (Mark Schaffer / The Philadelphia Collection)