French luxury goods company PPR is set to acquire Italian luxury menswear company Brioni, maker of James Bond's suits.
On Tuesday, PPR released a statement announcing that it would purchase 100 percent of Brioni for an undisclosed amount. It was reported in July by sources familiar with the situation that a deal was imminent. Meanwhile, analysts have estimated the value of the tailoring company at €350 million (approximately $500 million USD). Actual numbers were not reported by either party.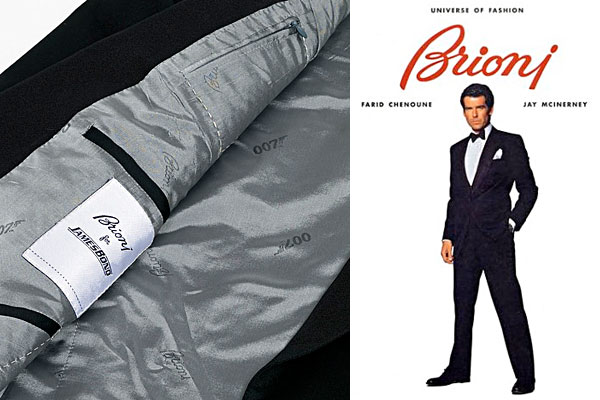 The debt-ridden, Italian, family-owned Brioni, which is headquartered in Milan, has a rich tradition of creating master-tailored suits. Founded in 1945 in Rome by tailor Nazareno Fonticoli and entrepreneur Gaetano Savini, the company was established with a reputation for techinical perfection and style. Hence, the name of the company, Brioni, was named after Croatian islands, Brijuni, a popular destination for Italian aristocrats in the early 20th Century. (TIME)
As for the actual suits, each takes approximately 32 hours to create and starts at $4,800. It's no wonder that fictional character James Bond is Brioni's most famous client. The reputable brand, despite its recent financial woes, fits right into the luxury niche. On the deal, PPR CEO François-Henri Pinault announced that he has, "great ambition for this fashion house. We will give it access to our expertise and knowhow, so that it can write a new page in its history while continuing to preserve its identity."
Unfortunately for Pinault, the move came immediately after Forbes released its annual "World's Most-Powerful" list, which did not include the French billionaire, but did include LVMH chief Bernard Arnault.
PPR owns luxury brands including Gucci, Alexander McQueen, Yves Saint Laurent, Balenciaga, Bottega Veneta, and more. The luxury goods giant also owns German sportswear company Puma, through which it plans on aggressively developing its lifestyle segment.
The Brioni deal signals another huge feat for PPR, which is looking to rapidly develop its luxury brands in Asia. Next move, LVMH.
---
More from FT / More from Hautehouse Row