We've heard the allegations: Terry Richardson is a creep. Creative, yes. Nevertheless, a creep. His provocative images are revered by some, found repulsive by others, but it's his ability to capture relaxed images of his subjects that makes him a unique fashion photographer.
He is also no stranger to controversy.
In 2010, Richardson was the man behind the lens for GQ's November 2010 issue that featured Glee's Dianna Agron, Cory Monteith, and Lea Michele. The contentious spread resulted in an uproar from parents and Gleeks, who felt that the hit show's lead cast members were diverging from its squeaky-clean, on-screen images.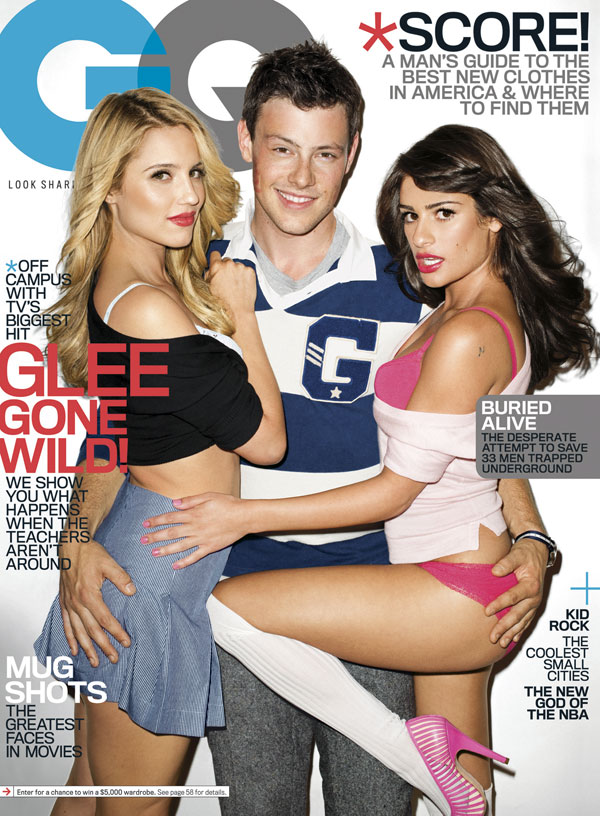 Many say the "Glee" stars went too far in a series of racy photos in the magazine's November 2010 issue. (AP Photo/GQ, Terry Richardson)
That same year, young models came forward claiming that Richardson had manipulated them into baring all for a shoot. Subsequently the accusations were swept under the rug while Richardson's career continued to flourish.
Richardson has shot campaigns for brands like H&M and Tom Ford. Now, a photo from Richardson's latest Diesel underwear photo shoot is creating a mounting pile of fashion fury. Terry's latest offense overlaps with a shocking photo uploaded by Diesel Mexico's twitter account on Tuesday evening. Disclaimer: The image is graphic and may be offensive to some: View it, here.
The image of Richardson, posing with a group of underwear models, is mildly repulsive for several reasons. First, it involves Richardson with his pants and boxers down, full-out grabbing his junk. This also involves a partial-baring of his pubes, and words cannot describe how sore on the eyes it is to see his bare thighs in addition to the patchy fur that aligns his lower midsection.
The models in the photo also mimic Terry's behavior: One holds a smartphone that reads "I <3 porn." Two of the four have their hands down their briefs. Let's be real- it doesn't matter if you're a male underwear model, a politician or a famed fashion photographer. This behavior is unnecessary.
We understand that the purpose behind the tweet was to promote Diesel briefs and Richardson's involvement in the campaign, but ultimately, what exactly was the point of releasing this particular image? Conjectures: Diesel briefs will make you want to touch yourself. That you, too, can act and appear unattractive in Diesel underwear.
Men in particular: What are your thoughts? Too much? Or do you think it's fashion-forward?